Growing up with two huge persimmon trees in my parents backyard, I had my fair share of persimmon- in 3 ways.
The first was to eat it fresh till my belly could hold no more, the second was to water the trees, the third was to clean off all the fallen persimmon leaves on the weekends. Trust me, I enjoyed the eating part of it, but the garden chores were too much for an Atari loving, roller-skating 8th grader like me to enjoy. Cleaning up the persimmon trees during fall was the dramatic, "I hate my life" task because that meant less time playing video games and rolling about the neighborhood in my uber-slick skates.
I grew up resenting Fall and all the persimmon tree cleaning/raking/picking tasks, until I moved out on my own.
My lovely canopy persimmon tree w/herbs & lettuce growing underneath

At home with Mom and Dad, I always had persimmons to eat up to my ears. When the fruit started to turn orange, it was a huge call out that Autumn was approaching. I called it my "pumpkin tree" because the crunchy, sweet, flatter fuyu persimmons reminded me of teeny-weeny pumpkins. I even tried carving them out at one point to create persimmon jack-o-lanterns, but that was a very bad idea. Don't try that at home. Ouch. Bloody fingers.
When I moved out into  my own apartment, I never felt that same excitement about Autumn when I walked out to my patio garden. There was definitely the regular chill in the air, the crisp, drier mornings. But there definitely was a void to the garden, something lacking that I couldn't really touch upon.  Then I realized that I was missing the dangling pumpkin-trees and Autumn wasn't the same without persimmon trees.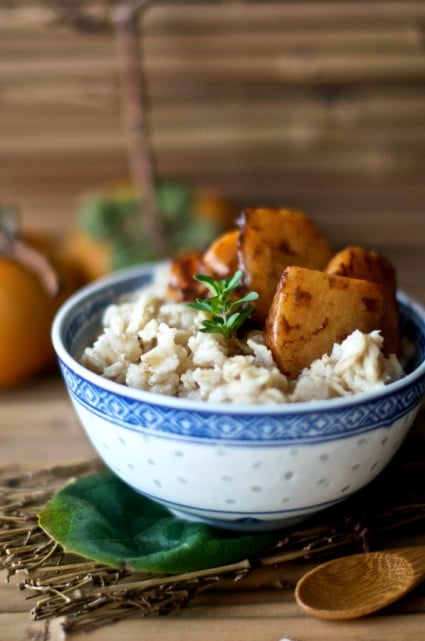 So, when Todd and I finally moved into a house with a real backyard, I immediately declared " persimmon trees!!" and staked out a special place in the garden for its homecoming. I saved an open, sunny spot in the garden for my future tree and apologized to the garden Gods for loathing them so much as a kid. Life certainly smacked me a big ironic one in the ass.
Our tree now looks like a decorated Christmas tree, laden with fragrant orange ornaments. With so many persimmons this time of year, I've paired them up with some hearty oatmeal for breakfast. Sauteed persimmons with a sweet punch of cinnamon is a fabulous topping for oatmeal. It's something different, something seasonal and very very delicious. It's warm, hearty and fragrant of the upcoming holidays. Definitely try this persimmon experiment at home. Forget the jack-o-lantern idea.
Alas, Autumn is in full glory and I feel normal again. I walk out to my garden and see my pumpkin-tree again, all drooping heavily to the ground with sweet persimmons. I pick one off the tree, take a bite into it's sweet, crisp flesh and hear my parents laughing at me, "See! We told you so! We're always right." Yup, they sure are right about this one.
hugs,
diane
Please Vote!! Congratulations to Catherine Mc Cord of weelicious.com, Jen Yu of userealbutter.com and Laura of laurasbestrecipes.com!  Semi-finalists in Quaker's "Awaken Your Senses Challenge".  Their great video's were voted at the top 3 video's to go to the finals of this charity event. They share their favorite food memory and Chef David created an instant oatmeal dish based on their wonderful memory.
You can help support 3 worthy food charities by casting your vote for your favorite Oatmeal Creation at www.youtube.com/quakertalk. At the end of the week the blogger with the most votes wins, and they will be able to award $10,000 to their favorite food charity.
Persimmon and Cinnamon Oatmeal Recipe
Yield: Serves 2
Total Time: 20 Minutes
Ingredients:
about 3 medium fuyu persimmons, sliced or chopped (the variety that you can eat crunchy & sweet)
1-2 Tablespoons butter
2 tablespoons cinnamon
1 teaspoon honey
1 cup Oats ( quick or old fashioned uncooked)
about 1 1/2 cups water
1/4 teaspoon salt
Directions:
For Oats: In 3-quart saucepan, bring water and salt to boil. Stir in the oats, then reduce heat to low heat, then cook for about 5 minutes or until most of liquid is absorbed. For the quick oats, cook for about 1  minute.
In frying pan, add butter. Let butter melt, then add persimmons and cinnamon. Continues sauteeing persimmons for about 10 -15 minutes or until soft. Remove from heat and stir in honey.
Dish out oatmeal in bowl, top with sauteed persimmons.
Hello! All images & content are copyright protected. Please do not use our images without prior permission and do not re-publish this recipe. Simply link back to this post for the recipe. Thank you.
Recipe Note for Salt: All recipes containing salt are based on kosher or sea salt amounts, not table salt. If using table salt, reduce the amount used to taste.
[ad]