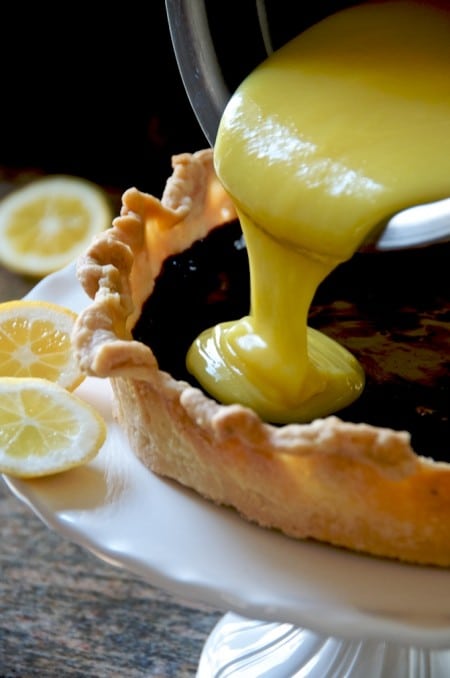 Happy Pi Day everyone!  (For those out of the loop, check the month and day,  then remember the ole math classes- 3.14.)
Often when I'm stuck on a creative idea, (writing, cooking, photo, …) I'll take a little stroll through the garden.  Somewhere amongst the plants lies the Clever Fairy, and if I'm lucky she'll bless me with something good to use. However most days, the little twit isn't anywhere to be found, but at least I get to take a nice stroll while avoiding doing any real work.
In coming up with a pie idea for Pi day, I was in the middle of my mindless meandering when the idea whacked me alongside the head.  "Use the garden, idiot."  It was either the Clever Fairy or Obi One Kenobi, I still don't know which.   But the idea was brilliant so I started searching for the pi's pie foundation.  Tangerines were out because I just used them for the creme brulee (gotta be more creative than that) Oranges are getting tasty, but ….  Blood orange, not ready yet.  Limes, maybe.  Ah ha!  Meyer lemons.
A meyer lemon meringue would be nice, but I was looking for something a little more savvy. The juices were flowing and the pie's premise quickly developed. Blind bake a crust, give a nice 1/4″ layer of chocolate ganache, wait…. espresso chocolate ganache, fill with the meyer lemon curd, then top with candied meyer lemon slices and dollops (love that word) of whipped cream.
The sweet tang of the lemon curd, complimented by the chocolate and espresso, smoothed out by the whipped cream and prettied up by the candied lemon slices….   Sounded good.
The pie crust was old hat.  I love our recipe for pie crusts and rolling it out was a piece of cake.  I mean pie.  Or pi.  However I f#%ing hate doing decorative crusts.  I love the look of them, I greatly admire those who can nail them, but I hate trying to form them.   Maybe one of these days I'll force myself to properly make a pie edge pretty, until then I'm going rustic.  Rustic is still in, right?
Line with parchment, fill with beans, put in the ….. Damn it.  Take out beans.  Lift parchment.  Prick pie bottom with fork, line with parchment, fill with beans…  Ok.  Into the oven.
The curd was easy and went without mishap.  Luckily we didn't over taste-test and there was enough to fill the pie later.  Ganache was another old hat, but much tastier than an old hat.  The espresso's balance was nice, being able to taste it, but still allowing the chocolate to be dominant.  And it was getting late, so I figured to make the candied meyer lemon slices in the morning.
Note to self: Never try to do fine knife work early in the morning before having any coffee.  All digits are still intact, but I think the puppies learned a few new "colorful" words.  Eventually enough slices were salvaged to form a respectable topping.  Ok. Assemble all ingredients, and when ready to serve, whip the cream to luscious peaks and dollop. Thanks Clever Fairy. Or Obi One.  The pie was tasty.
-Todd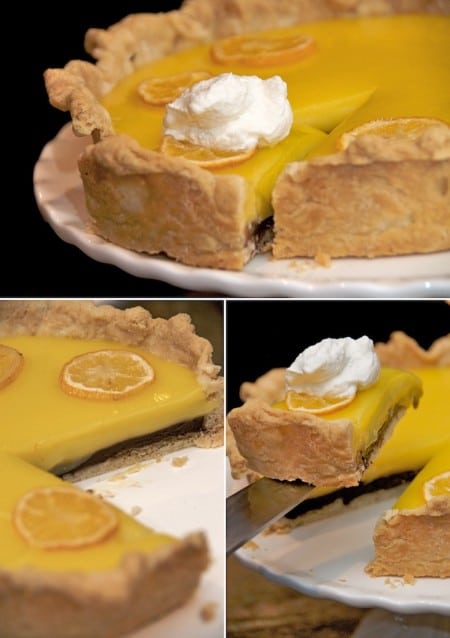 Meyer Lemon Curd Pie w/an Espresso Ganache
This pie crust is one of the tastiest, flaky pie crusts we've had. Easy to make, too. Lard makes pies flaky, butter makes pies tasty. That's why both are used here. Also, flaky pies like cold temperatures, so keep your ingredients cold even in between steps to help make your crust happy. Makes enough dough for 2 - 9" Pies. We usually will bake the extra crust then save in the freezer for future use.
The ganache is an adaptation off of Bo Friberg's Professional Pastry Chef ganache recipe. This recipe only makes about 1 cup, since we were using it as a pie underlying base. It easily can be increased for larger amounts. It keeps well for weeks in the fridge, so feel free to make more than you need. You can always find a use.  If you are serving someone who isn't a coffee affectionado, substitute the espresso for dark rum or with a touch of vanilla extract.
The lemon curd is an adaptation off of Martha Stewart's Baking Handbook.  You can make it will regular Eureka lemons as well, but it is by far the best with the meyer lemons.  It's still has a tartness, but it is also perfectly sweet, bright, and wonderfully lemony. Makes a little over 2 cups.
Ingredients:
Crust Ingredients
2 1/4 c (355g) flour
1/2 T (8g) salt
1/2 lb (225g) cold unsalted butter
1/4 c (70g) cold lard
1/3 c (80ml) ice water, approx.
Ganache Ingredients
1 egg yolk
2 T (30g) sugar
1/2 c (120ml) heavy cream
.45 lb (200g) dark chocolate (chopped into fine pieces)
2 oz (60ml) espresso
Meyer Lemon Curd Ingredients
10 lrg egg yolks
1 1/4 c (240g) sugar
finely grated zest of 4 Meyer Lemons
3/4 c (180ml) fresh squeezed Meyer Lemon Juice (6-8 lemons)
1/2 t (3g) salt
13 T (200g) unsalted butter (cold-cut into small chunks)
Candied Meyer Lemon Slices (meyers work much better than a regular lemon for the topping due to them having less pith - P.S. the recipe link is for peels, but slices work the same, just cook for a touch longer and don't do too many at once)
Directions:
Crust Directions
Combine flour and salt on a work surface or bowl.
Cut up the cold butter and lard into manageable pieces, then add it to the flour and pinch down to hazelnut size pieces with your fingers.
Add ice water and mix just until the dough comes together. It should be a rough looking, lumpy ball with chunks of butter still.
Flatten the ball to expedite the chilling process, then wrap and put to rest in fridge for at least 30 min.
Divide the dough in two, putting one back in the fridge and placing the other dough between two sheets of plastic wrap and roll out. Occasionally peel back plastic wrap, then place back on so you take out the wrinkles. Roll to about 1/8" thick and about 1" beyond your pie tin, then place in tin and finish the edges however you like. Prick the bottom and let rest in fridge for at least 1/2 hour before using.
If blind baking, preheat oven to 375º. Carefully line crust with parchment paper, then fill with pie weights of your choice (we prefer beans, they're cheaper and seem to fill better.) Bake crust in oven for 18 min, or until it begins to show slight browning on edges. Remove foil and weights, then return to oven for another 15 min., or until it's a nice, golden brown. If you aren't blind baking, bake as directed in your recipe.
Ganache Directions
In a medium bowl, whisk egg yolk and sugar until well combined and fluffy. Set aside.
Combine heavy cream and chocolate pieces into a saucepan. Heat on medium heat until chocolate is fully melted and temperature is approx. 160º F.  Remove from heat, add espresso and stir until incorporated.
Pour chocolate mix into egg/sugar mixture, stirring until fully incorporated. Continue stirring for a few minutes to make sure sugar is fully dissolved. Store at room temp. if you are using the ganache in a day or so, or store in the in fridge if you are needing to keep it for longer.
Lemon Curd Directions
Combine egg yolks, sugar, meyer lemon zest and meyer lemon juice in a saucepan.  Heat over medium heat, stirring constantly until the mixture even coats the back of a wooden spoon (8-10 min.)
Remove from heat.  Add butter, just a couple pieces at a time, stirring until fully incorporated.  Add salt to taste.
Strain through a fine mesh sieve directly into a storage bowl.  Cover with plastic wrap, pressing the wrap down to completely touch the surface to prevent a skin from forming. Refrigerate until completely chilled (about 2 hrs) and up to a few days. Stir before using.
Assemble
The crust should be blind baked then layered with the ganache and lemon curd.
Finish with candied Meyer Lemon Slices.
Hello! All images & content are copyright protected. Please do not use our images without prior permission and do not re-publish this recipe. Simply link back to this post for the recipe. Thank you.
Recipe Note for Salt: All recipes containing salt are based on kosher or sea salt amounts, not table salt. If using table salt, reduce the amount used to taste.
We're submitting this meyer lemon pie to Andrea's Grow Your Own Event, where we celebrate dishes made from our garden bounty. The curd for this pie would not have been possible without the crazy explosion of meyer lemons from our tree. So, thank you Andrea for this event and thank you to our fruit laden tree. If you create any dishes from your garden, make sure you join in on the Grow Your Own Event.
[ad]