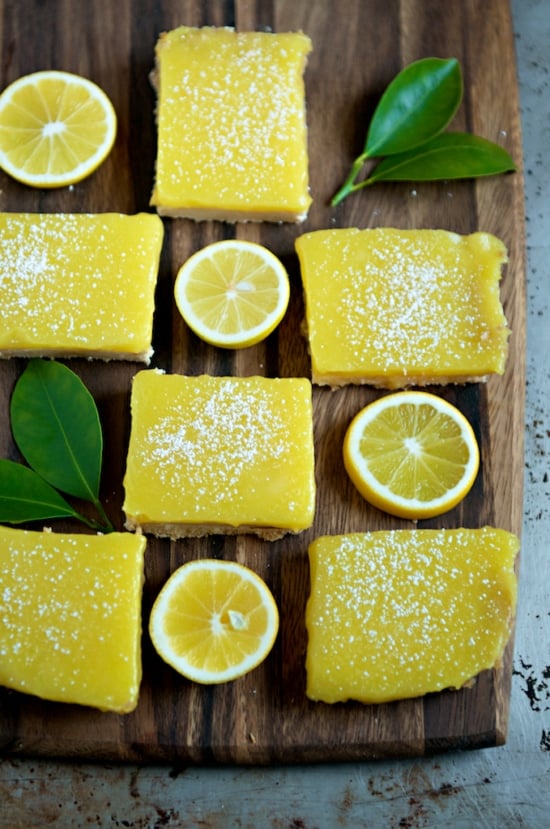 We've been on a bit of a Meyer Lemon kick lately. First we had the Meyer Lemon Margaritas and now we're inundating everyone with a Meyer lemon bar recipe.
"What the hell?"  you may ask.  "Are these bastards just out to torture the population still stuck in the snow?"
We can be a bit bratty, but the main reason behind all of the Meyer lemon recipes is that our tree is laden and we've let the fruit sit to the point where they are all starting to drop.  As if that weren't enough, we recently went to one of our favorite nurseries to pick up another citrus addition for the garden (another Moro blood orange) and there just happened to be a bunch of Meyer lemon trees heavy with fruit next to the blood oranges.
making meyer lemon curd
One from this tree, another from that tree, and soon our messenger bag was nestled with more golden culinary eggs to add to our heathy overabundance at home. Hey, doesn't every $80 tree come with a handful of fruit of your choice?
We quickly paid for our blood orange tree and scampered to the truck with our ill-gotten goods.  Score for team WORC.  Now we needed to start cranking out some Meyer lemon recipes.  It would be sacrilege to let any of this precious fruit go to waste. We do have morals, ya know.
Meyer lemon bars are one of our favorite uses for these delectable gems. We prefer to blind bake the crust then fill it with the still warm curd. A lot of times we will make this recipe with a shortbread crust or graham cracker crust (either crusts are excellent options), however this time we wanted to try this crust that was adapted from The Barefoot Contessa.
The end results are quite good. It is a nice crust to add to our repertoire and the curd is fantastic as always.  You can use the curd to fill pies, serve in a glass with whipped cream, top some ice cream or whatever other uses your imagination can dream up.  If you want to save the curd for another use, put it in a seal-able container the lay a piece of wax paper on top to help prevent a skin from forming.
-Todd
Meyer Lemon Bars
Yield: 12 bars
Total Time: 4 hours
The crust is an adaptation from The Barefoot Contessa.  The curd is an adaptation from Martha Stewart's Baking Handbook.  You can make it will regular Eureka lemons as well, but it is by far the best with the meyer lemons.  It's still has a tartness, but it is also perfectly sweet, bright, and wonderfully lemony.  Plus the curd isn't as acidic with the Meyer Lemons which softens the tang.
Ingredients:
Crust Ingredients
1/4 lb (113g) unsalted Butter, room temp.
1/4 c (50g) Sugar
1 c (125g) all-purpose Flour
1/8 t Sea Salt
Curd Ingredients
10 lrg egg yolks
1 1/4 c (250g) sugar
finely grated zest of 4 Meyer Lemons
3/4 c (180ml) fresh squeezed Meyer Lemon Juice (6-8 lemons)
1/2 t (3g) salt
13 T (200g) unsalted butter (cold-cut into small chunks)
Directions:
Make the Crust
Butter an 8x12 baking dish. Preheat oven to 350°F.
Cream the butter and sugar until light and fluffy with a paddle attachment on the mixer.  Combine the flour and salt, then with the mixer on low, slowly add to butter mix.
Mix just until combined, stopping to scrape the sides of the bowl a couple times. (The texture of the finished mix will vary depending on how warm your kitchen is.  Cooler kitchen=crumbly texture  Warmer kitchen=more dough like texture. Either way will be ok, just chill the dough a little longer after forming it into your baking dish if your kitchen is warm- see step 3)
Form dough mix into an even layer in buttered baking dish bringing dough 1/2" up the sides of the dish.  Chill 30 min.
Bake crust for 20-25 min. or until lightly golden. Remove from oven and set aside to cool.

Make Meyer Lemon Curd & Finish

Combine egg yolks, sugar, meyer lemon zest and juice in a saucepan.  Gently cook over medium heat, stirring constantly until the mixture evenly coats the back of a wooden spoon (12-15 min.)
Remove from heat.  Add butter, just a couple pieces at a time, stirring until fully incorporated.  Add salt to taste.
Strain through a fine mesh sieve then pour curd into finished crust.  Place bars into refrigerator until fully chilled (at least 3 hours.)
Cut bars into desired squares or triangles. (Tip for clean, straight cuts - Mark the start (at the edge farthest from you) and finish point of your cut with the tip of the knife.  Beginning at the top and slicing back towards you, focus on the finish mark and slice in a long smooth motion. Use your free hand to steady the dish to keep it from moving.  Between each cut, rinse your knife with hot water and wipe clean. With a bit of repetition you will soon be able to make perfect straight cuts.)
Hello! All images & content are copyright protected. Please do not use our images without prior permission and do not re-publish this recipe. Simply link back to this post for the recipe. Thank you.
Recipe Note for Salt: All recipes containing salt are based on kosher or sea salt amounts, not table salt. If using table salt, reduce the amount used to taste.
[ad]