Limoncello has been around for 100+ years, but it's become the newly discovered liquor of the last couple. It's emergence can be attributed to everything from celebrities' inebriation on the little lemon sipper, to bloggers' enthusiasm for peeling and macerating lemon rind to make their own.
For us, we first discovered limoncello and it's cousin limoncrema 8 years ago in it's homeland of Sorrento, Italy. Not long after arriving in town, we were being hailed by restaurateurs offer us their taste of southern Italy. Nothing brings back the memories of that incredible trip like limoncello. Except for maybe seeing our dogs spread out in the sun, like the dogs all along the sidewalks in Sorrento. We continually torment them, "Where do you think we are, in Italy?"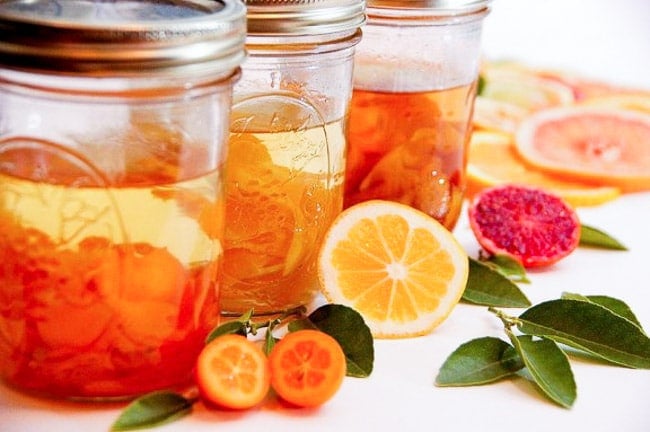 The memory of Sorrento's warm sunshine, groves of lemons and limoncello is still fresh in our minds. With a garden of citrus trees, making limoncello was as easy as 1-2-3. Literally, we made 1-2-3 "cello's". Aside from using lemons for limoncello, we experimented with a blood orange cello from some of the last of our blood oranges from the tree. Kumquatcello was the third creation from that we bought from the farmers market.
As our rinds soak in their alcoholic wombs, we are trying to patiently wait for our batches of limon-, blood orange-, kumquat-cellos to come alive. The recipe we are basing our experiments off of came from WhatsCookingAmerica.
We extended the maceration time a bit, because we weren't able to acquire Everclear, and are using vodka instead. The lower alcohol content usually needs longer maceration. Does anyone have a limoncello recipe that they swear by? In the meantime, here is a cocktail we came up with for limoncello. We're going to call it So Cal Sunrise. It's based loosely off of a cocktail we had called Sorrento Sunrise, but adjusted ours to be less syrupy sweet and to incorporate more or our garden's fruit. Hope you enjoy. Also if you have a limoncello cocktail that you love, we are interested to try it. We always love a good drink.
Limoncello is best straight up, ice cold. However, sometimes you want to get playful and create a concoction with it. It will commonly be added to champagne, or thrown in with vodka to create a limoncello martini. Here is a cocktail which we created after not being happy with most of the alternatives we've tried out there. It has many layers of flavor which we felt went together quite well.
Enjoy!
-Todd and Diane
So-Cal Sunrise Cocktail Recipe
Yield: 1 Cocktail
Total Time: 5 Minutes
Ingredients:
2 ounces (60ml) fresh Blood Orange Juice
1/2 ounce (15ml) fresh Lime Juice
1 ounce (30ml) Limoncello
1 ounce (30ml) Tequila
1/2 ounce (15ml) Simple Syrup, or to taste
dash of bitters
Slice of blood orange
sugar, for garnishing the cocktail glass rim
Directions:
Rub the rim of a chilled cocktail glass with the lime wedge & sugar the rim.
Add the blood orange juice, lime juice, limoncello, tequila, simple syrup, and bitters to a shaker with ice and shake. Strain into the cocktail glass and enjoy.
Note 1: A basic simple syrup is a 1:1 ratio of sugar dissolved in water. example- One cup sugar dissolved in one cup of water. We usually make larger batches and keep on hand in the refrigerator.
Hello! All images & content are copyright protected. Please do not use our images without prior permission and do not re-publish this recipe. Simply link back to this post for the recipe. Thank you.
Recipe Note for Salt: All recipes containing salt are based on kosher or sea salt amounts, not table salt. If using table salt, reduce the amount used to taste.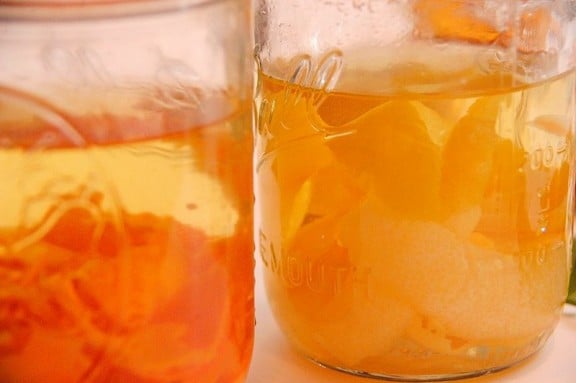 "Citrus Sunburst"
We collected 5 citrus fruits from our garden for this picture. Can you guess what citrus are arranged here?
Answer: Pink grapefruit, Naval Orange, Blood Orange, Meyer Lemon and Bearrs Lime!
Visit complete list of–>  Cocktail Recipes here.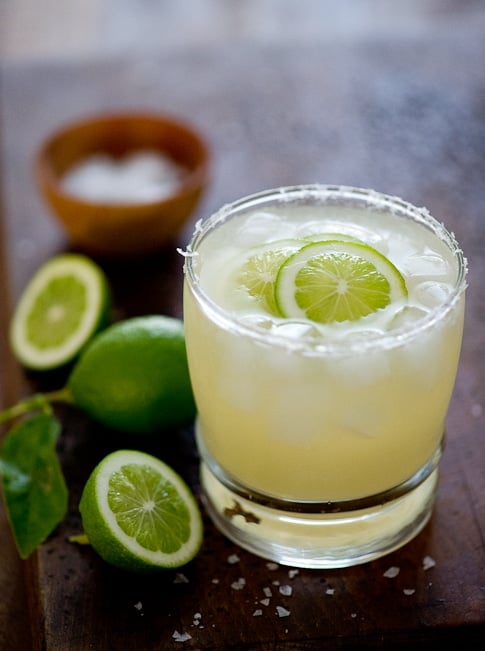 Click Here for more More Blood Orange Recipes like our  Luscious Blood Orange Bars ,  Lime Margarita with Bitters and classic Blood Orange Margarita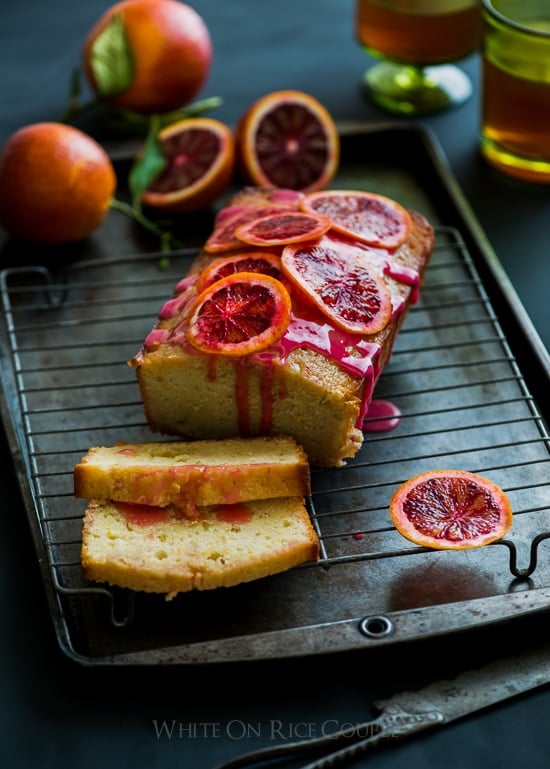 [ad]