don't forget the milk
Rummaging through our kitchen's "don't know where else to put it" box, we pulled out this mysterious cookie recipe. It was written in a clean gracefully-looping woman's handwriting with nothing more than very basic ingredients and instructions. Neither of us had a clue who had given it to us, but that's not about to stop us from trying a new cookie recipe.
The recipe reminded us of these fantastic "Cowgirl Cookies" we get bakery whenever passing through Bishop, CA. Oats, honey, raisins, chocolate chips, sunflower seeds, coconut flakes.  It was like a perfect batch of trail-mix "cookie-fied." We were out of sunflower seeds, but we made due without for the virgin batches.
Immediate consensus on the freshly baked cookies was "deliciousness."  Of course nearly every cookie is delicious warm out of the oven, but even by the end of the day we couldn't keep ourselves from overindulging on the chocolate chip laced addictive nuggets.
The honey is the main sweetener in the cookies, lending them a soft texture and nectar sweet flavor. It gives a nice change to normally sugar sweetened cookie. Sometimes we forget how tasty honey can be.  Occasionally we'll switch to using honey for sweetening our morning cappuccinos to complete a perfect morning wake-up.
Thank you Mystery X person, who ever gave us the recipe.  This one is getting a regular spot in our cookie rotation.
– Todd and Diane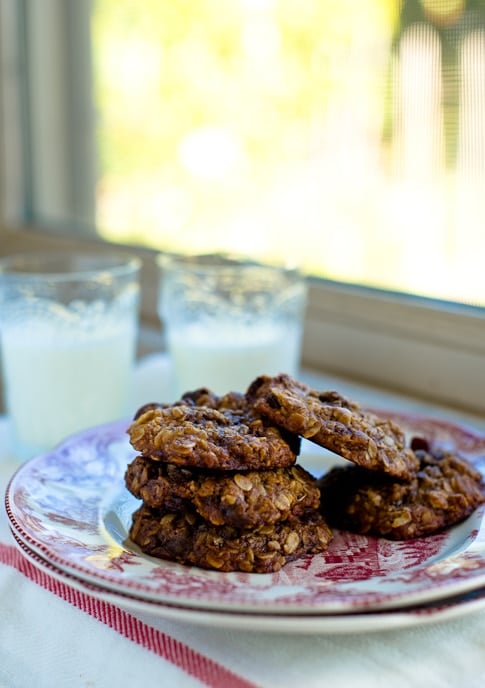 Honey Oatmeal Cookie Recipe
Yield: 48 cookies
Total Time: 1 hour
Feel free to add nuts, change or add to the dried fruit, or macerate the dried fruit to make the cookies just how you like your favorite trail mix. This recipe is a good starting point.
Ingredients:
3 1/2 c (315g) old -fashioned Rolled Oats
1 c (150g) Raisins
1 c (80g) unsweetened dried Coconut Flakes
1 c (175g) semi-sweet Chocolate Chips
1 3/4 c (200g) all-purpose Flour
1 t (5g) Baking Soda
1 t (5g) Sea Salt
1 c (340g) Honey
1 c (225g) unsalted Butter, melted
2 t (10ml) Vanilla Extract
Directions:
Combine all of the dry ingredients together in a large bowl. Combine all of the wet ingredients together.
Add the wet mixture into the dry mixture and stir just until fully incorporated. Cover and refrigerated for at least 30 minutes.

Preheat oven to 350 °F. Line a sheet pan with parchment paper or silpat.

Roll the cookies into balls and stagger on lined sheet pan. Bake for 12-15 minutes or until just set.
Hello! All images & content are copyright protected. Please do not use our images without prior permission and do not re-publish this recipe. Simply link back to this post for the recipe. Thank you.
Recipe Note for Salt: All recipes containing salt are based on kosher or sea salt amounts, not table salt. If using table salt, reduce the amount used to taste.
[ad]