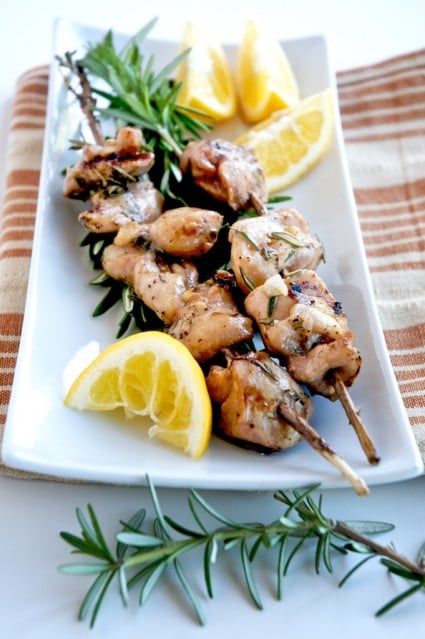 The beauty of simplicity. It seems to be a reoccurring theme for us lately, but it is one that holds true for our approach to everyday cooking.  Now, we could start getting all artistically mental and begin discussing the aesthetic appeal of a minimalist approach where by stripping something down to it's most basic form, by omitting all that is needless, one is able to truly and fully appreciate the object of attention. However, we are not going to do that to you.  No need to start making the brain hurt and get all philosophical, because this matter isn't so complex.  This is merely a matter of time and taste.
First and foremost, time.  When it comes to everyday cooking, not many of us want to f%# with the food that much. Of course there are times when we love immersing ourselves into a dish that is built upon meticulously crafting it step after step, and there are few things more comforting than spending 4 hours slowly tending a broth like our beloved pho. However we have lives that only leave us one (or if we are lucky two) days a week at home where we have that kind of time. For most of our meals we want something that tastes very good, yet doesn't monopolize a large amount of prep or cooking time.
Taste speaks for itself.  Either it tastes good or it doesn't.  It's getting to be grill time for us in Southern California, and our grilled chicken rosemary skewers are a perfect example of simple and tasty cooking. We can prep the chicken in half the time it takes for the grill to heat up, and once cooking, it is done before the beer is half gone. We will utilize our rosemary hedges by not only mincing the fresh rosemary, but also by using some of the stiffer branches and creating skewers out of them.  It's Caveman Gourmet good (stick make taste good, mmm!) plus the rosemary  grows like a monster and enjoys the continual trimming.
Rosemary is one of those plants that if you are in it's growing climatic zone and you need a small hedge, it should be an instant pick.  The local bees will love you, and you are now blessed with a beautiful, edible hedge.  The doggies can also use it as nature's cologne when they brush past it. Good smelling puppers! (favorite Yu word.)
The chicken rosemary skewers are a simple as cut, dress, skewer, and grill.  When it becomes grill time in your area (for some of you it's always grill time, even in the snow), give this recipe a try.  And don't tell 'em you are cooking them something "quick and easy."  Get all brainy on them and say you are cooking minimalist style.
Chicken Rosemary Skewers Recipe
Yield: Serves 4-6
Total Time: 10 min
Ingredients:
2 lbs Chicken (cut into 1" chunks)
3 T Oil (or enough to coat chicken)
2 cloves Garlic (crushed)
2 T Soy Sauce
2 T fresh Rosemary (minced)
fresh cracked Black Pepper (enough to season chicken)
approx 10 Rosemary Skewers  (opt. sub. -bamboo skewers soaked 30 min. in water)
Directions:
Put chicken in a bowl and dress with remaining ingredients. Slide chicken onto skewers.
Heat grill for direct heat, medium high. Grill chicken for a couple minutes each side.
Hello! All images & content are copyright protected. Please do not use our images without prior permission and do not re-publish this recipe. Simply link back to this post for the recipe. Thank you.
Recipe Note for Salt: All recipes containing salt are based on kosher or sea salt amounts, not table salt. If using table salt, reduce the amount used to taste.
Sierra says "Yummy!!"
[ad]