Grilled Avocado Salad with Corn Pico de Gallo & Chimichurri Dressing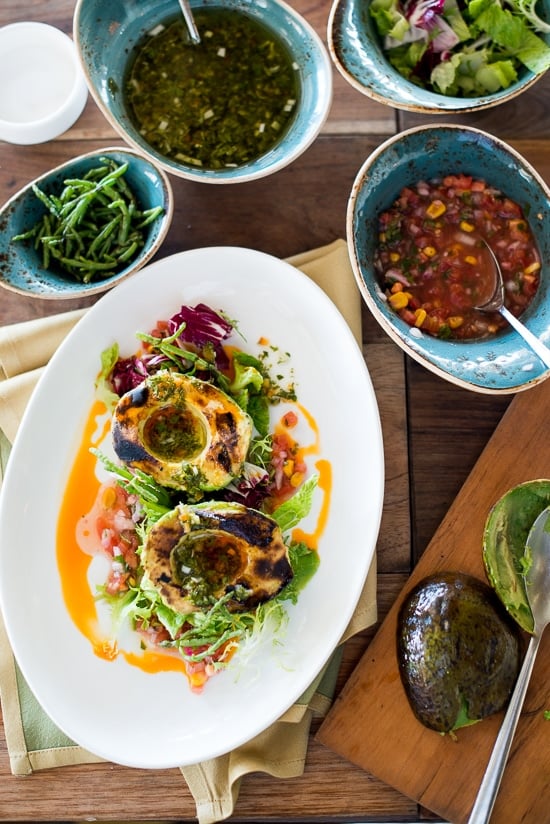 Hello Friends. Greetings from Mexico along the gorgeous Riviera Maya coastline. The ocean is so blue, it's like living in a postcard. This week has been tremendous, filled with lovely weather and we're sending lots of warm sunshine to all of you in the cold, blizzard areas of the US. We definitely think of you when we see all the snow you're getting! Wish you could join us along with so many other East-Coasters who are escaping the cold. To help you warm up a bit, we're popping in to share a recipe we've been in inspired by this week.
We've been here for the week working with Fairmont Hotels and Resorts on some new video stories, recipes and photos to share with you all. Fairmont Mayakoba is where we've been photographing and filming. We've devoured so many incredible local dishes but there's one simple salad….oh geeez…. it's so good, we've been obsessed. Have you ever eaten something, go to bed thinking about it, then wake up with the experience still in your head?
This grilled avocado salad with corn pico de gallo is out-of-this-world amazing, filled with crisp lettuce, smoky avocado and bright pico de gallo, all topped with a fresh chimichurri dressing. It's like the worlds perfect salad all in one bite with Mexican flavors we all adore. We couldn't wait to share it with you all and really, wanted to share it NOW, like impatient eaters who haven't eaten for days. The lovely folks at Fairmont were so accommodating all our creative ideas and allowed us to film their recipe being made. They also passed on the recipe for you all to enjoy.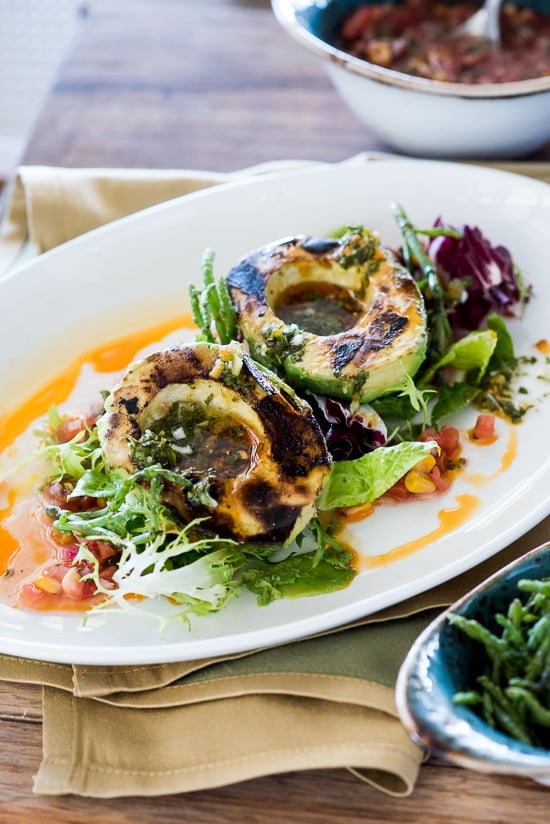 Salads don't have to be boring and this grilled avocado salad is probably one of the best vegetarian salads we've ever had. Now that we (and you) have the recipe, we can all duplicate it at home to enjoy, especially now that it's coming into avocado season. It's perfect for any season, for a crowd or anyone who loves to eat a ton of avocado in their salad.
Hope you enjoy the video and recipe. We'll be back soon to share more adventures from this part of the world. Have a great week!
-diane and todd
We're in partnership and collaborating with Fairmont on some awesome travel stories. All opinions are our own. Hope you enjoy them and more to come!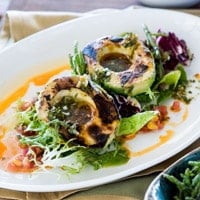 Print Recipe
Grilled Avocado Salad with Corn Pico De Gallo
This vegetarian salad is the perfect combination of flavors and textures. If you're an avocado lover, you'll love this salad to death. The chimichurri sauce can be optional. It adds great additional flavor, but the salad is still delicious without it. Here is a nice chimichurri recipe options here.
Avocado salad and corn pico de gallo recipes compliments of Fairmont Mayakoba. Watch the recipe video on our post.
The corn pico de gallo and chimichurri will make more than needed for the salad. Both keep well for a few days in the fridge use for other recipes.
Servings: 4 servings
Ingredients
For the Grilled Avocado Salad Assembly:
2 large Avocados , halved and seeds removed. Do not remove skin.
olive or cooking oil , for brushing
sea salt , to taste
3/4 - 1 cup (180-240ml) corn pico de gallo - see recipe below
3 cups (710m) chopped fresh lettuce
chimichurri sauce , optional
about 2 Tablespoons (30ml) chili oil, optional
Instructions
Make the corn pico de gallo and optional chimichurri sauce. Heat grill on high heat. Slice avocados in half and remove pit. Brush each half of avocado with oil and sprinkle with sea salt. Place avocado cut-side down on grill. Cook for about 2 minutes or until avocado is charred. Remove from heat and set aside.

Place about 1/4 cup of corn pico de gallo on plate. Top with a handful of lettuce, place 1 or 2 avocado halves o top of lettuce. (optional) top with chimichurri sauce and drizzle of chili oil. Add additional salt to taste. Repeat with remaining avocado halves.
For the Corn Pico de Gallo:
1 1/2 cups (9oz or 250g) corn kernels, cooked or charred

2 large tomatoes, minced

1/4 cup (60ml) red onion, minced

1 Tablespoon (15ml) chopped cilantro

1 small jalapeño chile, minced (or to taste)

about 1 teaspoon (10ml) lime juice (or to taste)

pinch of sea salt, to taste

Combine all ingredients together in a bowl. Stir together then refrigerate until ready to use.
We are a participant in the Amazon Services LLC Associates Program, an affiliate advertising program designed to provide a means for us to earn fees by linking to Amazon.com and affiliated sites.