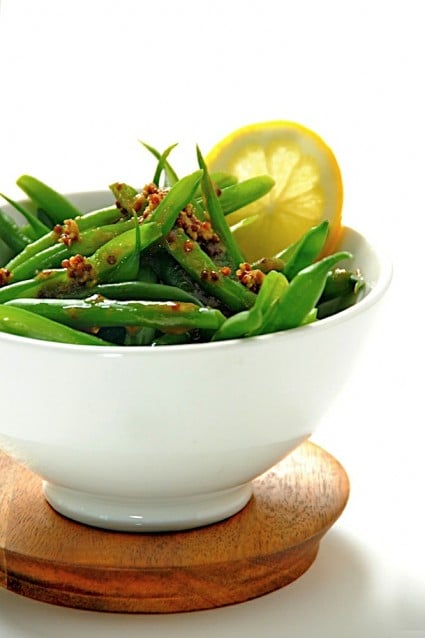 Alas, we're finally getting in the groove of taking pictures of food again. For as much as we cook, eat and entertain, we sure don't share enough of it on the blog.  We inhale our food so fast,  and when it's all through, we're wishing we had pictures to share it."Did you take a picture?", "No, I thought  you did", "I didn't cause I thought you did !".
Honestly, it just takes way too much work to: 1. STOP cooking/eating  2. GRAB CAMERA  3. SET UP photo 4. SNAP the pic 5. LOAD the pic and finally, 6. WRITE the post.
Is it just us? Blogging is GREAT fun and a hobby , but sometimes we just don't feel like  taking blog pictures in the bustling kitchen. Besides, it not safe to have the lens up close and personal to an oil splattering wok or trying to take hold the camera in  one hand while yielding a knife in the other.
"But, there's both of you to work together. It should be easy": you're a fool (you know who you are) to think that we have the time to take pictures of each others dishes. We're usually on both ends of the kitchen focused on prepping different things, neither of us want to stop. Yes folks, we do work independently too and don't think that you single folks have it "hard" in the kitchen.
We just don't how some bloggers are able to post almost everyday, that's ambitious. Keeping up with all of your great work is ambitious for us too this busy holiday, which we haven't been doing much of lately. We miss all of you.
But we have a system that motivates us to be able to take pictures of the recipes and the final dish. We've found our photo mojo and will be posting more for all to see.  We'll share it all in a video later on for our upcoming : Food photography in the Kitchen series!
This dish was so quick to photograph, it was almost scary. We're never had our crap together enough to take a final picture with in a few minutes. This was great because that means not having to interrupt dinner for too long .
Whole grain mustard is made of whole or partially ground mustard seeds and the texture is great for dressings. The tang of the  whole grain mustard with the hint of honey sweetness makes a great vinaigrette for almost any vegetable or salad dish. Some haricot verts (baby green beans) were hiding in our vegetable bin and  were then quickly blanched  to a tender, crispy sweet.
This whole grain mustard vinaigrette has all the elements that keep us craving more: texture and contrasts in flavor. It takes about 10 minutes to throw together but when tossed with some beautiful greens or vegetables of your choice, looks like a million bucks. It's been a nice transition lately with so much meat and rich foods that we've eaten in the last few days, life as carnivores has been good. Now it's time to be herbivores for a few days.
Green Bean & Whole grain Mustard/Honey Vinaigrette Recipe
Yield: Serves 2-4
Total Time: 20 Minutes
Ingredients:
about 1 pound green beans, haricot verts
1/4 cup Olive oil or Grape seed oil
1 Tablespoon whole grain Mustard
1 teaspoon Honey
1 Tablespoon Balsamic Vinegar
1 Tablespoon fresh Lemon Juice
Directions:
Wash & trim stems of green beans.
Prepare ice bath. In large bowl, fill with cold water and add about 8-10 ice cubes.
In large pot, bring water to boil. Add green beans and cook for just about 2-3 minutes, or until beans become tender.
Drain green beans in colander, rinse quickly with cold water from faucet, then immediately add green beans to ice bath. When green beans have cooled, remove from ice bath and allow to drain.
In bowl or mason jar, add oil, whole grain mustard, honey, balsamic vinegar and fresh lemon juice. Mix well.
Toss green beans and vinaigrette. Add extra squeeze of fresh lemon juice or lemon zest right before serving.
Hello! All images & content are copyright protected. Please do not use our images without prior permission and do not re-publish this recipe. Simply link back to this post for the recipe. Thank you.
Recipe Note for Salt: All recipes containing salt are based on kosher or sea salt amounts, not table salt. If using table salt, reduce the amount used to taste.
[ad]