Goodmorning, Dragon Fruit
Dragon Fruit Plants: Photos in Garden
During the last few months, we found our selves rolling out of bed in the wee hours of the morning and heading out to the garden with our eyes still half closed. Yes, even without our espresso, we're hauling our sleepy carcasses out of bed. This morning ritual only occurs during our dragon fruit season. The reason why is because our dragon fruit plants have produced tons (well, almost) of flowers , which only bloom at night and into the early morning. This 12 hour bloom cycle is fast , furious and spectacular! The dragon fruit flowers are stunning trumpets of white petals with all the flower sex parts, exposed for us early morning risers. Seeing the monstrous detail of floral stamen and pistil sex parts is almost erotic, if we were awake enough to enjoy it! Once the heat of the sun and day fall on the flowers, they wilt and disappear into floral oblivion. That is why we wake ourselves up early, to see this amazing blooming ritual. After that, we go back to bed! 😉
Different Varieties of Dragon Fruit
It's been a good dragon fruit year for us collectors. We have a total of 5 varieties, all different, unique and some rare. The variety here is the pink/red skinned and white centered variety, which is the most common in the United States. Our bounty is not quite ripe yet, maybe in another few days the sugar content will increase and will be ready for picking. It was such a beautiful sight to see our plant still producing flowers this late into the season.
I thought I'd quickly share with you what I saw this morning. I just couldn't wait till the big dragon fruit post to be finished. We'll have lot of dragon fruit recipes ideas too. But until then, here's a few photo's of my beautiful morning. This is the best part of gardening, seeing all of natures steps, one flower at a time and one fruit at a time. I hope you are as excited as we are about this amazing plant.
Photos of flowers and plants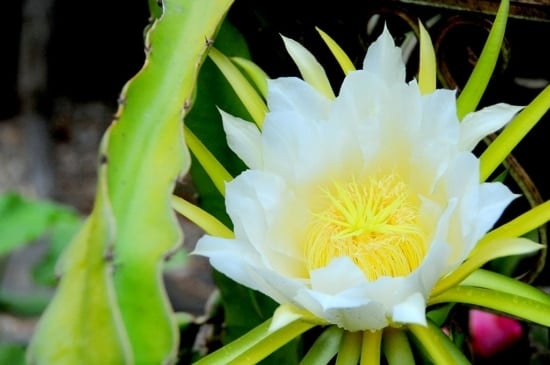 up close and personal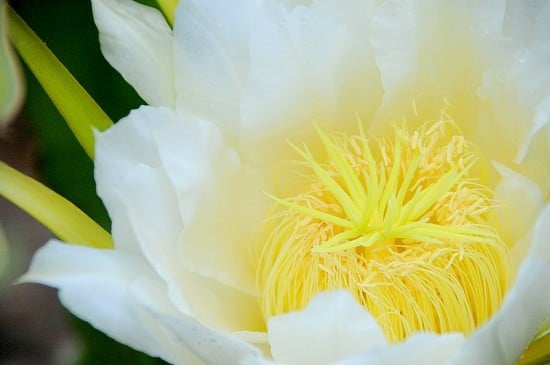 dragon fruit "scales" or "fins"
dragon fruit happiness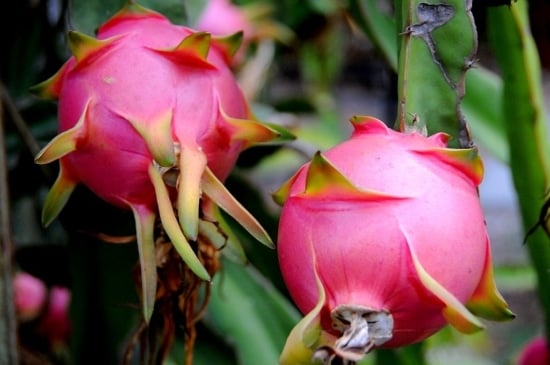 Previous Dragon Fruit Posts and Photographs:
Some cool dragon fruit recipes we've found. If you made something with dragon fruit, please feel free to link away too!
We are a participant in the Amazon Services LLC Associates Program, an affiliate advertising program designed to provide a means for us to earn fees by linking to Amazon.com and affiliated sites.