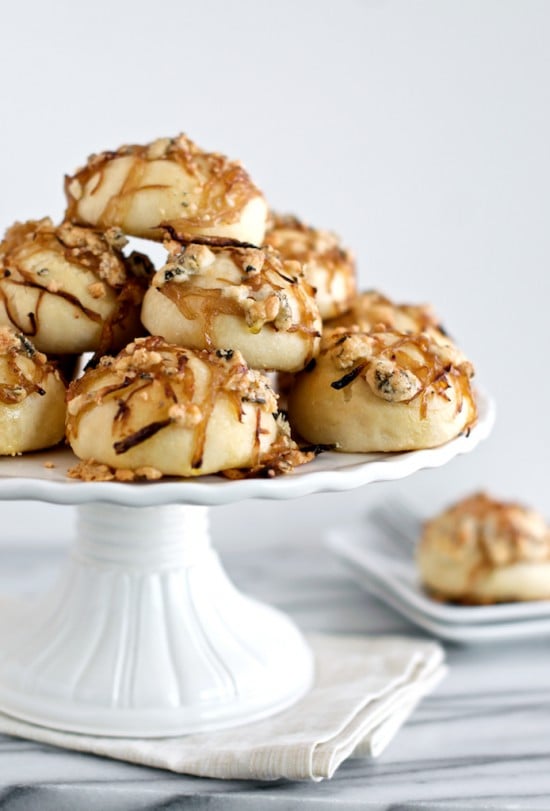 Woe to the dinner roll.  So plain and boring.  Dinner rolls piled in a basket to stave off hunger before the "real meal" arrives or  utilized as a gravy clean up tool throughout the feast. It's the wallflower of the dinner table.
It is time for the dinner roll to stand and say "Notice Me!"  Let mashed potatoes and green beans be the boring ones.  Introduce the feasting masses to dinner roll eye-rolling goodness and show 'em you've got soul and pizazz.  Announce your bad-ass bread presence with authority with Olive Oil Dinner Rolls with Caramelized Onion and Gorgonzola.
The dough for this yeasted roll recipe itself isn't overly crucial (although this dinner roll dough recipe kicks some ass, too.) You can use whatever dinner roll dough you like, even the (gasp!) pre-packaged kind. It is the sweet, tangy, slightly salty, flavor laden topping of the caramelized onion and melted-to-a-crispy-edge Gorgonzola that are the real show stoppers.
Just because the topping is out of this world, you don't have to skimp on making the dinner roll yourself, however.  Utilizing the principles behind Zoe Francois & Jeff Hertzberg's phenomenal book "Artisan Bread in Five Minutes a Day" it is super quick and easy to make your own yeasted dinner rolls.
Their book's main principle falls directly in line with how Diane and I organize cooking for a large party.  Prep and make what you can ahead of time, often days ahead, saving the final day for the finishing the meal.  The two of us can hammer out a feast for 75 with everything still fresh and delicious as long as we have the proper organization.
slowly caramelize onions to sweet perfection- yummy!
Make the dough ahead of time, we'll do it a few days to a week ahead of time, caramelize the onions and crumble the Gorgonzola the night before or that morning, then form your rolls, and bake just before dinner.  Very little time is spent on the rolls on the day of the feast, yet they are coming fresh out of the oven, filling the air with their incredible aroma just at serving time.
(BTW- Zoe & Jeff's "Artisan Bread" book is incredible, if you haven't gotten it already.  Breads can be tricky because a set recipe doesn't always work.  They do an incredible job of explaining the principles of bread making and how to understand your dough & adapt your baking to have beautiful loaves. And now this dynamic duo has a new book rocking the baking world "Healthy Bread in Five Minutes a Day". We've met and love Zoe and are super excited for her!)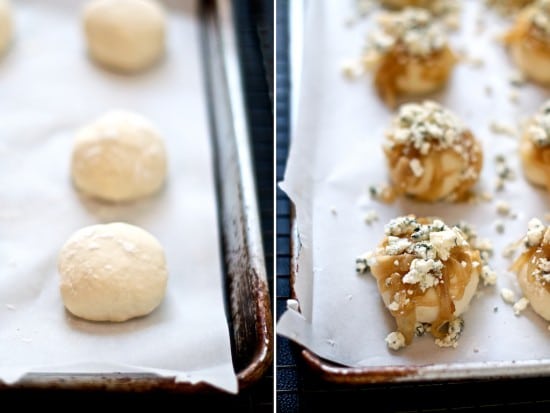 top off rolls with caramelized onions & cheese before baking
The dough for this roll has milk and olive oil to create a soft slightly richer tasting roll.  When making the dough, it should be moist enough that it is fairly slack, but not too moist where it won't hold it's shape when formed into the rolls.  Just like most of doughs Zoe & Jeff have shared, we created this dough recipe to be more moist than what you may be used to.  That is part of the secret to both their success and our bread recipe's deliciousness.
Humidity, your flour and other tiny variables all factor into how much flour you'll actually need, so use the recipe more as a guideline, than a definitive measurement. There are many fine tuning tips to bread making which are too extensive to go into here.  There are some great books out there as a perfect place to gain that knowledge. Hint, hint!
Now, let's go make some dinner rolls that will make people take notice and "Oooh!" with pleasure.
-Todd
Mmm, mmm, mmm! Amazing flavor on these amped up dinner rolls!
Olive Oil Dinner Rolls with Caramelized Onion & Gorgonzola Recipe
Ingredients:
Olive Oil Dinner Rolls
1 1/2 c (355 ml)Water, warm
1 1/2 c (355 ml)Milk
1/4 c  (60 ml)Olive Oil
1 1/2 T (20 g) granulated Yeast
1 T (15 g) Sea Salt
6 1/2 c (900g) un-bleached, all-purpose Flour
Onion Confit & Gorgonzola Topping
2 lbs (910 g) Onions, thinly sliced
1/4 c (60ml) Olive Oil
1/3 c (80g) Butter
1 1/2 T (20 ml)Balsamic Vinegar
1/2 lb (227 g) Gorgonzola, crumbled
Directions:
Make the Dinner Roll Dough
Pour water into a large, preferably re-sealable bowl. Warm milk slightly and add to water.  Add olive oil, yeast and salt to the liquids.  Stir to dissolve, although it doesn't need to be 100% dissolved.
Mix in the flour - no need to knead. Just mix until you don't have any flour pockets and everything is evenly moist. Cover bowl loosely with a lid or plastic wrap and allow to rise until it begins to collapse (about 2 hours depending on room temp. & initial water/milk temp.)
You can use dough now, but it is much easier to handle if refrigerated for at least 3 hours.  Make dough up to 1 or 2 weeks in advance.

Make the Caramelized Onions ~ Baking Day or the night before

Melt butter with oil in a large pan over med-low heat.  Add onions & gently saute until very soft (@ 30 min.)  Add balsamic vinegar towards end of cooking.  Set aside to cool.

Form Rolls & Bake

Form rolls into a ball a little smaller than a golf ball. Line a few sheet pans with parchment paper and dust a little flour on the parchment paper.  One method for getting uniformly sized rolls is to weigh each little chunk of dough before making the roll.  We make these in 45 g balls. To make roll; dust your hands and top of dough mass with a little flour.   Gently pull a chunk of dough out of the mass, then holding the chunk in the palm of one hand, stretch the outside surface around to the top, grabbing from all sides to bring them around and pinch it all together.  It should create a ball with a tight smooth outer layer while still leaving the center relatively untouched. Occasionally re-dust your hands with flour to keep dough from sticking as you form the rolls. In "Artisan Bread in Five Minutes a Day" they refer to this shaping as "cloaking." Try not to handle the dough too much, as that will make the rolls a bit tougher.
Lay each ball on the sheet pan leaving a decent amount of space between them (12 rolls per 12"x16" sheet pan). Set aside in a warm part of the kitchen for about 45 minutes.  They usually won't rise too much at this point.  They will rise more when baking.

Preheat oven to 425ºF.

Gently cover rolls with onion confit and Gorgonzola. Put in oven and bake for 20-25 minutes, or until rolls start to turn golden and onions are just starting to singe. If cooking multiple sheet pans of rolls, rotate racks half way through cooking.
Remove from oven and transfer to a wire rack to cool.  Serve warm or at room temperature.
Hello! All images & content are copyright protected. Please do not use our images without prior permission and do not re-publish this recipe. Simply link back to this post for the recipe. Thank you.
Recipe Note for Salt: All recipes containing salt are based on kosher or sea salt amounts, not table salt. If using table salt, reduce the amount used to taste.
[ad]