Warning: These chocolate cookies are crack, just like the title and photo suggests (but it isn't really the hard stuff in the photo.  Powdered sugar and palm sugar were the prop fill ins.)
Need your chocolate cookie fix?  Here's a little something for you adapted from the latest book of the dessert masterDavid Lebovitz, "Ready for Dessert".
David's chocolate crack cookies are highly addictive chocolate bombs of ecstasy that he originally crafted in the kitchen of Chez Panisse.  He innocently claims the name comes from the "craggy fissures." At that time it was more appropriate to come up with a safer name for the masses for these incredible chocolate cookies, so there were several aliases used on the menus.
Sounds kinda fishy to us.  We think he knew all along how addicting these chocolate cookies are and how they will leave you a mess until you get your next chocolate hit.
David's original chocolate crack cookie recipe calls for sending a mass of almonds through the food processor be pulverized, however our food processor is amongst the dearly departed so a little improvisation took place.  After the cash for a replacement has been pried from our grips, we can't wait to try his original recipe, but until then this adaptation it more than enough to make any chocolate cookie craving quietly purr in submission.
Luxardo~our libation of choice.  More to come on this liquor!
Dark chocolate lovingly melted down with a little butter. Add a libation of choice.  Macerate some tart dried cherries (another adaptation). A little flour, egg, sugar, baking powder.  Roll in granulated sugar and powdered sugar and bake.  Shivers from pure radiant joy.
Don't forget to check out David's latest and greatest, Ready for Dessert.  It's a collection of David's favorite recipes, spanning cakes, pies, frozen desserts, cookies, candies and some incredible sauces and preserves.  The book combines incredible dessert recipes with David's sage guidance and witty humor.
Step -by- Step Recipe Photographs
Chop and put chocolate into a bain marie
Add liquor and gently melt
Chocolate mix and Whipped egg/sugar mix (ribbon stage)
Add chocolate mix into whipped egg/sugar mix
Sift in dry ingredient, mix, then chill
Roll dough into ball, then coat with sugar, and powdered sugar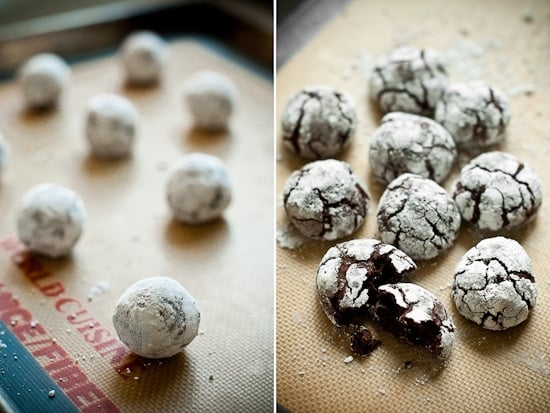 Ready, set, bake!
Chocolate Crack Cookie Recipe
Yield: 24-30 Cookies
Total Time: 3 hours
Adapted from Ready for Dessert by David Lebovitz. The dough can be refrigerated for up to 5 days or frozen for up to 1 month. These chocolate cookies are best eaten while still warm (aren't most cookies) or at least the same day.
Ingredients:
4-6 oz (112-170 g) dried Tart Cherries
@1/4 c (60 ml) Liquor of Choice to Macerate Cherries
8 oz (225 g) Dark Chocolate, chopped
3 T (45 g) unsalted Butter
1 1/2 T (22 ml) Liquor (we preferred a cherry liquor~Luxardo)
2 lrg Eggs, room temp.
1/3 c (65 g) Granulated Sugar (+ extra for coating cookies)

3/4 c (100 g) Flour

1/2 t (3 g) Baking Powder

1/4 t (1 g) Sea Salt
Powdered Sugar (for coating cookies)
Directions:
Combine the dried cherries and 1/4 c of liquor in a small bowl to macerate (the longer you can do this ahead of time, the better). Set aside.
Combine the dark chocolate, butter, and 1 1/2T of liquor in a medium bowl.  Place over a pot of simmering water to gently melt the chocolate and butter, stirring occasionally. Remove the bowl from the heat.
Drain the liquor from the cherries, then add them into the melted chocolate mix.
In a stand mixer, combine eggs and 1/3 c sugar and whip on high until the mixture forms a well-defined ribbon when the whisk attachment is lifted out (@ 5 min).  Using a spatula, add the chocolate-cherry mix to the whipped egg-sugar mix. Combine the flour, baking powder and salt in a sifter and sift into the batter. Mix just until well combined. Cover and refrigerate until firm (1-2 hours).

Position oven racks in the upper and lower third locations. Preheat oven to 325°F.

Pour granulated sugar in a small bowl and pour powdered sugar in a separate small bowl. Form chocolate cookies into 1" (3cm) balls. Toss in granular sugar, then roll in powdered sugar to coat.  Put on a baking sheet lined with parchment paper or a silicone mat spaced about 1" apart.
Bake for 6 minutes then rotate the cookies sheets and bake for another 6-8 minutes. Cookies should still be slightly firm on the edges and fairly soft in the centers. Don't overbake them.
Let the cookies cool on the sheet pan until firm enough to handle then transfer to a cooling rack. Eat 'em as soon as they are cooled past the chocolate napalm level.
Hello! All images & content are copyright protected. Please do not use our images without prior permission and do not re-publish this recipe. Simply link back to this post for the recipe. Thank you.
Recipe Note for Salt: All recipes containing salt are based on kosher or sea salt amounts, not table salt. If using table salt, reduce the amount used to taste.
Other cookies recipes you might enjoy:
[ad]