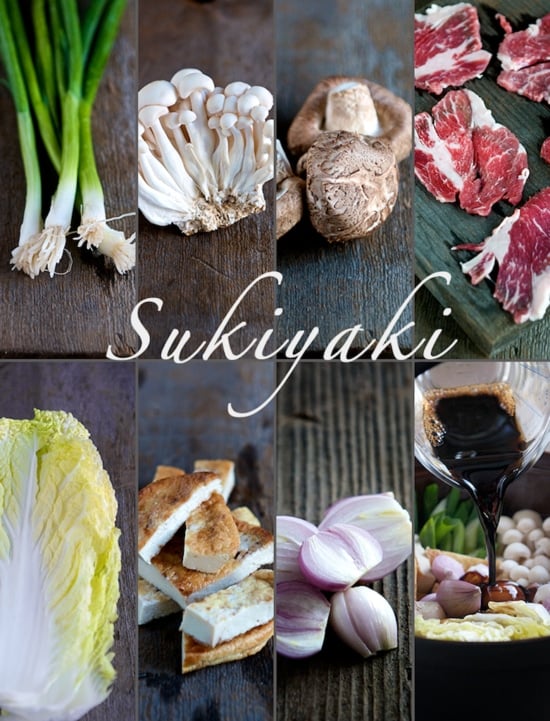 Japanese hot pot, or nabe, are the perfect dish this time of year.  Quick, easy, and warm one-pot meals. This beef sukiyaki hot pot is one of our favorites inspired by a great cookbook called Japanese Hot Pots. We've been trying to catch up on our unarchived photos and after going through our recent Japan trip photographs, we needed some Japanese deliciousness, and quick.  What better way, than with some warm, comforting Japanese home food, Nabe, or hot pot.
In restaurants here in the US, most people's experience eating Japanese hot pots are at a Shabu-Shabu restaurant.  You might consider shabu-shabu one of the more refined versions of nabe, where  the flavors are often delicate and subtle. The finest cuts are of meat and highest graded seafoods are served, with most everything sliced paper thin and raw. Then you will quickly poach the meats in a delicate broth.
medley of ingredients for sukiyaki
Nabe is quintessential Japanese home cooking.  And home cooking, no matter the culture, is always some of the best cooking.  Comforting, delicious, simple and satisfying. They are the type of dishes which comes from the heart and soul of the Japanese. Shabu-shabu is one form of nabe, but there is so much more to Japanese hot pots than shabu-shabu.
For those uninitiated to the pleasures of Japanese Hot Pots, they are essentially one-pot meals where the ingredients are all poached in a broth.  After cooking, that pot then becomes the serving vessel upon which everyone gathers and shares. For us it is the ultimate way to eat.  Few connections touch closer to the human heart than sharing a meal from a singular nucleus. It's one thing to sit down at a table together, but another, one endearingly more special, to share from the same plate or vessel.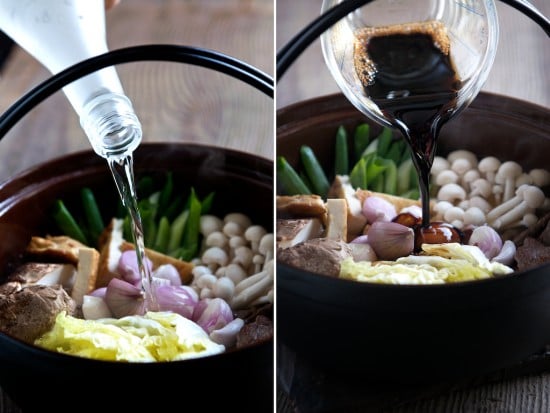 adding sake and soy sauce to simmer
The Japanese hot pots share a simple and easy formula.  Prep the ingredients, make the broth (most nabe broths are quick to make – not 3-5 hour stocks), neatly gather and fashion the ingredients into the pot, then cook.  The cooked ingredients are communally eaten, then the remaining broth is often consumed with a comforting and filling shime or "finish", often cooked rice or noodles. Like most any culture's home cooking, the ingredients are nourishing and economical. Plus, this being Japanese cuisine, you are nearly always guaranteed extra depth of flavor from an ingredient which will provide an umami element into the nabe. Most times this will be in the broth, which frequently are miso, kombu, or soy based.
This particularly delicious nabe recipe is for beef sukiyaki.  In historical times, both beef and sugar were rare, expensive luxuries in Japan, so of course for those special occasions one wanted to serve the best. Today, for us at home, these are still the best ingredients.
So what is Sukiyaki? Sukiyaki is type of nabe (Japanese hot pot, in case you forgot 😉) where deliciously thin sliced beef is quickly seared, combined with medley of other nourishing and tasty vegetables and other ingredients, then simmered in a broth of sake, soy sauce and sugar. The richness of the beef, highlighted by the sweetness of the sugar combined with a bit of savory umami from the soy sauce and a bit of a punch from the sake, make this is an utter delicious hot pot.
For more on Nabe, Japanese Hot Pots check out Tadashi Ono and Harris Salat's book "Japanese Hot Pots – Comforting One Pot Meals".   Of course the recipes are fantastic and there are fantastic tutorials for the prep (which isn't complicated but little traditional twists on how to cut and prepare the ingredients make the nabe that much more delicious.) Even more prevalent in the book is their love for nabe, a truly special cuisine from the hearts and home kitchens of Japan.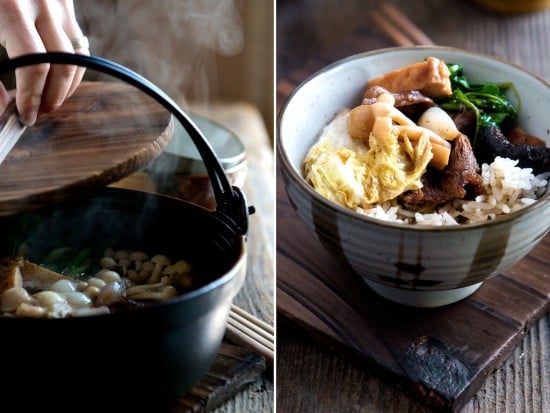 warm for the soul— just add rice!
Beef Sukiyaki Hot Pot (Nabe) Recipe
Yield: 3-4
Cook Time: 15 min.
If you don't have or can't find some of the ingredients below, don't let that stop you from making this.  Substitute what you can and like to eat.
Ingredients:
1 T Beef Fat Trimmings
1 lb Beef Strip Loin or Rib Eye, sliced 1/8" thick *see note 1 below
8-10 Shallots or 1/2 med. Sweet Onion
1/2 lb Napa Cabbage, sliced *see note 2 below
4 Green Onions or 1 Negi (Japanese Leek or Welsh Onion), sliced on angle in 2" pieces
4 oz (@ 8 pieces) Shiitake Mushrooms, stems removed
7 oz (200g) Enoki Mushrooms, trimmed & separated
6 oz (about 1/2 package) Broiled Tofu, cut into 1/2" sticks
7 oz Ito Konnyaku noodles, rinsed, strained & quartered (these can be hard to find, and have a texture many American palates aren't used to.  Don't feel bad if you leave it out.  There are Japanese households which don't include it either)
2 c Junmai Sake (or other amiable sake - no cooking sake please)
1/3 c Sugar
1/2 c Japanese Soy Sauce, better soy sauces really shine in this broth
1 c Arugula leaves, rinsed & in 3" lengths - original recipe calls for 2 c Shungiku (a type of chrysanthemum leaf) but we have a ton of arugula growing & love it in this recipe
shime- cooked short grain rice to eat with leftover broth
optional- 1 egg for each person, beaten
Directions:
1. In a 4 1/2 - 5 qt pot (preferably an enamaled cast iron, but use what you've got) warm pan over medium heat and add fat trimmings.  Render fat for a minute or so, then add beef slices. Try to lay in the slices in a singular layer. Brown each side.
2. Gather the meat to one side of the pan.  Arrange shallots or onion, cabbage, green onions, mushrooms, tofu, and noodles into neat clusters in the pan. Add sake, sugar and soy sauce then simmer for 10 minutes.
3. Add arugula leaves on top of everything, then cook for 1 minute more. Serve in the pot you cooked it in. One optional way to enjoy this nabe, is to crack and beat an egg in a bowl for each person.  As they eat, they can dip each cooked ingredient into the egg, then consume. Eat through all the goodies in the pan, then add the remaining broth into bowls with rice to finish off all of the delicious broth.
*Note 1: You can always ask your butcher to slice the meat thinly for you, but for those DIY types, put the meat in the freezer for 2-3 hours to firm it up, then slice it using smooth, long strokes slicing across the end grain.  In Japan the beef is usually super well marbled.  Not just the Kobe beef either, nearly everything we saw had incredible marbling.  If you can, try to find something similar in your area.
*Note 2: To slice the cabbage so they absorb the broth well, lay a stack of leaves flat on a cutting board. Starting at the base end, instead of slicing straight down, slice at a sharp angle, right to left (if you are right handed.)  Repeat every two inches.
Hello! All images & content are copyright protected. Please do not use our images without prior permission and do not re-publish this recipe. Simply link back to this post for the recipe. Thank you.
Recipe Note for Salt: All recipes containing salt are based on kosher or sea salt amounts, not table salt. If using table salt, reduce the amount used to taste.
[ad]