Thomas Keller's Cornets – Savory and/or Sweet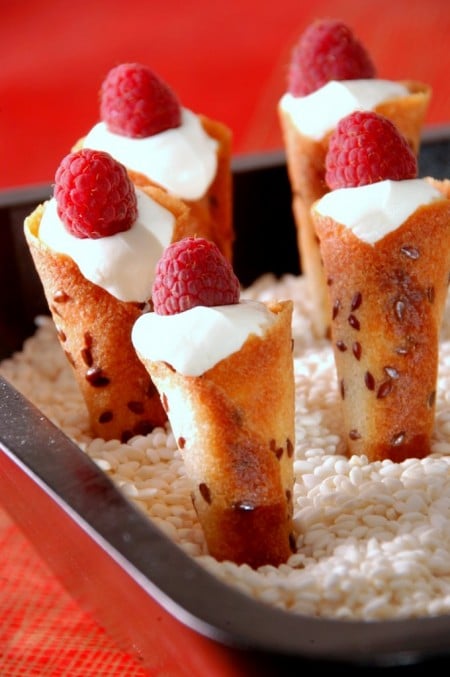 Last Saturday's superb blogger party still has us pumped up and buzzing. Even with all the dishes cleaned and put away, we're still feeling the exciting aftershocks of the amazing gathering. Thanks to everyone who attended! All of you make us proud to be part of this passionate blogging community! Since we're still riding the waves of the fun gathering, we've decided to post a few of the recipes for the dishes that we made for the party. This is definitely a first for us because normally after any party, the last thing we want to do is to write about each of the individual dishes and the recipes. Although so many times we have asked for specific recipes for our party dishes, we're just too burnt out to write about each specific dish, or any of them for that matter. Plus, half of the time we are tweaking the recipes or shooting them from the hip, so there is no way to accurately post an honest recipe unless we spend the hours trying to recreate the recipe measuring and documenting the results.   Normally we'll just write a long post with some pictures to share and that's pretty much it. Forget any followup posts or recipes folks! We'll usually make you just read the party post and weep!  Bratty! We know! Or as we like to say "Turkeybuttish!"
But like we said, this party was jam packed with some  phenomenal bloggers and their amazing spirit has pumped us up to write about at least one of the dishes, which were the cornets. For those who attended, do you all remember the cornets?  Thomas Keller's opening salvo in his "The French Laundry Book" which was so beautifully captured through the talented hands, eyes, and minds of Susie Heller, Michael Ruhlman, and Deborah Jones. Thanks to all those who collaborated on this fabulous book! For Keller, his cornet, even though it was born out of sadness, has become a signature of his restaurant with it's simple ability to evoke childhood joy.  In The French Laundry Cookbook he declares,  "I decided that everyone who eats at the restaurant should begin the meal with this cornet.  People always smile when they get it.  It makes them happy."
It wasn't long into our menu planning discussions that the idea of serving Keller's cornets came up.  We've played with the idea of serving them at many of our gatherings, but the timing has never seemed right.  It's usually either too many people, or not the right crowd, or when we finally had some true culinary aficionados over, we would forget to add it to the menu.  However this time we were having the perfect group over.
Making these precious tasties isn't exactly a day in the spa.  The batter is simplicity, the forms we already have crafted from past use, but the oven work can be a bit daunting. Standing at the oven's open mouth, with it's breath threatening to scorch your hide, while you delicately flip and roll the cornets around their molds, isn't what some would describe as an enjoyable experience.  Add that to the sizzling butter from the cornets and the high temp oils from the flax seeds (Keller uses black sesame seeds) singeing the tips of your fingers as you try to execute this seemingly simple task.  Of course one doesn't have to bare-hand it, but no implement is as dexterous as the human hand and the toughening of the fingertips trumps the wasted time and frustration of using little helpers.  Personally, it rekindles memories of bare-handed pulling pizzas and quesadillas in and out of a 500° oven at the restaurant that was my second home for nearly a decade.  I can hear the the jazz or funk playing as me and my boys cranked through another crazy weekend rush, while the food threatens to ooze it's napalm of fillings onto your palm.  Good times.
For the filling, we didn't want to copycat Keller's salmon tartare, even though the tartare is beautifully simple and delicious. We've made the cornets many times before with other savory fillings such as grilled salmon and an eggplant caviar.  But being that one of us has a sweet jaw (sweet tooth²), our thoughts drifted towards a sweeter style filling.  And when we remembered that there was some leftover filling from our goat cheese pillows which we had served the weekend before, it immediately appealed to our palates and to our frugal natures and we screamed "Yahtzee!" (Yes, dear guests, you were served leftovers.  And I bet you never guessed.  We are a set of Turkeybutts!) Add some fresh raspberries or blackberries and our reverent guests would have the perfect greeting.
For those of you wishing to recreate these, here's how we did it with some visual step by step instructions. But for the specific recipe, you must buy Mr. Keller's "The French Laundry Cookbook" and follow his instructions. We're firm believers that the lessons that Keller shares in this fantastic book will make you a better cook. Absolutely, a better cook! Besides,  we already  gave you our one freebie from the book last time with the Red Beet Ice Cream!
Steps before baking:
Steps during the mid & final bake: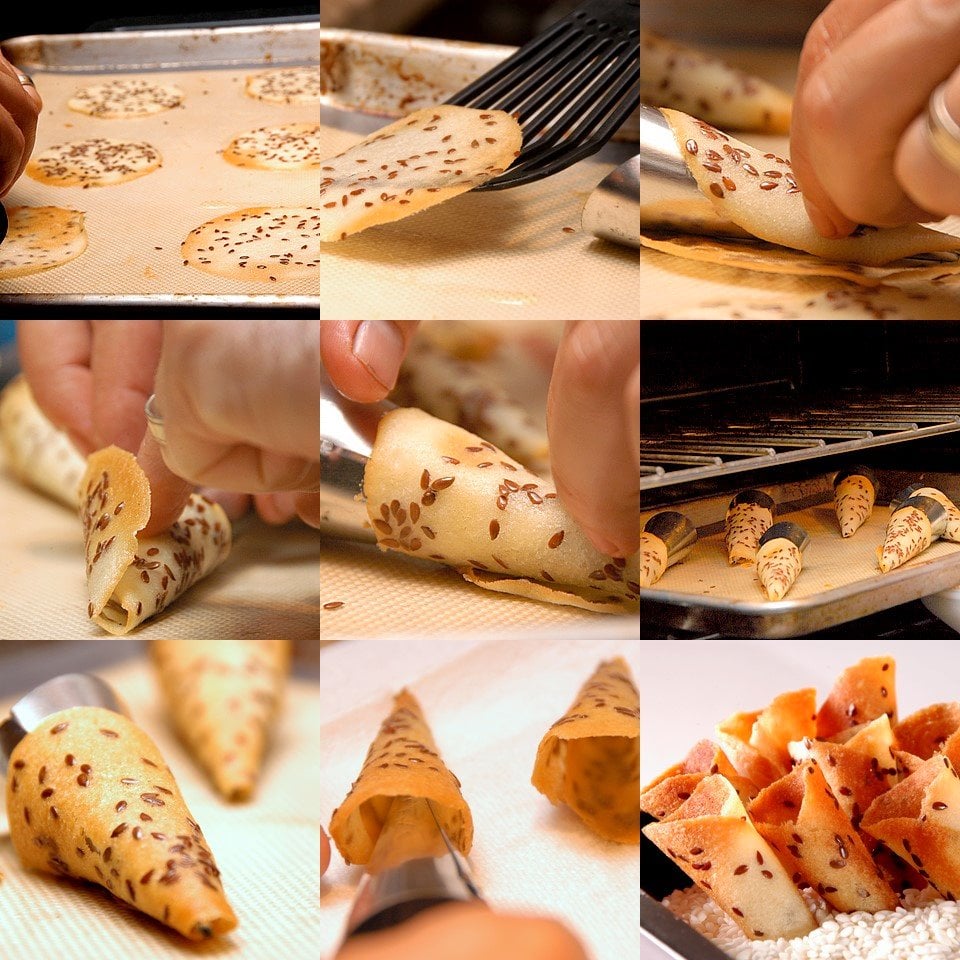 For our sweet goat cheese/crème fraîche filling:
Mix approx. 2 parts goat cheese (room temp), 1/2 part sour cream or crème fraîche, 1/2 part cream cheese (room temp), a bit of vanilla extract and sugar to taste.  When ready to serve, pipe the goat cheese mix into the top 1/2″ of the cornet, top with a berry and serve immediately.  If they stand too long, the moisture from the filling will start to soften the cornet and you'll lose the delicate crispness.
Here's some tips we found while making the cornets:
Don't cook them too much before you roll them around the mold.  They should be just done enough to set the batter without browning at all yet.  (The first pics in the second collage above were done just a little too much.  They should have been rolled about 1 min. earlier)
When rolling the cornet around the mold, use one hand to hold an edge of the batter against the mold and the other to roll the mold.  The rolling motion of the mold creates the shape much easier than trying to fold the batter around the mold.  Let the mold due all of the work.
Not all of the cornets will finish at the same time.  Use a chopstick inserted into the wide opening of the mold to lift out the hot molds.
By using 3 baking sheets, and 2 silpats, you can create a continuous flow of cornet making.  Spread 6 circles on  a mat and bake.  As they bake, start spreading 6 more on the second mat and baking sheet. When the first set is done, put the second set in oven.  Put finished cornets on paper towels, wipe silpat clean and place mat on cool (3rd) baking sheet (the mat will cool fairly quickly).  Spread next set of batter.  Wipe original baking sheet clean (it should now be cool), and place back at your batter spreading station and you are ready to repeat cycle.  (This cycle is recommended only after you are comfortable with spreading the batter and forming of the cornets.  It may be too overwhelming the first time you try to make the cornets.)
Inevitably, some cornets will break or come out funny.  Plan to make more than you need.
Todd serving cornets at our blogger party
What?!? Still not enough for you? Ok, we just found this video, from Brightcove.tv, of Keller himself demonstrating making his cornets.  It looks like the actual baking had to be staged for the show, so you may not find that part wholly accurate but he most likely had to make adjustments to accommodate the media presentation.  But come on people, this is The Man giving away some of his secrets!  Be grateful!  You even get the recipe with a new twist of adding roasted garlic paste.
Watch Thomas Keller make his savory cornets:
Update: Sorry, this video is no longer available…..
More appetizers that you might enjoy:
Roasted klondike rose potatoes with herb goat cheese, thyme
Vietnamese stuffed squid
Asian nachos with pork and/or wonton chips/prawn crackers
Panko crusted shrimp lollipops
Zucchini blossoms stuffed with pork
Purple kohrabi chips
Tofu frites, fries and mojo's
Vietnamese Spring Rolls – Pineapple and pork fresh springrolls
Roasted nuts with parmesan, black pepper, sea salt
Turkey and bacon fried springroll
[ad]
We are a participant in the Amazon Services LLC Associates Program, an affiliate advertising program designed to provide a means for us to earn fees by linking to Amazon.com and affiliated sites.