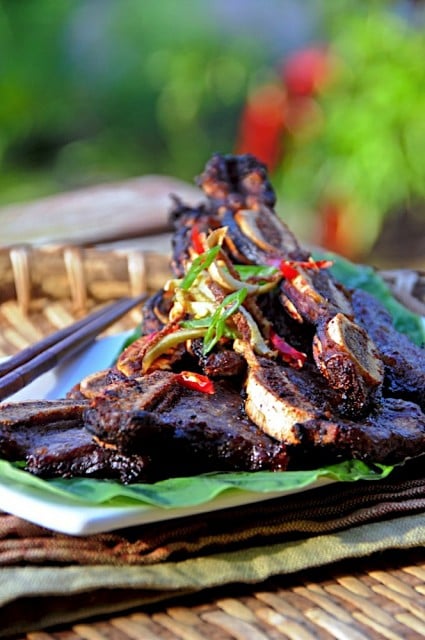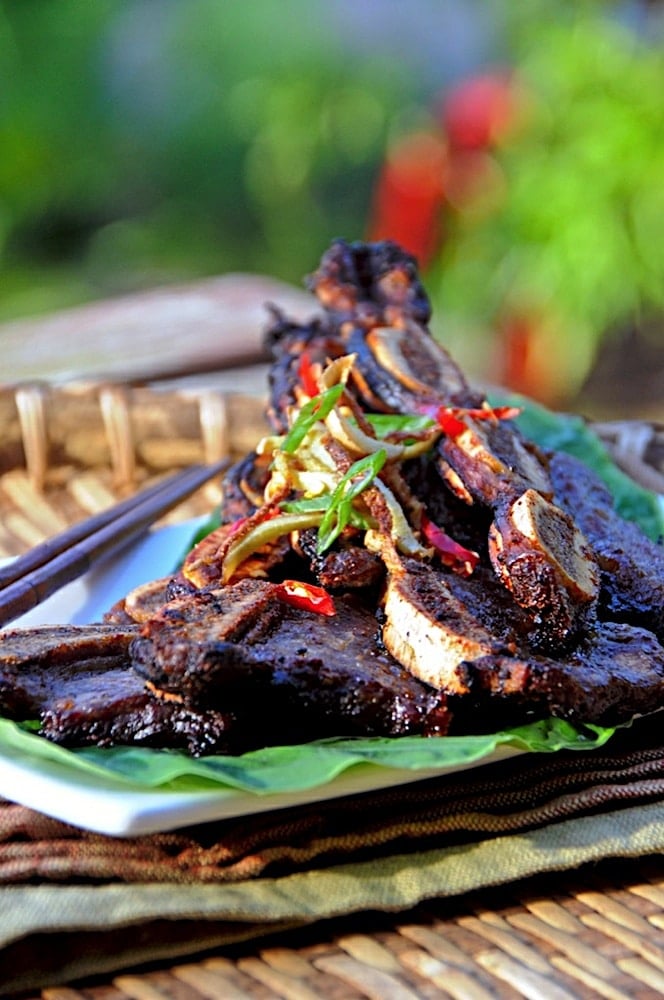 Still hazy in my pre-coffee morning stupor, Diane hit me with a question that immediately kicked an, "Aww, sh%&!" out of my mouth.
A few days earlier we had purchased one of my favorite cuts of beef, the Korean-style-cut short ribs and I totally forgot about them in the fridge.  (For those uninitiated, Korean Cut short ribs refers to a butcher style of cross-cutting the ribs so that they are about 1/3″ thick.  This is, of course, for the Korean dish Kalbi, which is unbelievably addicting.  The ribs cut this way allow you to be able to grill, broil, or pan sear them quickly (and makes it easier to eat with chopsticks.) Forgetting about the short ribs seems to be my M.O. lately when it comes to these poor, delectable chow-down tasties.  The last couple times of grilling short ribs, I had forgotten them for a bit, and they came off with a little extra carbon.  Matt & Adam were great guests and pleaded them palatable, but I knew better.  I had disgraced the ribs by my grill sentry inattention.  50 lashings and no ribs for a month.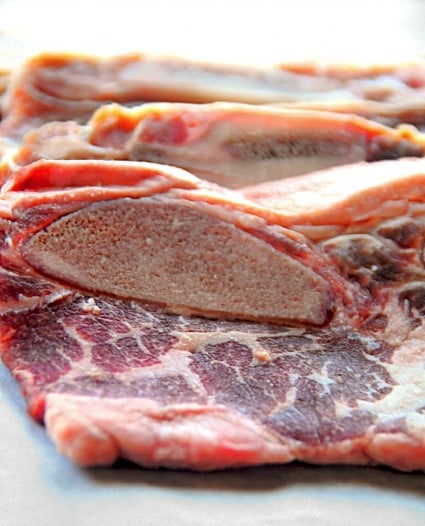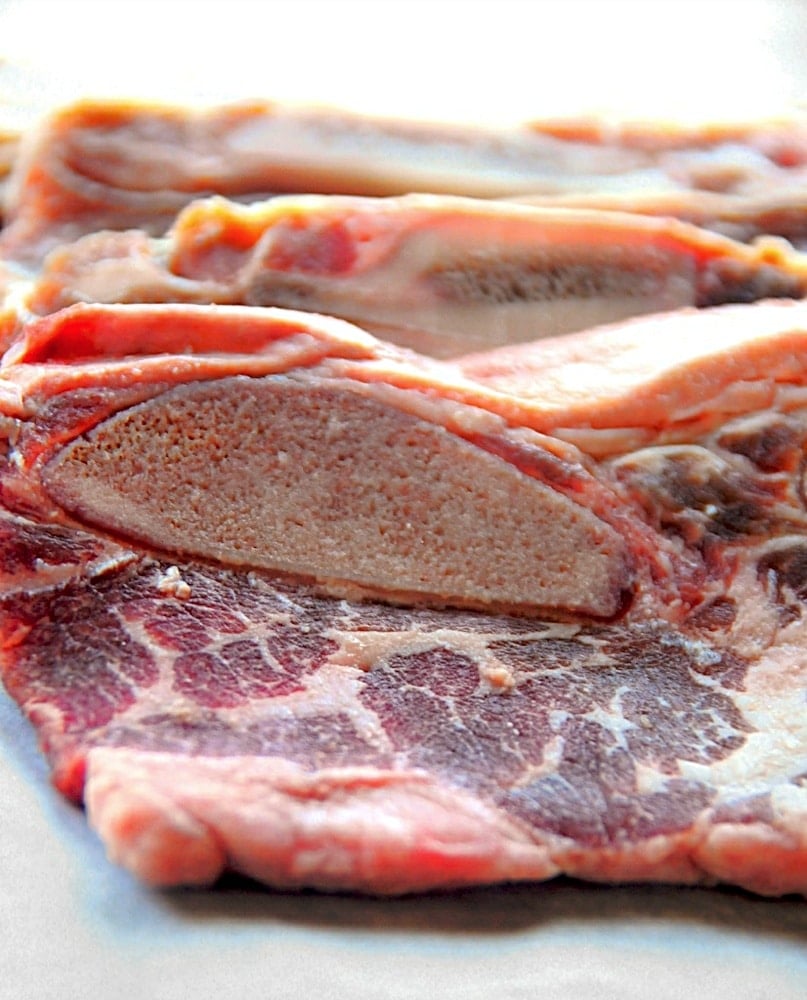 So after Diane asked her innocent question, "Are you going to cook that?…", my synapses started firing and realized that I once again had almost forgotten the ribs and nearly allowed them to spoil.  Determined to redeem myself to the Beef Gods, I had my morning cappuccino (priorities, you know) then laid my focus into the short ribs.
The Korean cut short ribs are quick and easy to prepare and cook.  Sometimes too quick to cook, and if you aren't paying attention you'll carbon 'em.  For this marinade we upped the tasty quotient by incorporating palm sugar rather than regular granular sugar. This is an ingredient which I've often overlooked in our Asian grocery stores , but do love it's magic.  Palm sugar reminds Diane of  her kitchen slave days, and  she was the one who introduced me to it.  Ohhh what sweet magic.  The type we bought has a light brown sugar sweetness highlighted by accents of coconut and vanilla.  There are a lot of different types of palm sugar so check out Viet World Kitchen, Kasma Loha-Unchit, Chez Pim, or Wikipedia for a more in depth explanation.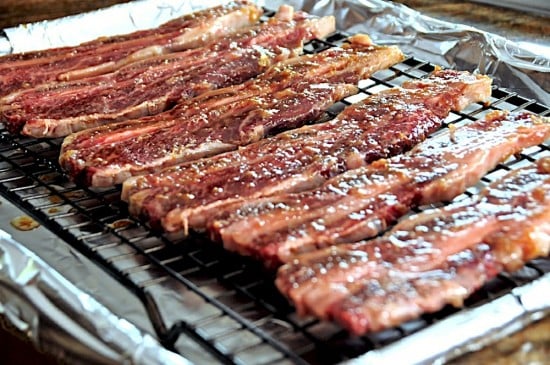 Even if you can't get your hands on some palm sugar, this short rib recipe is mighty tasty.  Just substitute with a bit of regular sugar.  I focused for the whole 10 minutes it took to cook, and the ribs came out quite delectable.  The beef gods were pleased.  Another quick and easy way to prepare the short ribs it to coat them with a bit of oil, fresh chopped rosemary, sea salt and pepper.  And Matt & Adam: I owe you a better sampling of ribs, let us know when the bellies have room.  If anyone has an actual Korean Kalbi recipe or any other short rib recipe that you are thrilled with, please share the link.  We'd love to try cooking the short ribs with new delicious recipes for one of our favorite cuts.
Short Ribs w/ Ginger Soy Marinade Recipe
Yield: Serves 4-6
Total Time: 45 Minutes
Ingredients:
4 lbs Beef Short Ribs (cut @ 1/3″ thick)
1/3 c Oil (grape seed is preferable)
@ 50g Palm Sugar (@ 2-3 lumps depending on sweetness of your palm sugar)
Optional Substitute - 2-3 T Granular Sugar or Light Brown Sugar
2-3 T Soy Sauce (depending upon the saltiness of your preferred soy)
1 t Sesame Oil
1″ Fresh Ginger - coarsely grated
Directions:
Rinse and pat dry short ribs.
(If not using palm sugar, just combine all marinade ingredients together, then marinate ribs.) Warm oil in a small sauce pan.  Add palm sugar and stir until sugar has softened (it will be separated from oil still.  Don't worry, everything will emulsify when you add soy.) Turn off heat. Add soy sauce, sesame oil, and ginger and mix to combine.  Allow to cool for 5-10 minutes.
Put ribs in a plastic bag or flat container to marinate them in, add marinate and carefully toss to coat ribs.  Allow to marinate for about 30 minutes. (You can leave these out for the 1/2 hour marinade time, but if marinating longer, then you might want to refrigerate them as they marinade)
Heat oven on broil, 550º F. Line 2 sheet pans with parchment paper. Place a wire rack on sheet pans then lay ribs in a single layer.
Broil for 4-5 min. each side. Pop open your beer and enjoy.
Hello! All images & content are copyright protected. Please do not use our images without prior permission and do not re-publish this recipe. Simply link back to this post for the recipe. Thank you.
Recipe Note for Salt: All recipes containing salt are based on kosher or sea salt amounts, not table salt. If using table salt, reduce the amount used to taste.
[ad]