San Juan, Puerto Rico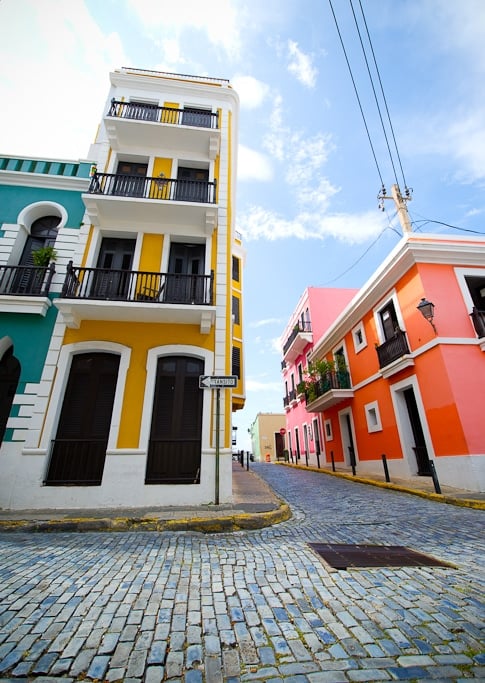 cobblestones and colors of Old San Juan
The best part of traveling is finding all the little hidden surprises that quietly sneak up on us around every corner. Each opportunity we embark on a journey into a new environment, we enter it with an open heart and excited eyes, always hoping to discover something satisfying and unexpected. We're continually looking to experience the rich culture and local heritage that makes the community unique. A recent trip sponsored through the generosity of BlogHer and Sheraton Hotels to San Juan made Puerto Rico a special trip. With some of their guidance, recommendations and sponsorship, the two and half days that we whirled through Puerto Rico was filled with amazing food and cultural awareness.
The new Sheraton look is full of modern energy
As soon as we stepped foot into the beautiful new Sheraton Hotel Convention Center in San Juan, we felt like we walked into a contemporary wonderland. This was far from the expected stale businessman's hotel that we were anticipating. The design, styling and mood was chic, hip, exciting and fun. Modern music set the energy level on high at the stylish bars and there was even a casino in the hotel! On a more intimate and private level, their Sheraton Club Level Lounge offered the perfect space for us to set up office. The Sheraton Club (club level access and lounge) space provided a lovely buffet breakfast and plenty of beautiful views for us to work from. Best of all, the Link@Sheraton (their internet café') always had wireless available for us to stay connected online. After indulging in the amazing local foods, we actually went to their Sheraton Fitness gym and worked out at midnight! The complete gym facility had everything we needed to burn off all the calories we consumed during the trip.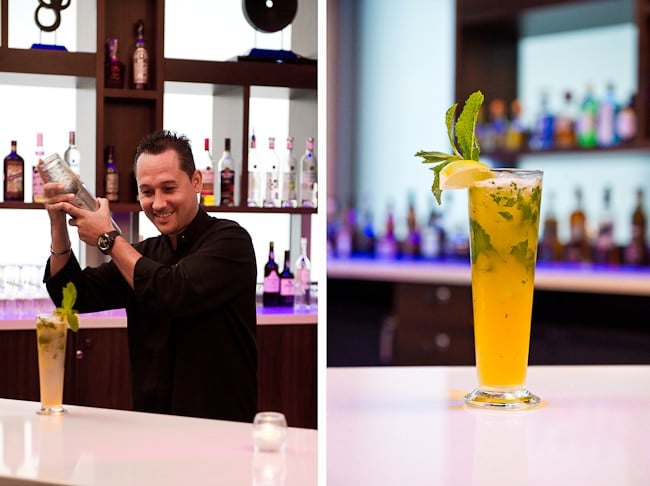 Cocktails at Choices, The Sheraton Convention Center's signature restaurant
The most impressive story behind the hotel was how proud they were of their celebrated Female Executive Chef Rocio Varela, commandeering their beautiful and stylishly designed Choices restaurant. Chef Varela is a Puerto Rican native who left and earned her years of experience working coast to coast in the mainland's restaurant industry, garnering her accolades for her fresh, local and creative culinary masterpieces. The Sheraton enticed her back home and she is rocking the Choices kitchen.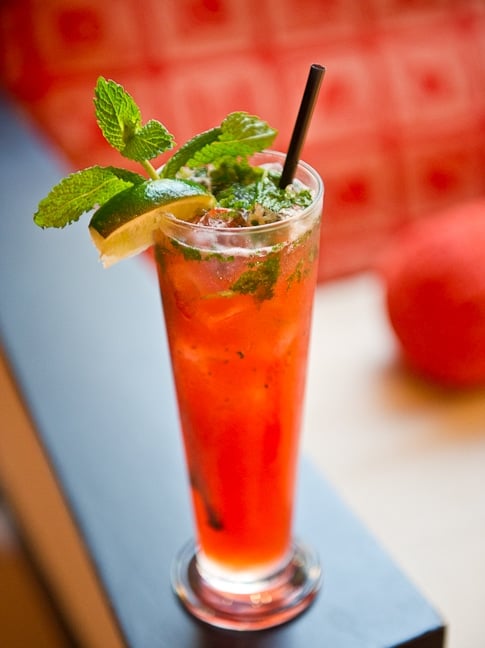 colorful cocktails and their new convention meeting rooms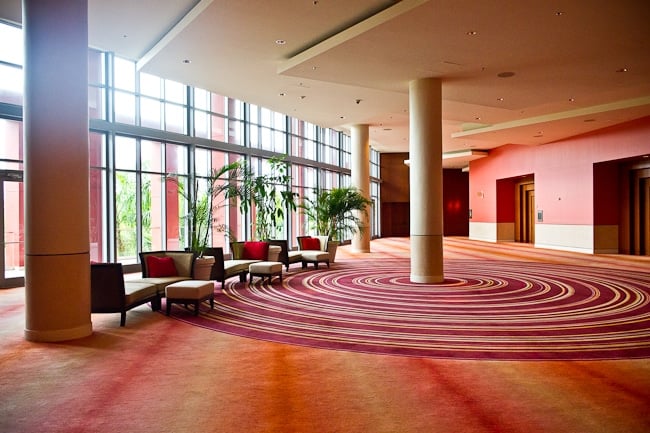 The Puerto Rican people are so friendly, warm and inviting. It's hard not to strike up a conversation with a passionate local when we had questions about where to find the best local food. Marcello was the first person we met and he was actually one of the concierge staff at the Sheraton, all of whom were a pleasure to talk to. We just asked him a simple question about where to find the best local food and coffee and Marcello immediately shared his list of favorites with fierce passion. We immediately trusted him from the moment he shared his friendly smile.
During the first morning in amazing Old San Juan, Marcello guided us to the morning jewel of the city, Caficultura, their local coffee house that boasts some of the best and most well crafted coffee in the city. If home is where the heart is, after finding Caficultura, we were home.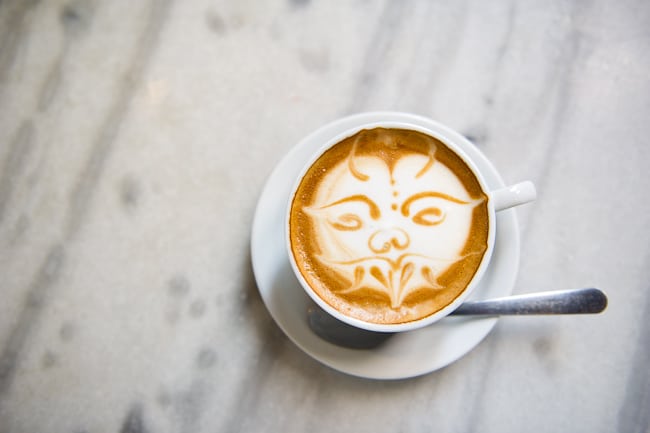 morning coffee art at Caficultura in Old San Juan
It is always high priority for us to find a great coffee spot when we travel. Morning coffee is one of those rituals which helps our souls gently open from their night's sleep. And Caficultura has to be one of the best we have come across on any of our travels abroad or adventures at home.
High open ceilings with gorgeous light flowing through the windows. A staff that greets you like an old friend or a new love. Jugo de China (Puerto Rican for orange juice) freshly squeezed from super sweet oranges. French toast with a pineapple sauce that you'd sell your siblings for. And the coffee. Oh the coffee.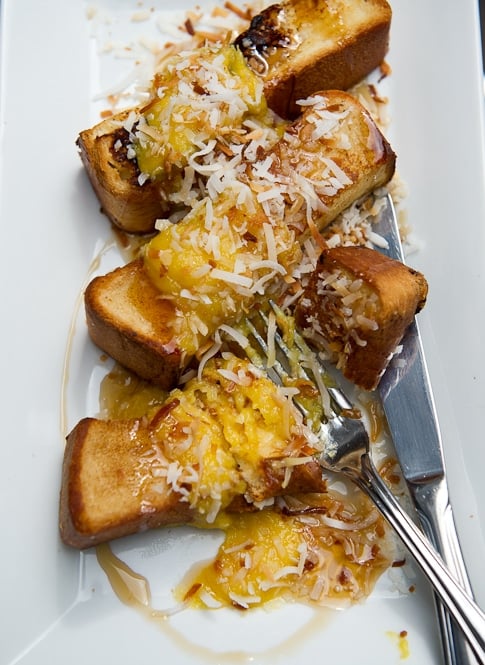 pineapple french toast at Caficultura, Old San Juan
Perfectly roasted, bringing out the flavor and strength of the beans without burning and overly bittering them. Their baristas steam the milk to perfection. Velvety smooth foam and milk rolled into the espresso making a perfect morning's cappuccino. Sometimes with the added luxury of artistic foam styling stemming from their skills in competing in international barista competitions. We were there every morning. And afternoon. And always will be in our hearts.
Throughout Old San Juan, the rich tapestry of the history, culture and colorful buildings stood out majestically against the blue island skies of Puerto Rico. The narrow cobble stone lined streets, warm welcome of the locals and the pride in their amazing powdered sugar coated mallorcas were just a few of the reasons that make Puerto Rico an island paradise.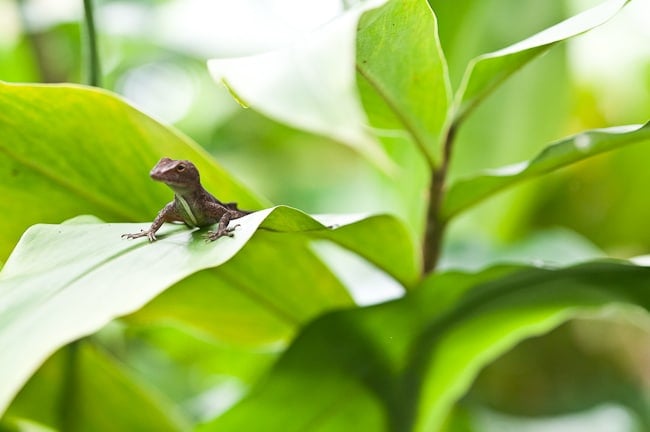 local lizard at El Yunque Rainforest during our tour there
If you haven't had a Puerto Rican Mallorca, you're in for a heart pounding surprise. Mallorca's are soft, sweet, coiled yeast rolls (similar to brioche) dusted with powdered sugar. They're eaten either as a pastry topped with butter or filled in the center with ham, egg, cheese and/or bacon. Choose your poison, all are magnificent.
A visit to Puerto Rico would not be complete without a visit to the lush El Yunque rainforest. Just a 45 minute drive away from the Sheraton convention center. The Sheraton made the trip planning so easy and offered many local tours of the area. We really enjoyed the visit to this cool mountainous area. Nestled on the Eastern side of the Luquillo Mountains, this lush sub-tropical rain forest is home to magical clouds, a thriving plant community and a host of wonderful rare and unique animal species.
Hope you all add Puerto Rico on your list to visit. It's a gem of an island. Thank you again to BlogHer and Sheraton Hotel.
-Diane and Todd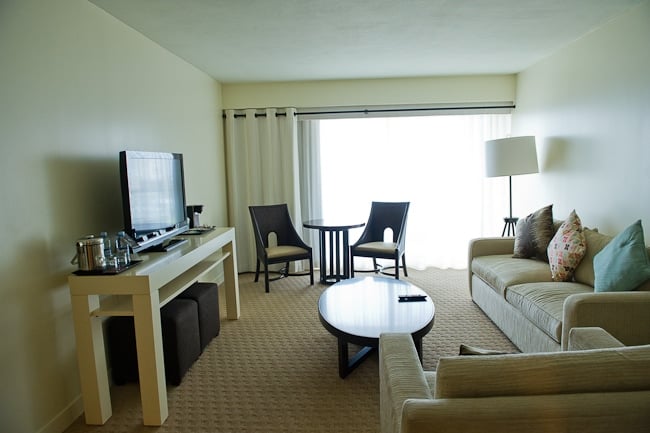 The lounge area in the Executive suite rooms & views of Old San Juan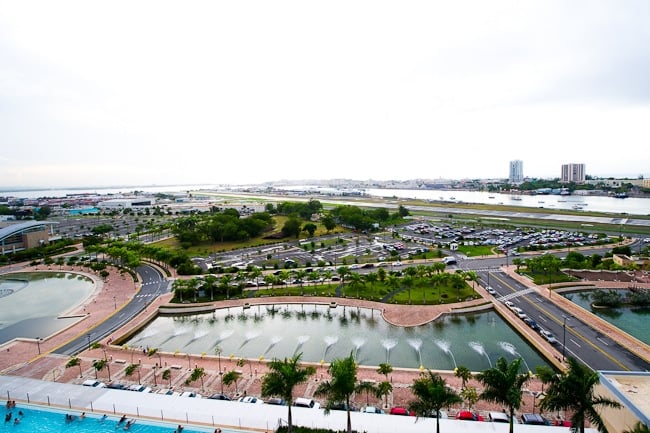 Want a getaway of your own? Visit BlogHer's Sheraton Round-up page, read the blogger re-caps and tell them which of their six destinations you would like to visit in the comments section. You could win a 7 night getaway of your own. The prize is worth $2,550.
• BlogHer.com Prizes & Promotions Page (aka Round-up Page): http://goo.gl/WRvwG
• Rules: http://goo.gl/5sifi
We are a participant in the Amazon Services LLC Associates Program, an affiliate advertising program designed to provide a means for us to earn fees by linking to Amazon.com and affiliated sites.