Parmesan Herb Popovers
Warning: This parmesan herb popovers recipe is too easy and addicting to be legal. Crusty, crispy and savory popovers like these that are so easy to make, yet so quickly inhaled within a matter of seconds, should be against the law because they are that good. Really, really, really good.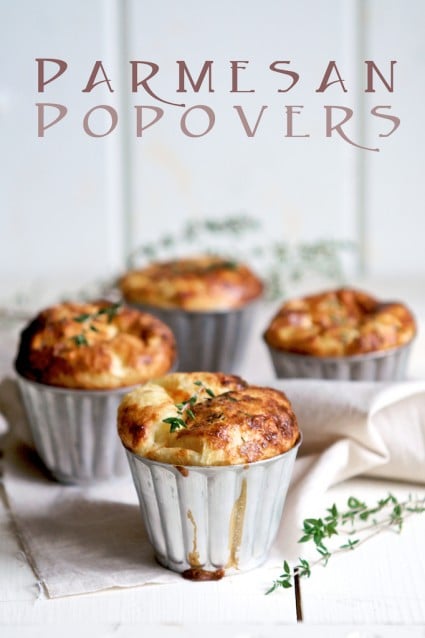 Parmesan Herb Popovers Recipe
This savory parmesan herb popovers recipe so are light and airy, it's amazing to watch them puff up to a crisp golden brown. The fragrance of thyme and parmesan baking in the oven added the perfect warmth to this chilly day and all the steam from the inside of the popovers added extra heat! We don't know why we've never made popovers before. Rumors of them tasting too much like egg or not puffing up enough had us uninterested until we looked through a new cookbook we got our hands on.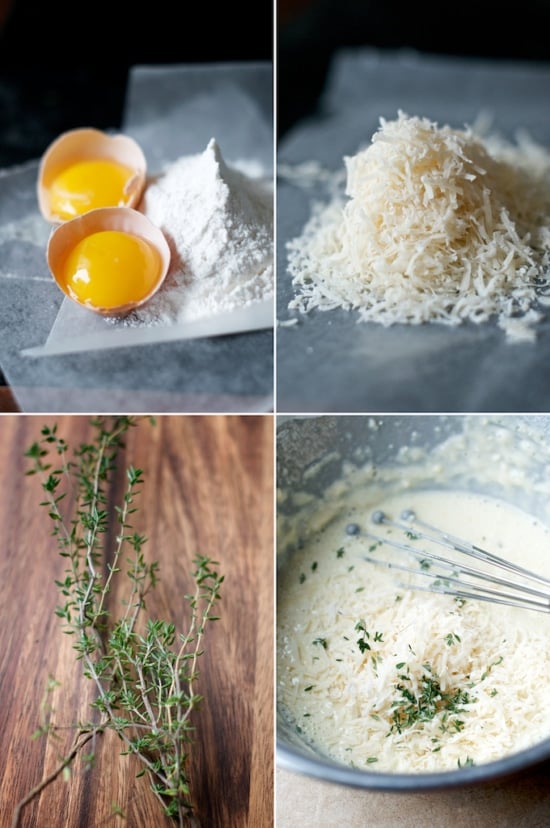 Popovers for Breakfast and Brunch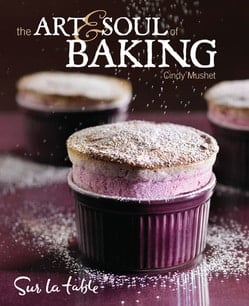 It's hard not to get into the baking mood when flipping through the Art and Soul of Baking book by Cindy Mushet. This book is packed with valuable baking information from cover to cover and it's so comprehensive that the recipes and techniques can keep help anyone who loves to bake very, very busy in the kitchen.
This gigantic book isn't just a book of recipes, but it's like an encyclopedia of baking; full of valuable baking tips and methods. The fun recipes and step-by-step, easy to follow instructions and in-depth discussions of the science of baking is wonderful for baker of all levels. Simple recipes like cookies and tarts to more complicated flaky croissant and cakes with spun sugar are just a sample of the treasures in this amazing book.
These parmesan herb popovers are the perfect quick bread to make for dinner and since we've already logged in a gazillion hours at work, these popovers were a welcome treat to a long day. As a matter of fact, we just might be making a huge batch of these for Christmas but the first dozen will definitely be eaten by us first!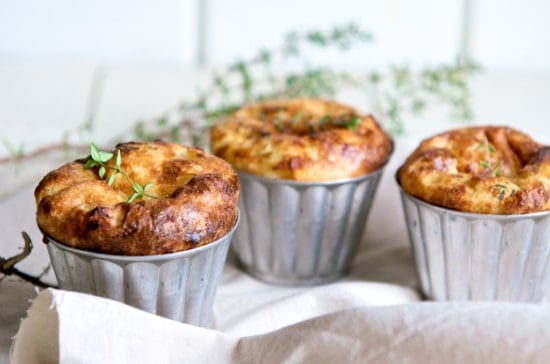 Here's more of our easy breakfast and brunch recipes.
Parmesan Herb Popovers Recipe
This recipe calls for the use of a standard 12-cup muffin pan. Of course, using a popover pan is perfect. We used these little tins and they worked well too! Adapted from The Art and Soul of Baking by Cindy Mushet.
Ingredients
1 cup (240ml) milk
2 large eggs
2 Tablespoons (30g) unsalted butter, melted
1 cup (125g) all purpose flour
1/4 teaspoon salt
1/2 cup (50g) freshly grated parmesan cheese
2 teaspoons finely chopped herbs : rosemary, thyme or sage (preferably fresh, but dried will also work)
Instructions
Preheat oven to 450ºF and position an oven rack in the center. Lightly coat the muffin pan with melted butter or high-heat canola-oil spray. Once the oven is fully heated, heat the prepared muffin pan in the oven for 5-10 minutes.

In medium bowl, whisk together the eggs, milk, melted butter, flour and salt until well blended. Then add the herbs and cheese, blend well.

Using a spatula, scrape the batter into a measuring cup. Remove the pan from the oven and carefully pour the batter evenly among the prepared muffin cups- filling the cups about half full (remember they are hot!).Return the pan to the oven and bake for about 15 minutes. Then turn the oven down to 400ºF and continue baking the popovers until they are puffed and deep golden brown color.

Remove from oven and cool pan on rack for a few minutes. Remove popovers from pan and serve hot.
Nutrition Information
Calories: 97kcal, Carbohydrates: 9g, Protein: 4g, Fat: 5g, Saturated Fat: 3g, Trans Fat: 1g, Cholesterol: 42mg, Sodium: 133mg, Potassium: 55mg, Fiber: 1g, Sugar: 1g, Vitamin A: 173IU, Vitamin C: 1mg, Calcium: 76mg, Iron: 1mg
We are a participant in the Amazon Services LLC Associates Program, an affiliate advertising program designed to provide a means for us to earn fees by linking to Amazon.com and affiliated sites.