Ginger Peach Muffins – Good To The Grain Cookbook
This is the time of year we start to inhale stone fruits, perfect timing for these ginger peach muffins. As Summer's warm love beings to fill up our peaches, plums and nectarines with sweet juice to sink our faces into, nature conveniently decides to let them all ripen and drop at once. We just can't keep up!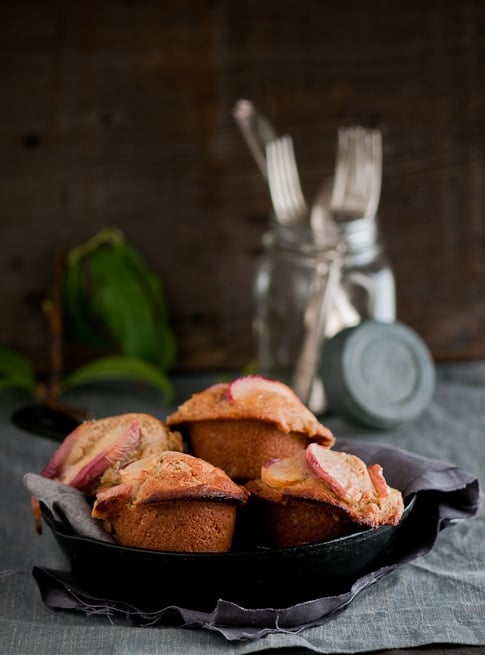 Ginger Peach Muffins Recipe
This year we have an added succulent hailstorm of necta-plums to add to our stone fruit bounty, but the dogs'all-time favorite indulgence are still the white peaches. It's their favorite time of year with the the sweetest and juiciest peaches any canines will ever get, conveniently landing by their favorite sunning spot.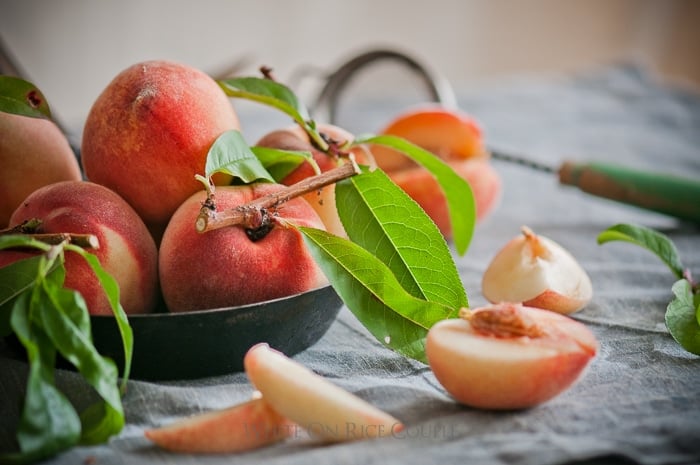 White peaches from the tree. We beat the dogs to the fruit today, yay!
To beat our dogs to the harvest, beyond eating them fresh, it takes a little creative cooking to use them all. We recently asked our Twitter friends for help and advice for more peach recipes and we were inundated with so many great peach ideas. Thanks everyone!
With a list of ideas off Twitterand a handfull of ideas from some great cookbooks, we're set for this summer's peach onslaught.
The first recipe we started were ginger peach muffins because a great muffin for breakfast is a great way to start the day. Add a great cappuccino to a freshly baked muffin, mornings like this are why it's worth waking up so early to prepare. To make it even easier to make in the sleepy-eyed AM, prep the dry ingredients together the night before. Then just make the peach topping, wet mix, and bake in the morning.
Good To The Grain Cookbook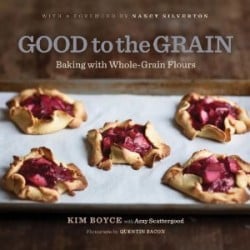 It didn't take much convincing for us to make these because this ginger peach muffin recipe came from agorgeous whole grain baking book by pastry Chef Kim Boyle with Amy Scattergood, called Good To The Grain: Baking with Whole Grain Flours.
This isn't just any baking book, it's a beautifully executed whole grain cookbook that makes baking with whole grains so much more inspiring. An added bonus to this cookbook is it's valuable resource on whole grains. To those who are still daring the foreign waters of whole grain cooking, like us, Kim's book gives us all a great boost to the world of good fiber and how to make it look and taste so good.
If you're going to indulge in baked goods and sweet treats, the Good To The Grain book gives us all better options to enjoy them all with whole grains. Eating with whole grains has never been so easy, accessible and fun.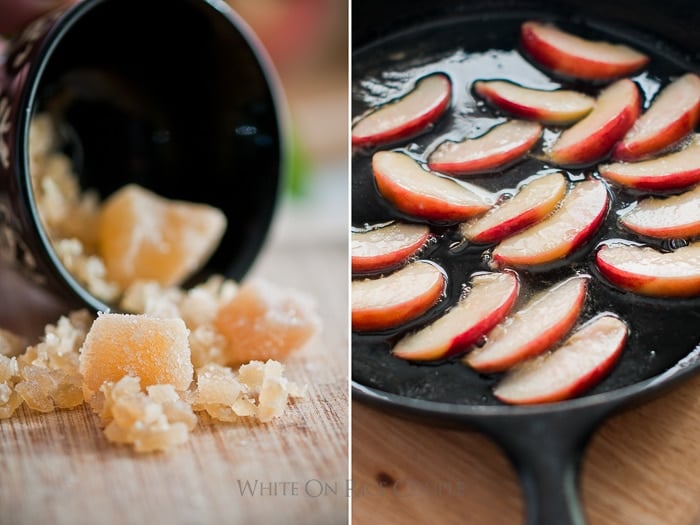 crystallized ginger and white peaches in honey syrup
Oat Flour for Flavor
The oat flour in this recipe makes these wonderful muffins flavorful, getting whiffs of earthy oat aroma in every bite. The muffins are moist, satisfying and perfectly sweet from the peaches, syrup and crystallized ginger.
What a great way to make good use out of our peach abundance and it feels even better to be able to adapt fresh fruit to whole grain recipes!
Happy Summer!
Diane and Todd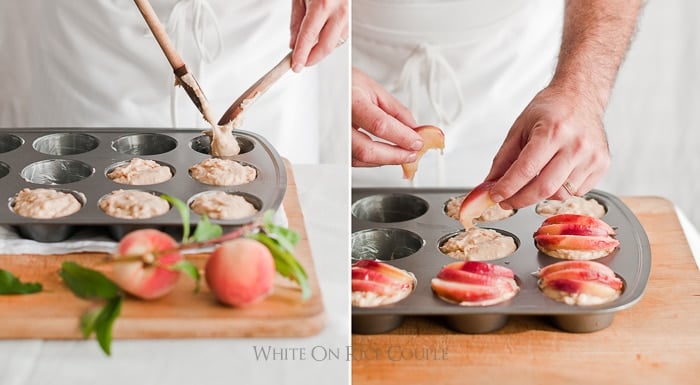 spoon batter into tins and add fresh peach slices on top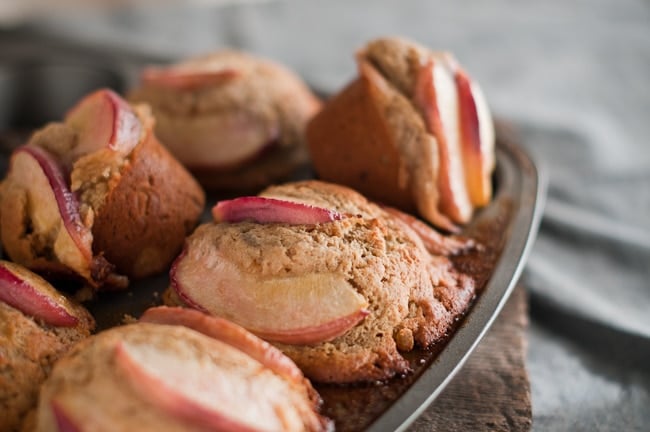 lift muffins from tin to cool. treat yourself to a pat of butter. It's ok. We said so.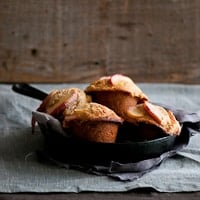 Ginger & White Peach Muffin Recipe
The oat flour in the recipe lends to the muffin's exceptional flavor and texture. It adds a slight milky & nutty flavor. If you can, try to buy some or make your own (grind old-fashioned oats - not instant - in a spice grinder or food processor until very fine). If need to substitute, replace the oat flour with additional whole wheat flour.
Use peaches that are almost ripe but not too soft or else they will start to break apart in the saute pan. Don't forget the muffin mantra - DO NOT OVERMIX when combining the wet and dry ingredients. Adapted from the cookbook Good to the Grain.
Ingredients
peach topping
1 lrg White Peach , cut into 1/4" slices (yellow peaches ok too) ripe but firm
1 Tablespoon unsalted Butter
1 Tablespoon Honey
1 teaspoon freshly grated Ginger
dry mix
1 cup (100g) Oat Flour *see head note
3/4 cup (100g) All-Purpose Flour, unbleached
1/2 cup (60g) Whole Wheat Flour
1/4 cup (50g) Sugar
1/4 cup (55g) Brown Sugar
1 teaspoon (5g) Baking Powder
1 teaspoon (5g) Baking Soda
1/2 teaspoon (3g) Kosher Salt
wet mix
6 Tablespoons (3/4 stick or 85g) unsalted Butter , melted and cooled slightly
3/4 cup (180ml) Milk
1/2 cup (120ml) Sour Cream
1 lrg. Egg
2 Tablespoons freshly grated Ginger
3 Tablespoons Crystalized Ginger (also called candied ginger), finely chopped
Instructions
Preheat oven to 350°F. Line or grease muffin tray.

Make peach topping: Add the butter, honey, and 1 teaspoon of fresh ginger to a medium sauté pan. Heat over medium heat, and bring to a simmer, about 2 minutes, and stir to combine. Add peach slices and carefully toss to coat peaches. Set aside.

Make batter: In a large bowl, whisk together all of the dry mix ingredients (oat flour-*see head note, all-purpose flour, wheat flour, sugar, brown sugar, baking powder, baking soda, and salt). In a separate bowl, combine all of the wet mix ingredients together (melted butter, milk, sour cream, egg, fresh ginger, and crystalized ginger), whisking until well combined. Gently mix the wet mix into the dry mix, stirring until just combined (small pockets of dry mix are ok to leave).

Using an ice cream scoop or two large spoons, fill baking tins until slightly mounding. Lay a couple peach slices on each muffin, pressing them slightly into the batter. Spoon the peach topping juices over the peaches.

Bake for 24-28 minutes, or until golden, peaches caramelized, and a toothpick comes our clean from testing the center of the muffins. Remove from oven.

While still hot, gently pop each muffin out of the tins and lay them on their side in the cups to allow them to cool. This helps keep the muffins to stay crusty rather than soggy. Muffins can keep for a couple days in an airtight container, but why leave something so tasty sitting around. Enjoy them in their prime, the day they were made!
Nutrition Information per Serving
Calories: 294kcal, Carbohydrates: 39g, Protein: 5g, Fat: 14g, Saturated Fat: 8g, Trans Fat: 1g, Cholesterol: 33mg, Sodium: 324mg, Potassium: 150mg, Fiber: 2g, Sugar: 18g, Vitamin A: 386IU, Vitamin C: 1mg, Calcium: 83mg, Iron: 1mg
We are a participant in the Amazon Services LLC Associates Program, an affiliate advertising program designed to provide a means for us to earn fees by linking to Amazon.com and affiliated sites.