Dill Chicken Pot Pie Galette: a Savory Pie for Cold Weather
Our dill chicken pot pie galette is a different take on the classic casserole version. It's still simple and super delicious.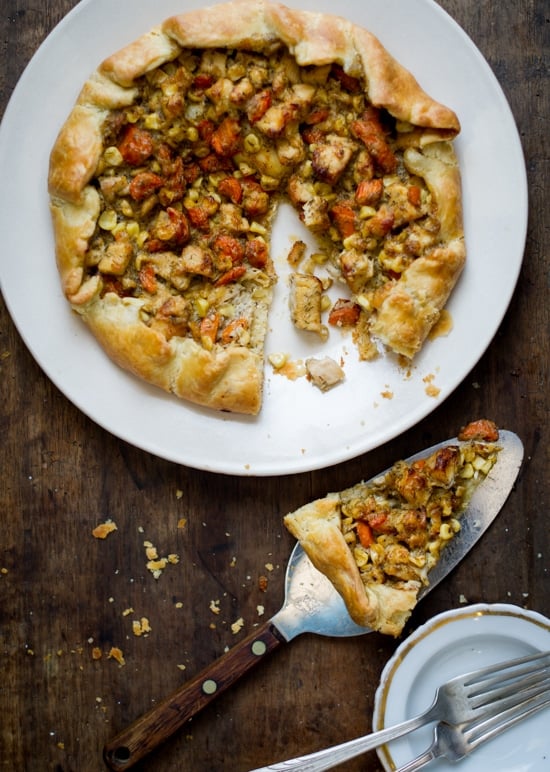 Easy and Unique Way to Make Chicken Pot Pie
Sunshine and blue skies filled our whole day yesterday and you'd never know that today is supposed to be a huge downpour of rain. With the weather gone cold (there was actual ice on the windshield yesterday am – not just frost – actual ice), it's so nice to have warm comforting meals. If it even creeps into the 30's, SoCal-ians are quick to complain of the cold, but it's all relative. Normal life for us in Southern California means heading to the beach of a doggie-leash-free walk and playing in the water. Yup, we're spoiled that way. No snow on our end or too many leaves changing colors. We'll always get some nice beach time and and great low tides this time of year. It's certainly a trade-off for sure.
Video Chicken Pot Pie Galette Recipe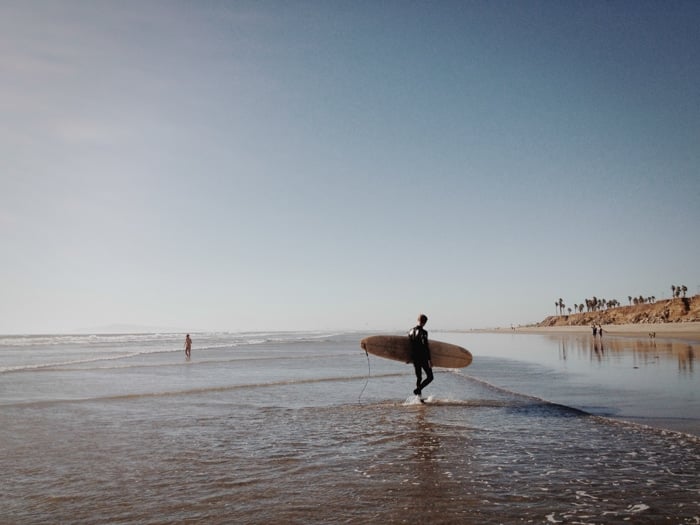 surfer at low tide on instagram
No matter what your relative cold point is, the colder weather always triggers a change in mealtime cravings. It's always around this time when the air gets cooler that we dive bellies first into the comfort foods menu. First, there was pumpkin coffee cake to ring in the new season and now we're craving chicken pot pie.
Chicken pot pie is always a classic comfort food and regardless of how many times we eat it, there's always a new variation or idea of what. In Summer, everyone is swimming in fruit and berry pies. Now that cool weather has arrived, it doesn't mean that we have to give up on our pie making. This month, we'll be making plenty of savory pies, including this totally decadent and satisfying chicken pot pie.
Adapted from our cookbook, Bountiful , this chicken pot pie recipe now has a different pie shell. We made it into a galette, something a little more elegant to celebrate the arrival of Fall. Besides, when the chicken pot pie filling bakes on top of the pie dough, what you have is an amazing base that's soaked up all the juices from the filing. It's the best spoon-full of pie dough that you'll ever eat.
Happy Eating,
diane and todd
How to Make Chicken Pot Pie Galette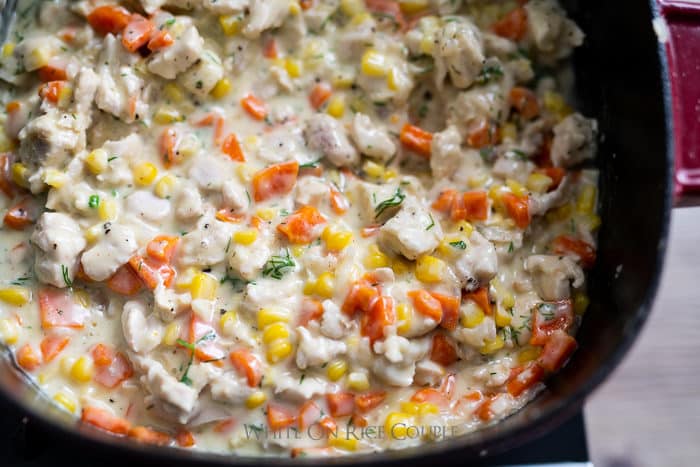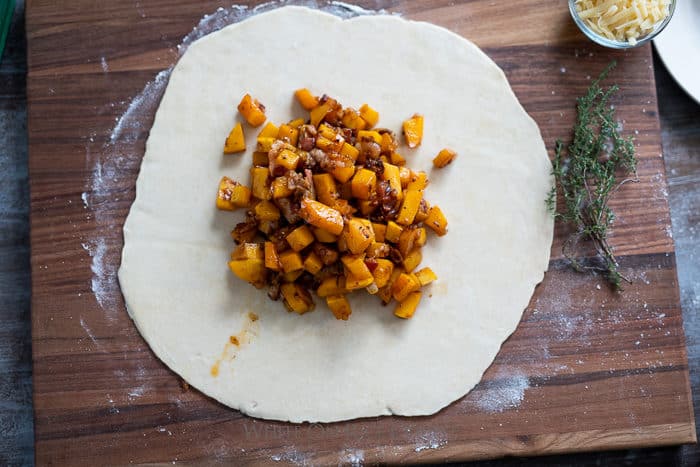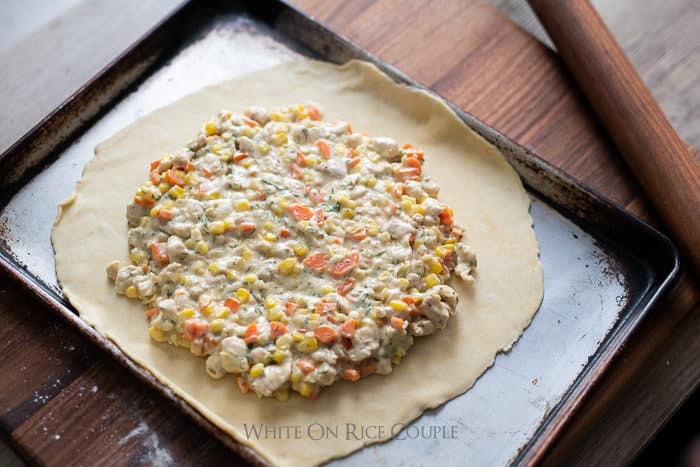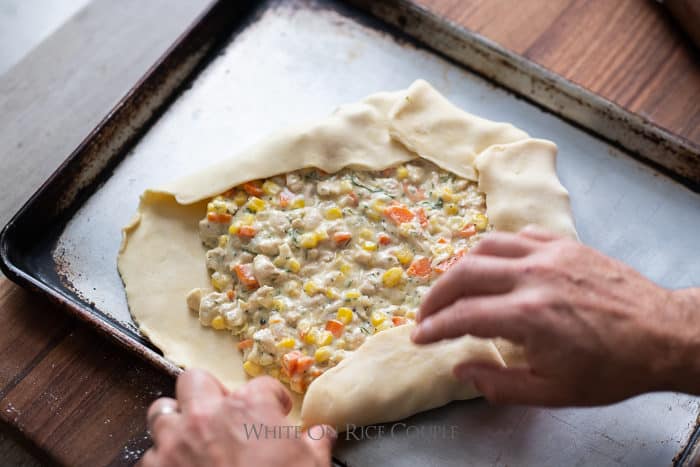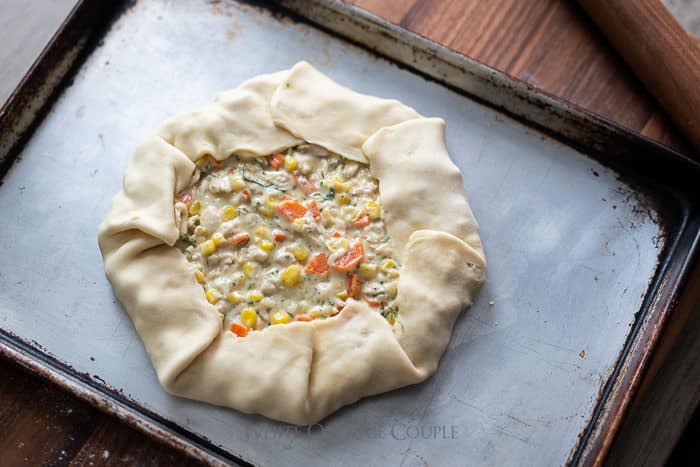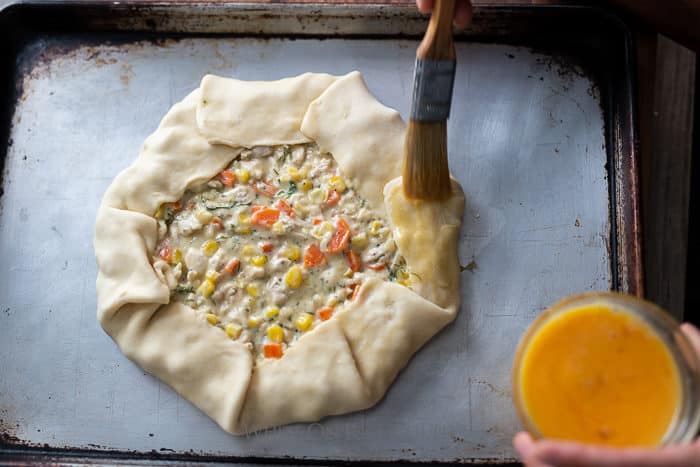 This post was originally published in 2013 and was republished in 2019 with a new video.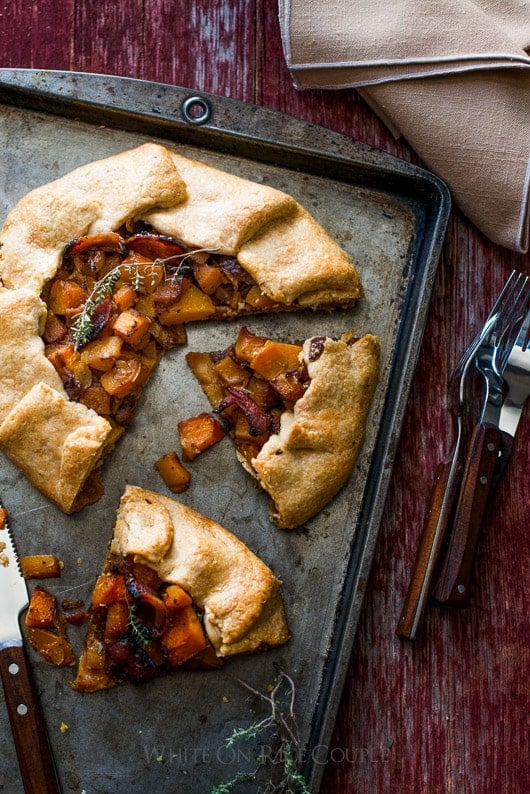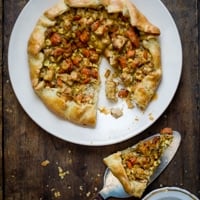 Dill Chicken Pot Pie Galette
The is an adaptation from a recipe out of our cookbook, Bountiful. It utilizes the filling from our dill chicken pot pie which in the book was made with puff pastry. This recipes combines that filling with the super versatile basic pie dough on our site, folded easily into a rustic galette.
Makes one 9-inch Galette
Ingredients
Galette dough ingredients
1 1/4 cups (155g) all-purpose Flour
1/2 cup cold unsalted Butter (1 stick or 113g), cut into 1/2-inch (12mm) pieces
1 teaspoon Sugar
1/2 teaspoon Kosher salt or sea Salt
1/4 cup (60ml) cold Water (you may not end up using the full amount)
Egg wash (one egg mixed with 2 tablespoons of water) or Heavy Cream, for brushing the crust
Filling Ingredients
1 pound (455g) boneless, skinless chicken (thighs or breasts)
fresh cracked black pepper
3 Tablespoons (45g) unsalted butter , divided
3 medium shallots (or about 1/2 an onion) , sliced
2 cloves garlic , crushed or minced
2 medium carrots , diced
1 cup (240ml) fresh corn kernels (from about 1 ear)
1/4 cup (60ml) dry white wine
1 Tablespoon brandy , optional
2 Tablespoons (15g) flour
1/2 cup (120ml) heavy cream , plus more for brushing the crust
1/2 cup (120ml) chicken stock
2 teaspoons whole grain mustard (or mustard of choice)
2 Tablespoons (3g) diced fresh dill , or 1 tablespoon dried dill
Instructions
Make the crust dough: In a bowl, pinch together the flour, butter, sugar, and salt with your fingertips until most of the big chunks of butter are flattened or broken up and there is no remaining dry flour sections.

Incorporate the enough of the cold water into the flour until the mixture binds together and forms a rough ball. Knead the ball just until the dough begins to become smooth. Don't overwork the dough or else it will become tough.

Roll the dough into a ball, and then flatten into a disk. Wrap in plastic wrap and chill for at least 30 minutes (can be chilled overnight or frozen for future use).

Preheat the oven to 375°F (190°C). Line a baking sheet pan with parchment paper.

Make the filling: Rinse the chicken and pat it dry. Cut into 1/2" pieces. Season the chicken pieces with salt and pepper.

In a large sauté pan, melt 2 tablespoons of butter over medium-high heat. Add the shallots and garlic, and cook until soft, about 1 minute. Add the chicken and cook until slightly browned, about 2 minutes. Add the carrots and corn and cook for another 2 minutes. Add the wine and optional brandy and simmer until the pan is almost dry, about 10 minutes.

Add the remaining 1 tablespoon butter. When it is melted, stir in the flour. Cook, stirring, for a about 1 minute, then add the cream and stock. Simmer, stirring regularly, until thickened, about 5 minutes. Remove from the heat.

Add the mustard and dill, then season to taste with salt and pepper.

Make the Galette: On a floured surface, roll the disk out to a circle about 12 inches (30-cm) in diameter. Gently transfer the dough onto the prepared sheet pan.

Spreading the mixture out evenly to within about 2 inches (5 cm) of the outside edge. Fold the edge of the dough over the filling, creasing and folding until completing the circle. Brush the crust with the egg wash or heavy cream.

Bake for 50 to 60 minutes, or until the crust is golden. Serve warm or at room temperature.
Nutrition Information per Serving
Calories: 502kcal, Carbohydrates: 33g, Protein: 12g, Fat: 35g, Saturated Fat: 20g, Trans Fat: 1g, Cholesterol: 111mg, Sodium: 298mg, Potassium: 332mg, Fiber: 2g, Sugar: 5g, Vitamin A: 4448IU, Vitamin C: 5mg, Calcium: 44mg, Iron: 2mg
We are a participant in the Amazon Services LLC Associates Program, an affiliate advertising program designed to provide a means for us to earn fees by linking to Amazon.com and affiliated sites.