Favorite Tools: Love of Ceramic Cookware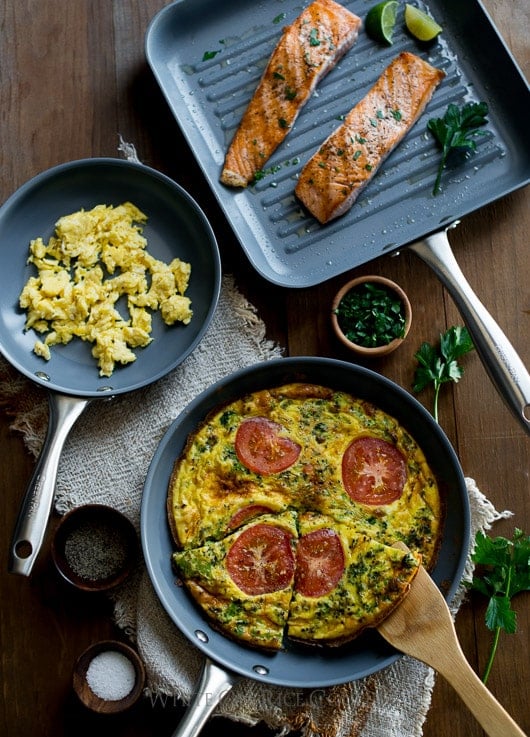 Ceramic Cookware
We never thought we'd be writing a post about ceramic pans. Honestly, we've always told everyone that if we had one pan to have in our kitchen it would be a cast iron skillet. There's something so incredibly useful and fantastic about cooking in cast iron. The crust, the char, the quick pop in a hot oven for frittatas and roasts is un-deniably versatile and the food comes out delicious. Sure, it takes a little more finesse to clean and maintain, but a great cast iron can last forever in the family. And best of all, cast iron skillets are affordable. Heavy on the kitchen shelves, but light on the pocket book.
Then one day our cooking lives were changed. Here's our ceramic pan story.
Once upon a time, in June to be exact, we were roaming through Tar-jay and saw a huge selection of these ceramic pans in all different sizes, colors and brands. We've always read about how fantastic ceramic pans were and how they were so easy to clean. But we were always cautious about any film or "non-stick" type material that might peel off. Upon a quick google search on the Green Pan brand in the Tar-jay cookware aisle, we read a couple posts on how they were actually quite safe and non-toxic, lead free, and loved by many.
Was there really another option to cooking with our beloved cast iron skillet?
To be open minded, we bought a 8″ omlette pan and a 10″ GreenPan fry pan. We took it home and for breakfast, made scrambled eggs on the 6″pan.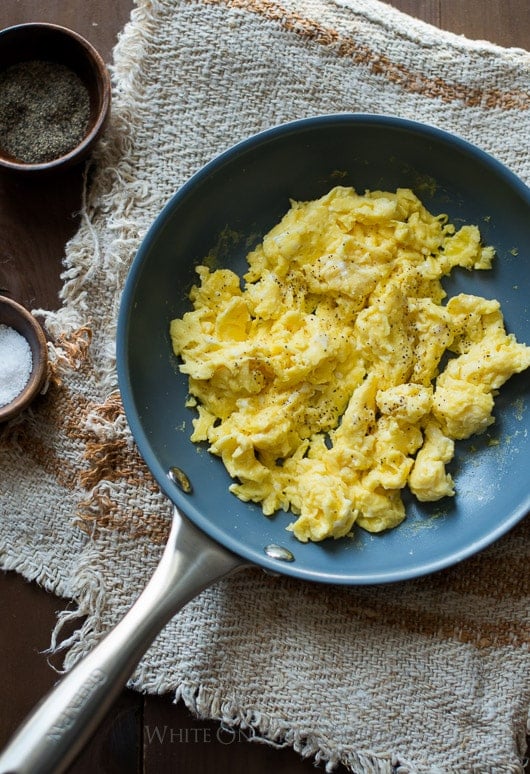 We were surprised. Shocked is more like it because the eggs came out so fluffy and moist without hardly any olive oil or butter.
What? We actually made fluffy scrambled eggs that didn't stick to the pan and only used a light spray of olive oil? Yes and the taste was amazing.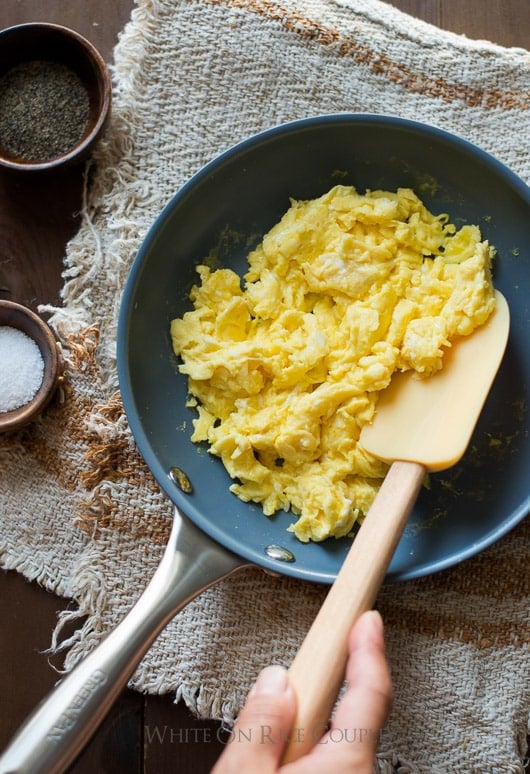 Next dish up for cooking was a frittata in the 10″ GreenPan fry pan with the oven safe handle. Could this thing hold up to oven temperature? Yup, that's what the instructions said. Up to 500F degrees was what these GreenPan ceramic pans claimed. And they were right. Not only did the frittata come out wonderfully moist and tender, it didn't stick to the pan.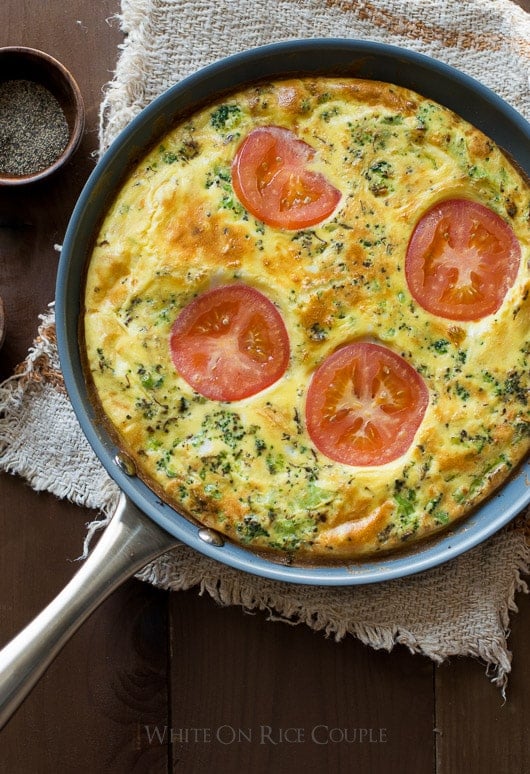 Fluffy and moist frittata for breakfast three times a week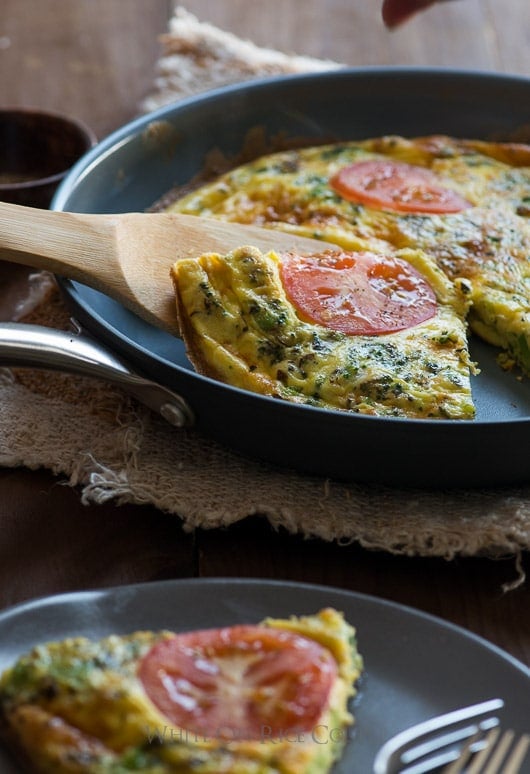 If our eggs turned out moist and plump in very little cooking oil, then we were thrilled. So we wen't back to Tar-jay and bought the whole set for home.
Since then we've made so many dishes including quick stir fried veggies. Our veggies always come out tender, with a wonderful crust and best of all, we used half the amount of olive oil that we normally do. That was a winning factor right there: using way less oil than we ever have.
Everything tasted equally fresh, flavorful and moist in half the oil/fat. We were cooking healthy without even trying hard.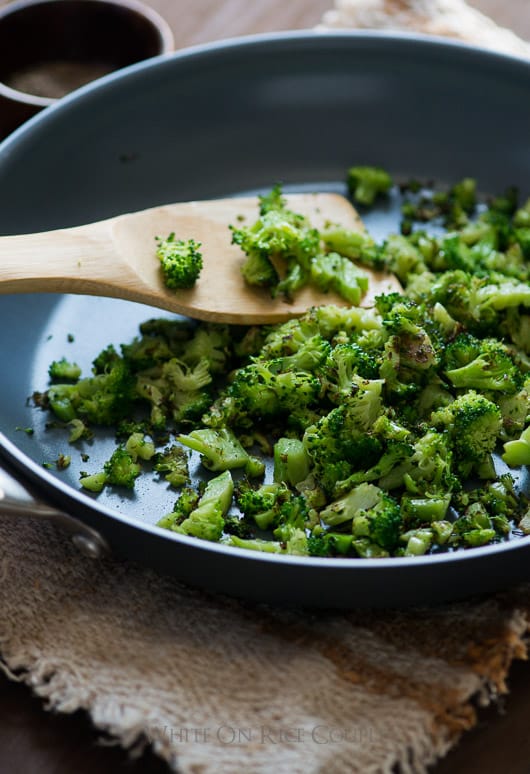 After a few more meals cooked on these ceramic pans, we bought another set for the studio along with 3 additional fry pans! This is addiction is nuts.
Our favorite dish to cook in these ceramic pans are filets of tender fish. Not only are we able to cook fish that's moist and tender, but again, we're using half the amount of oil and the fish doesn't freaking stick to the pan at all. After cooking fish on these pans, we're hooked beyond belief.
Salmon with a nice crust and tender inside, cooked in a square 11″ GreenPan grill pan.
These ceramic pans are our latest cooking obsession because they're easy to clean, the food cooks evenly, we can cook with less oil and they're non-toxic. So it's a win-win in both our kitchens. And we're eyeing a few more pieces, like this ceramic wok. It's heading our way soon.
We've only purchased the GreenPan brand, but are wanting to get some other brands to try them out as well.
Are any of you hooked on ceramic pans? If so, what brand are you using? We'd love to head out and buy more. Not that we need any more ceramic pans, but we're curious cats and don't want to miss out on any better options.
We haven't made pancakes on these pans yet, but that's next on our list to eat!
Enjoy!
diane and todd
Nope, this is not a sponsored post nor is it a sponsored review. We purchased all 19 pans ourselves (addicted, right?) nor do we have any affiliation with this brand. We just want to share products we enjoy. Thank you.
Here are some links and review on ceramic cookware: Wellness Mama , Ceramic Reviews
We are a participant in the Amazon Services LLC Associates Program, an affiliate advertising program designed to provide a means for us to earn fees by linking to Amazon.com and affiliated sites.