Cake Pop Bouquet and our 16th Anniversary together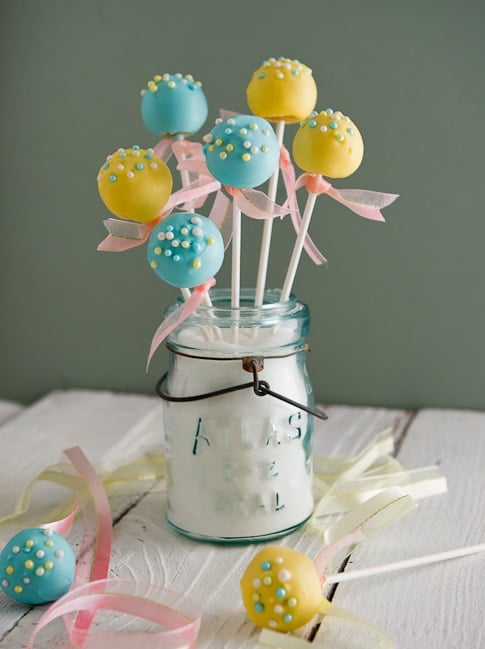 This week, exactly 16 years ago, we met in a itty bitty coffee house. Todd was behind the counter serving espresso's and Diane walked in thirsty for a mocha. We talked about food, art, camping, motorcycles and gardening. Todd whipped up a mocha and added a rum flavoring to Diane (for free). Diane blushed, loves free stuff, and drank the magic potion and was smitten throughout the evening.
That's our love story in a nutshell and sixteen years later, that scene still exists. Every morning Todd is busy steaming espresso and Diane sits patiently thirsty at the barstool. We still talk about the same things and wonder how the past 16 years zipped by so quickly. Maybe it's twitter. Then we look back at our photo albums and realize, uh, yeah, it's been that long.
Baby Pic: Our 3rd date in 1996: Hiking!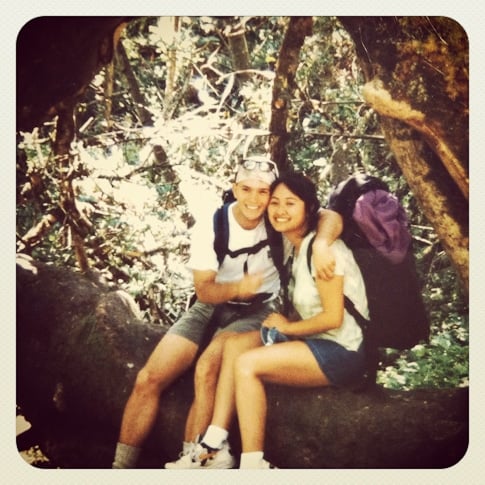 Todd had a head of hair back then and Diane had much less wrinkles and love handles. But we're still the same people when it comes to what brought us together from the very beginning.
We always get asked how and what we did to make it this long. That's always a tough question to answer, but we summed up the best we can about making it this far (not in any particular order). Here is each of our perspectives on what has worked for the two of us:
Diane's Story
First, let the other person sleep in. Sleep is important and if your partner wakes up cranky cause of lack of sleep, then the other partner is in trouble. Next, Coffee. Really great coffee in the morning helps.
Think of the other person first and put him/her ahead of yourself. Some might call it sacrifice, but I certainly don't consider it sacrifice in that sense. For me, it's such a joy to think of what Todd would want to eat today, or what he would make him happy to make. The true joy for me is being able to be a part of what makes him happy doing.
Be a great listener. Really listen to what your partner has to say, and be understanding to why they are feeling that way or thinking those things. Be empathetic and understanding, yet rational and kind when it's your turn to talk. Remember that your love has feelings too.
Make, create and do things together. The most incredible bonding experience can blossom if you make and create things together that you both love. I don't mean in terms of a business per say, because money can make things complicated and take the fun out of it. Find something fun and beautiful that you both love and do together, often.
Be a friend, a lover and a trusted confidant. It takes all three to make a relationship work.
Todd's Story
Say "Yes." Even when the idea is insane and seems like nothing but trouble, supporting each others ideas and venturing out of our comfort zones has lead us down some amazing paths. Paths only possible because we supported the other's crazy ideas.
Fall in love again. As the years pass, it is easy to take each other for granted. Beyond looking at Diane as if we just met, I'll ask myself what is it I love about her and why. The adorable big eyed, little sips she takes drinking water when super thirsty. The way she tries to pull me out of a funk when I'm cranky. That she plays the same song 50 times a week or that she loves 80's pop music (I didn't even like it back then). The feel of the small of her back. That I know when everything else is chaos, I have her to depend on.
Greet each other as if you haven't seen another for a long time. I think we get this one from having dogs. You can be gone for an hour and they greet us at the door as if it has been weeks. There is nothing better than when one of us walks through the door chirping out "I'm home!" and puppies and people alike stop what they are doing and come up to greet and love.
Love each others good qualities and accept their oddities. The longer you are with someone, the easier it is to be annoyed by them. The fresh romance has worn off and best behavior is put aside. Yours and theirs. But how your perceive their raw character is your choice. Be annoyed by the negative, or bathe in their spirit. You can laugh about their snoring or cringe in frustration.
Forgive your own flaws. This one is hard for me, and something I am still consciously working on. We have long since known that the other is not perfect, and we love each other anyway. I think we love each others character even more for not being "the cat's meow". But within ourselves we still get disagreeable over our own personal flaws. Let it go. It is one thing to always try and improve one's own character, it is another to suffer annoyance or aggravation over not being "as good as you can be." Accept and love your own flaws. And if you want to change them think of positive ways to do it. But for yourself and your partner, love yourself so they can love you too.
Hiking in Joshua Tree: 1997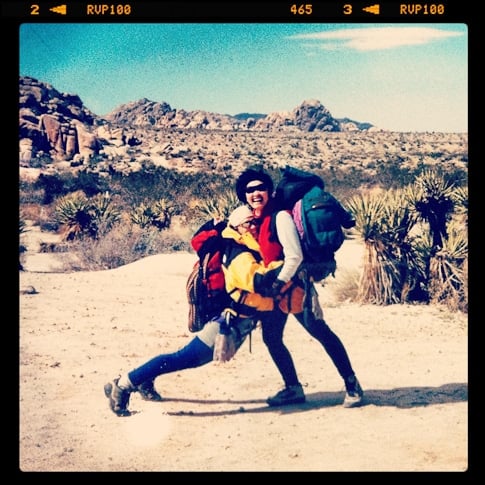 Cake Pop Celebration! So to celebrate this week, we decided to make cake pops together for the very first time. Angie from Bakerella.com always inspired us with her wonderful cake pop creations and we finally decided to make it together on our special anniversary day.
But it took us a few tries. The first time was not the prettiest sight because our first batch looked like monster pops. Seriously, we made a mess and it took a few tries to finally get the cake ball to not blop back into the frosting. And when we finally succeeded in pulling out the cake pop still intact on the stick, the hardest part was timing the sprinkles to where they would stick on the frosting!
Our second attempt looked much better. yay! We don't have a recipe to share because Angie has it written out so well on her website and we feel it's best to learn it directly from the master.
So for the cake pop recipe, head over to Angie's site. The only difference between her recipe and ours was that we used blue and yellow candy melts. To mellow out the color, we used white candy melts. We used 2 parts white and one part color.
Have a great weekend everyone!
Diane and Todd
Last month we shared our Life Recipe Video. Sums up how we feel!
[ad]
We are a participant in the Amazon Services LLC Associates Program, an affiliate advertising program designed to provide a means for us to earn fees by linking to Amazon.com and affiliated sites.