Brown Butter and Oat Scones
These Brown Butter Oatmeal Scones are fantastic in the morning. Add some homemade jam or butter and you're set!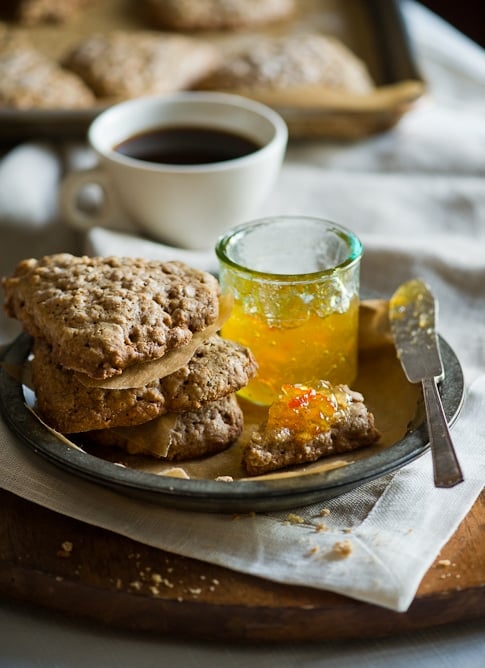 Brown Butter Oatmeal Scones Recipe
Thursday night I went to bed determined to wake up in the morning and rhapsodize about brown butter and teff flour. Culinary alchemy. A magical Ethiopian grass seed. Then that morning came and something extraordinary happened.
Diane asked to put on the news. "Something's happened in Eygpt."
The next four hours I watched. Images, jubilation, dreams. Hardened reporters used to journalizing terrors, suffering, and troubles surrounded by celebration. Exhilaration. Even though the embedded reporters maintained a professional documentation of everything happening around them, I could feel their watcher's souls glowing. The day was extraordinary.
In this moment, the importance of writing about food seemed trivial. Not that food isn't important, or our sharing of recipes and stories isn't something precious to wrap our hearts around. But this moment of what had just happened in Egypt superseded all of that.
Wishing for Peace in the World
A peaceful revolution. Peaceful. In a land torn and surrounded by violence. Where wills are imposed down the barrel of a gun or through fear of a bombing. The people had the courage to stand up for hope and humanity and demand it be given to them.
The were attacked. Provocations thrown at them. Fear dangled in front of them. Over the last 18 days, their courage, heart, and hopes were tested to the limits, but they stood strong. Reporters commented on seeing secret police questioning and opening noting those participating. If the revolution failed, payback would be a bitch.
Reporters themselves were tossed in jail, only to be later freed due to protestors standing up for the media's sake and helping protecting them. The military rolled in on their vehicles of destruction, but instead of imposing terror, remained passive. Refusing to fire on the people they were supposed to be serving.
Volunteers checked people joining the demonstrations for weapons, helping maintain a revolution that would have brought joy to Ghandi's heart. At night streets were patrolled by vigilante protectors, keeping ill-meaning scavengers from preying on the chaotic and emotional happenings.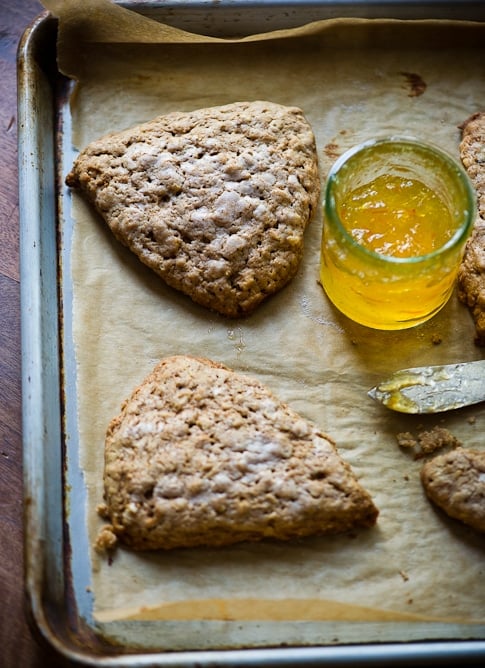 All of this happening was virtually unimaginable a short time ago. Who would have thought in land of one of the oldest societies, facebook, twitter, and the internet would be instrumental in enabling a revolution. Youth who have grown up not even know what hope is, have given it to millions around the world.
We have no personal ties with anyone Egyptian. No connection other than we are all human. And I was struck to the core by what I witnessed. The future is still to be determined. There will be many more struggles and time will determine the significance of the revolution. But at least for now, hope and joy is spreading through the world.
Since the recipe for Brown Butter Oatmeal Scones is ready, we are still ending this post it. There will be those readers whose care is for the recipes, not our ramblings. And we are cool with that. Thank you to those have the time and interest in our chatter. Today this just seemed too important not to share.
– Todd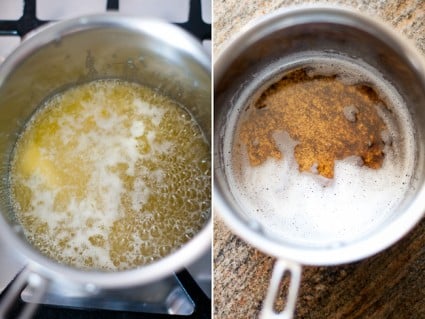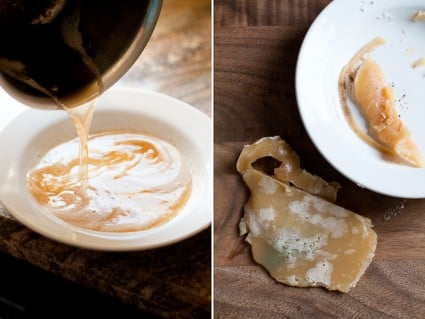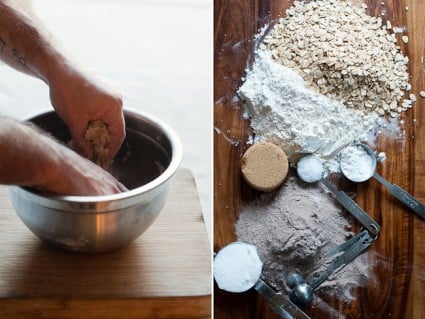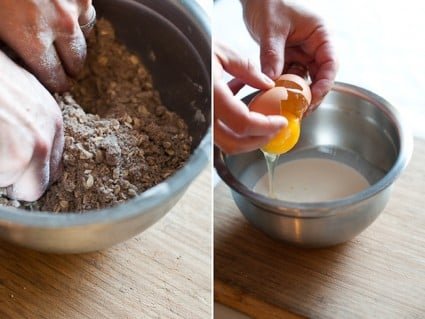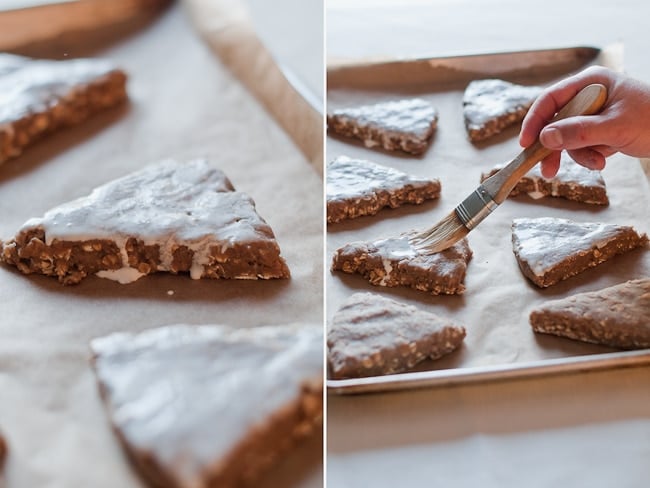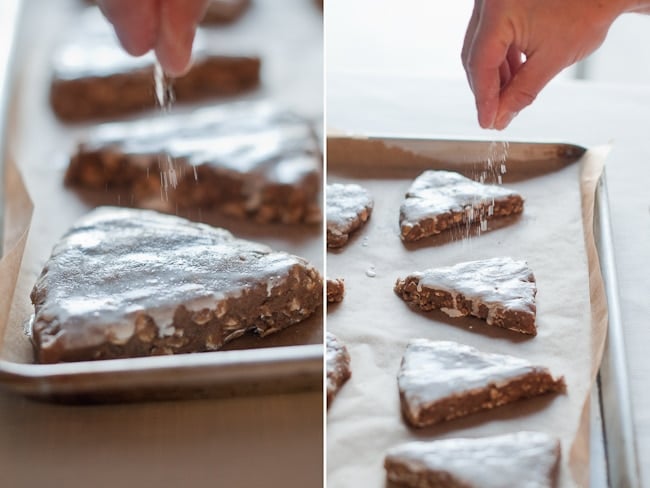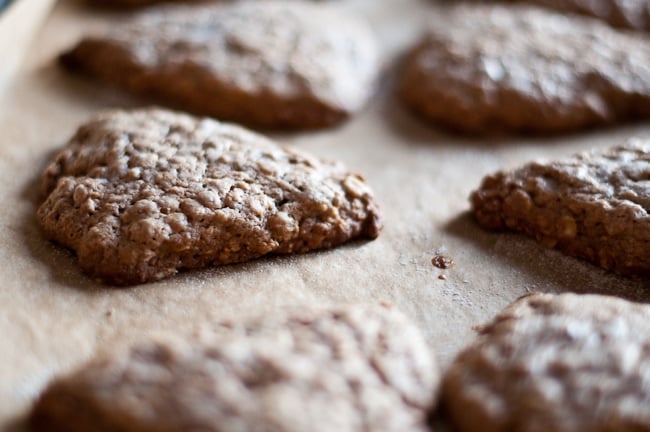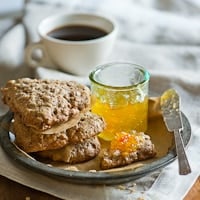 Brown Butter and Oat Scone Recipe
Adapted from Good to the Grain by Kim Boyce and Amy Scattergood. The teff flour and brown butter compliment each other so well with their nutty nuances. It is easiest to do the brown butter ahead of time, usually the night before, since it needs to harden up before using in the recipe.
Ingredients
4 oz (115g) unsalted Butter
1/2 cup (65g) Teff Flour
1 cup (125g) All-Purpose Flour
1 cup (50g) whole Rolled Oats
1/4 cup (55g) Brown Sugar
1/4 cup (50g) Sugar
2 teaspoons (10g) Baking Powder
1 1/4 teaspoons (6 g) Sea Salt or Kosher Salt
1/2 cup (120ml) Heavy Cream
1 Egg
1 teaspoon (5ml) pure Vanilla Extract
heavy cream for brushing
sugar , granulated or superfine sugar
Instructions
Make Brown Butter
At least a couple hours before making dough, melt butter in a tall saucepan over medium heat. Swirl butter occasionally to promote even melting and browning.

Cook until butter is a light caramel color and bottom of pan is covered in dark brown flecks. Butter will have a toasty smell. (Butter will first bubble up and sizzle, then settle down with the solids floating on the surface. Keep cooking until nice and toasty, without burning the solids.)

Pour butter into a wide, shallow dish, scraping the flecks on the bottom of the pan into the butter, and freeze until solid. This can be done a day or more ahead of time.
Make Scones
Preheat oven to 350° F. Line a baking sheet with parchment paper or rub with butter

Combine flours, oats, sugars, baking powder, and salt in a large bowl. Cut the chilled brown butter into pea-sized pieces, then add to dry mix. Using your fingers, pinch butter into dry mix until it resembles a coarse meal. (This can all be combined in a food processor as alternative method)

In a small bowl, whisk together heavy cream, egg, and vanilla extract until well combined. Add wet mix into dry mix and stir until just incorporated.

Put dough ball on a well floured surface and pat into a 7" wide by 1" thick disk. Cut into 8 wedges.

Place wedges on baking sheet, spacing a few inches apart. Brush with a couple light coats of heavy cream, then sprinkle sugar over wedges. Bake for until the edges of the scones have browned nicely, about 28-34 minutes. The scones are better slightly over-baked than under-baked.
Nutrition Information per Serving
Calories: 334kcal, Carbohydrates: 38g, Protein: 5g, Fat: 19g, Saturated Fat: 11g, Trans Fat: 1g, Cholesterol: 71mg, Sodium: 488mg, Potassium: 85mg, Fiber: 2g, Sugar: 13g, Vitamin A: 603IU, Vitamin C: 1mg, Calcium: 101mg, Iron: 2mg
Hope you enjoy these Brown Butter Oatmeal Scones. Here's more scone recipe ideas for you.
We are a participant in the Amazon Services LLC Associates Program, an affiliate advertising program designed to provide a means for us to earn fees by linking to Amazon.com and affiliated sites.