Asian Sweet and Sriracha Spicy Roast Pulled Pork
Our juicy sriracha oven roast pull pork is a reader favorite. Make a batch of this Asian pulled pork recipe for your next party, Taco night or Game Day gathering.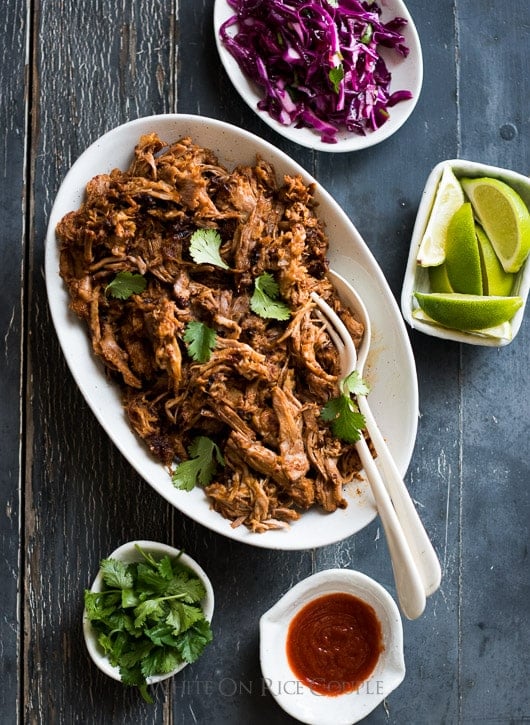 Asian Pulled Pork Recipe
It's been a busy month and all we were hoping for was to sit on the couch. Read. Watch Football. And eat this killer sweet and sriracha spicy oven roast pulled pork. Honestly, to keep life simple and sweet, all we need is our garden of fruit trees and an occasional pulled pork dinner.
A few years ago we shared our favorite juicy Asian oven roast pulled pork recipe. Your response was positively pork-happy outstanding. Thanks for making this recipe and loving it just as much as we do.
We've making another favorite oven roast pulled pork, but this time it has all the sweet and sriracha spicy flavors in every bite. The pulled pork is tender and we bake it a little longer to get that delicious sticky, caramel flavor. Sure, you can cook it a little less, but if you give it a little more oven love, you'll get some seriously mouth watering flavor that will satisfy even the pickiest of eaters.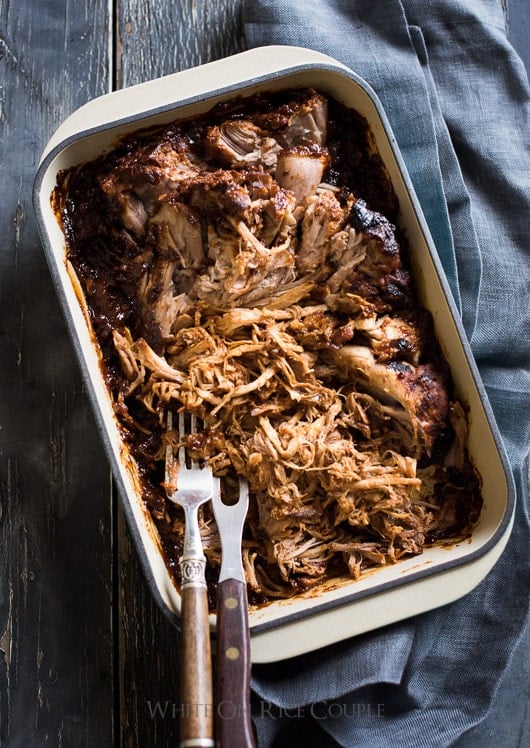 Cook the pork a little longer to cook down the sauce to an awesome, sticky caramel flavor.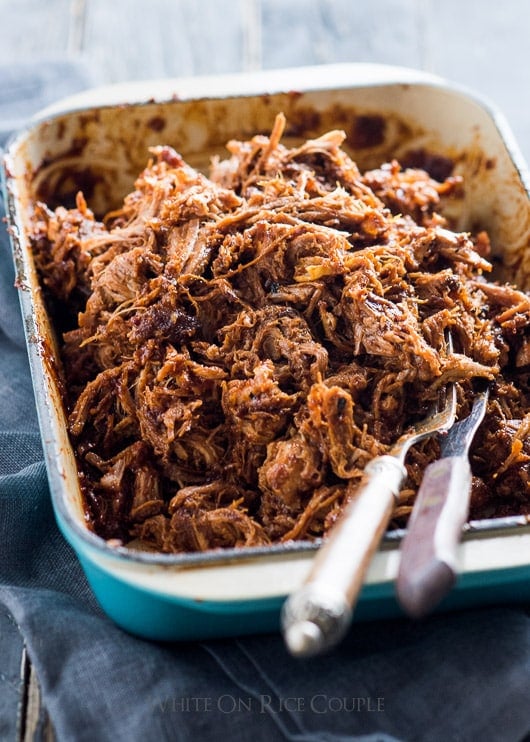 Ways to Serve this Asian Pulled Pork
The most obvious is serving these delicious pulled pork as tacos. The flavors are a wonderful change to traditional taco filling flavors.
Nachos are amazing with this pulled pork. In fact, make loaded pulled pork nachos and you'll be a hero.
Grilled cheese is an awesome way to enjoy this pork. Melty cheese sandwich stuffed with this pulled pork is fantastic.
In a bowl of rice. We LOVE eating this with a simple bowl of white or brown rice.
Green salad! Go lower carb with a pulled pork salad.
There you have it, our agenda for this upcoming lazy weekend and our menu: this pulled pork on tacos and nachos!
Enjoy,
diane and todd
We'll be eating lots of tacos on Super Bowl Sunday!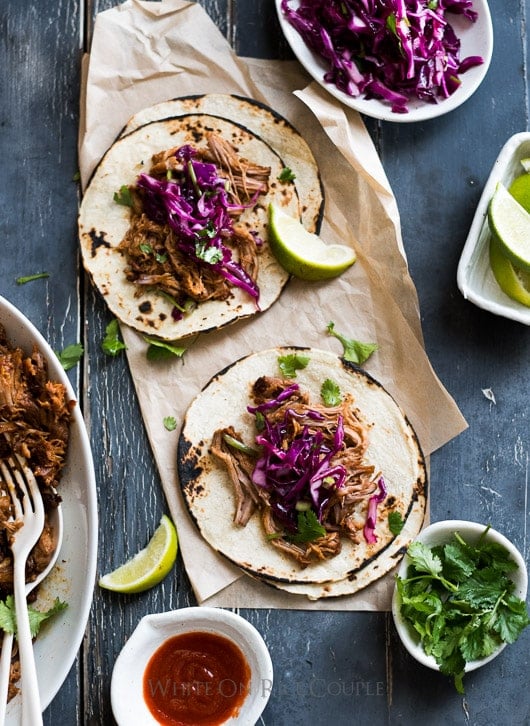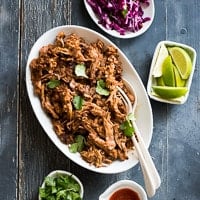 Sweet and Sriracha Spicy Oven Roast Pulled Pork
Recipe adapted from our other Juicy Asian Oven Roast Pulled Pork Recipe.
You can use this pulled pork for tacos, sliders and sandwiches. It's also great on pasta and rice because the sauce is so flavorful. Feel free to cook the pulled pork for a little longer to make the pork more tender and melt-in-your-mouth. Also, when cooking the pork a little longer, the sauce becomes a dark brown. This caramel flavor that comes from cooking down the sauce is awesome.
You can make adjustments on the sweet/spicy level of the sauce by adding more brown sugar or sriracha. Just taste the marinade before you pour it over the pork.
Ingredients
3 1/2 pounds pork butt or pork shoulder (1.4-2.25kg)
oil to coat pork
fresh cracked black pepper to coat pork
For the sauce:
1 tablespoon cooking oil (15ml)
1 onion , diced
5 cloves garlic , minced
8 ounces tomato sauce (227g)
3 Tablespoons fish sauce or soy sauce (45ml)
1/4 cup Sriracha hot sauce (60ml) or to taste
1 Tablespoon vinegar (15ml) or apple cider vinegar
1/2 cup hoisin (120ml)
1 Tablespoon brown sugar (15ml)
1/2 teaspoon black pepper (3ml)
Instructions
Pre-heat oven to 350°F.

Heat a sauce pan over medium-high heat. Then add oil, onion and garlic. Cook onions and garlic until soft and fragrant, about 1-2 minutes.

Add tomatoes, fish sauce or soy sauce, Sriracha, vinegar, hoisin, brown sugar and black pepper. Gently stir the sauce and simmer on low heat for about 5 minutes. Remove from heat and set aside. After the sauce has cooled, you can taste it and decide if you want to add more Sriracha.

Heat large cast iron pan or deep oven proof skillet on medium-high heat. Lightly coat the pork shoulder with oil and season all sides with salt and pepper.

Sear each side of the pork shoulder on the hot pan until the pork is brown. About 3-5 minutes per side.Remove the pan or skillet from the heat and lay the pork in the pan.

Pour the sriracha-tomato sauce mixture over the pork into the oven proof pan. Cover the pork with aluminum foil.

Bake the pork for about 3-4 hours, or until the pork is tender and easily shreds with a fork.Note: we like to cook our pork butt a little longer until the sriracha-tomato sauce cooks down and becomes darker. This rich, caramel flavor is fantastic.

Allow the pork to rest for about 15 minutes before shredding the whole shoulder. Keep foil over the shredded pork to keep it warm before serving
Nutrition Information
Calories: 340kcal, Carbohydrates: 13g, Protein: 39g, Fat: 14g, Saturated Fat: 4g, Trans Fat: 1g, Cholesterol: 120mg, Sodium: 1285mg, Potassium: 849mg, Fiber: 1g, Sugar: 8g, Vitamin A: 138IU, Vitamin C: 9mg, Calcium: 49mg, Iron: 3mg
More Easy Recipes:
This recipe was originally published in 2015 and re-published in 2021 with updated recipe notes.
We are a participant in the Amazon Services LLC Associates Program, an affiliate advertising program designed to provide a means for us to earn fees by linking to Amazon.com and affiliated sites.