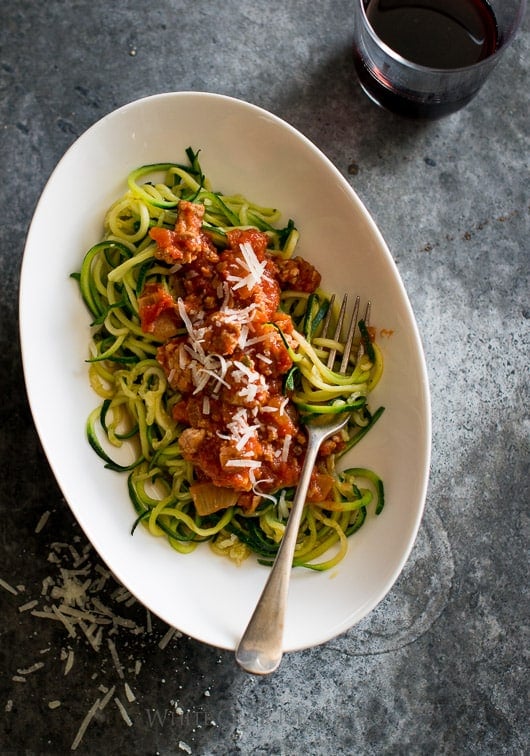 At some point during this Thanksgiving week you're all going to want to either cleanse or use up leftover turkey. For us, it's both. On Saturday we had a huge Thanksgiving meal for our Southern California family and friends. It was a combination Thanksgiving and Friends-giving with family and close friends. We cooked for eighteen hungry eaters and had a fabulous evening. Every time we gather with loved ones over a big meal, it reminds us that we need to do this more often. We always wanted to have a holiday where we didn't have to work our long retail hours so we can make the time to cook more for those we love.
Since leaving the crazy retail world a while back, we made effort to split our time between family and close friends. It's hard to not see everyone year after year, but when everyone is scattered across the country, we try our best to connect with everyone at least once a year. Now that we're in the holiday season, we're making the rounds and this might be the best year yet! We just might get to see everyone in our family between November and December. That's a big goal-reached for us!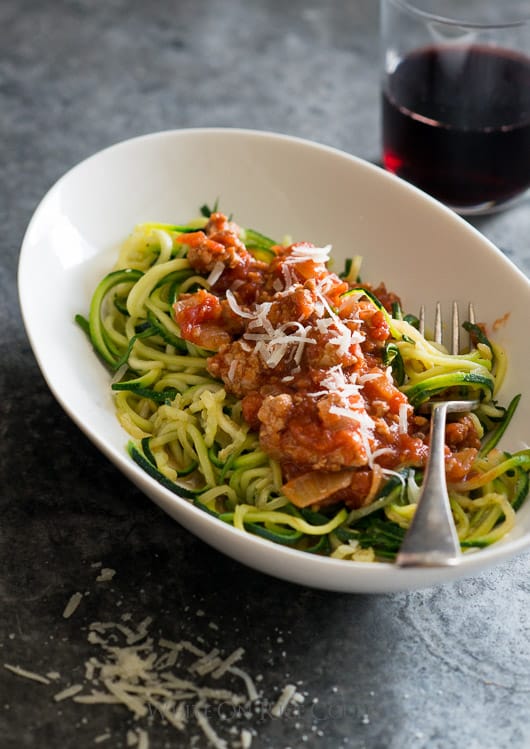 So we started off like good kids on Saturday with the first big feast and now we're still digesting (3 days later). All we wanted to eat over the last few days was light salads and clean food, until we hit feast #2 on Thursday.
One of our favorite light meals is eating zucchini noodles, which we raved about on our last zucchini noodle pad thai post. We couldn't get enough of zucchini noodles because it's so light and we don't miss the noodles. This is a comforting and perfect meal to follow-up a meal that's laden with heavy carbs, like the one we digested on Saturday.
Check out some Favorites for Spiralizing:
Nothing beats tried and true kitchen tools and products. Here's some of the favorites:

When your post-Thanksgiving meal comes around, try this light and healthy dish with your leftover turkey or start fresh with ground turkey. Cook it up with the sauce and you won't feel as guilty because you're using up leftover turkey AND you're eating low carb zucchini noodles.
Enjoy and Happy Thanksgiving to you all!
diane and todd
Our favorite zucchini noodle tool is this Paderno Spiralizer . We also talked about it here.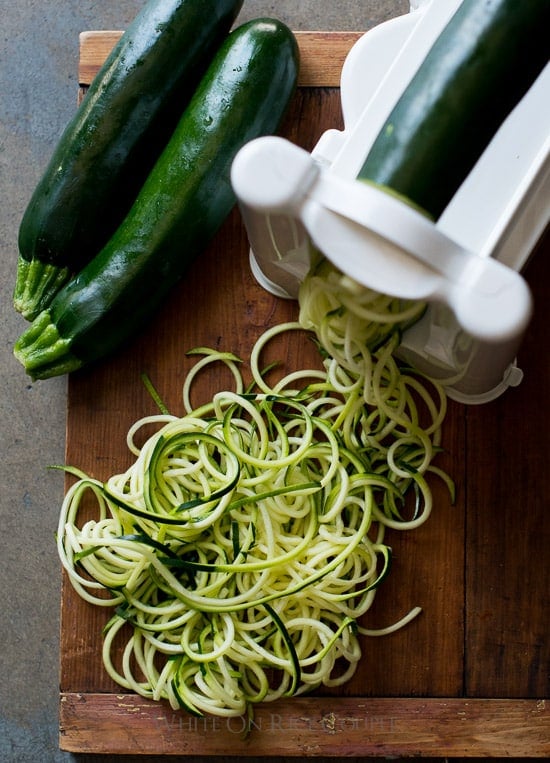 More Zucchini Noodle Recipes You'll Enjoy: 
Our popular Zucchini Noodle Pad Thai with Shrimp Recipe 
Craving Chinese without the calories? Make Zucchini Noodle Chow Mein with Pork Recipe