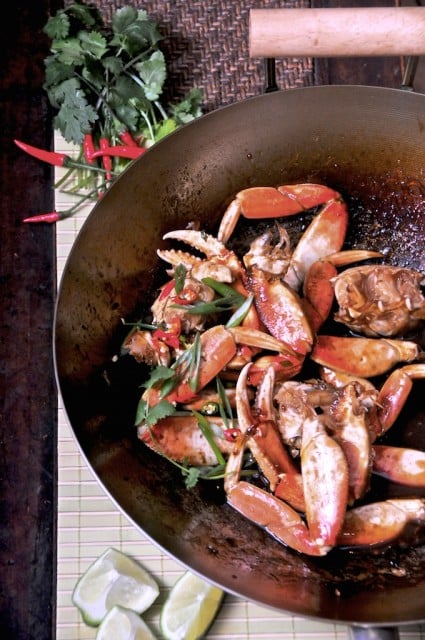 It's not often that I can get excited about a cookbook enough to want to snuggle with it on the couch and to read it cover to cover.  Most of the time, I'll scan through a cookbook and bookmark particular interesting recipes that jump off the page. But I found one book that not only had me hooked from the very first page, but had me laughing, crying and stomach growling at the same time. If anyone saw me, they'd think that I was an emotional, starving wreck who just got dumped by her boyfriend. Thank goodness I only read this book at home!
How could I let a cookbook get me so emotionally distraught? I always thought I was tough, strong and emotionally stable, but when I start tearing up during a chapter with the soy chicken drumsticks recipe, I must either be nearing menopause or this must be a really damn good book. In this case, it's definitely not heat flashes that's making me crumble, but poignant food stories that I can really relate to.
I blame all my beautiful rainfall of tears on Pauline Nguyen, Luke Nguyen and Mark Jenson, who have collaborated on an amazing cookbook called, Secrets Of The Red Lantern: stories and Vietnamese recipes from the heart. All of these three talented chefs share their delicious family recipes in a beautifully photographed cookbook that bleeds of rustic elegance, traditional flavors and divine family recipes. The fabulous fabric feel of the cover and the handwritten script throughout the book makes it so much more personal.
It's the poignant family stories by Pauline, that trace back from her family's struggles to escape Viet-Nam, to re-settle in their new home in Australia, and finally to their current success, The Red Lantern restaurant in Sydney. The often sad, but honest narratives that Pauline shares about her family's struggles were what really tugged at my emotions, and it was her humorous, uplifting stories of overcoming all their cultural challenges that made me giggle away my tears.
I'm connected to this book because so many of Pauline's childhood stories brings back both haunting and happy episodes of my own childhood growing up. Both of us being children of Vietnamese immigrants, she and I grew up with the same family traditions, restrictions and cultural conflicts, even though we grew up on opposite sides of the world. Reading Secrets of the Red Lantern was like reading about myself and my own family.
So, is this a cookbook or a memoir?  It's both.
It depends on  how you want to approach it. It you're looking for great traditional and modern Vietnamese recipes, this book has a diverse selection to be inspired by. The rustic and artistic photography is eye candy. If you're looking to read a memoir and passionate stories about a family's struggles, hard work to overcome all obstacles, and their road to success, you'll find yourself emotionally connected to the poignant narratives. Even if you're not Vietnamese, Pauline's memoirs will give you a candid glimpse of what it's like to grow up in a busy, bustling Vietnamese household and the inspirations to her cooking.
Secrets of the Red Lantern has two independently wonderful attributes, the recipes and the family stories. If you're solely interested in cooking Vietnamese food, you'll be pleased with what these chefs have to offer. But if you're wanting to delve a little further into family stories and tradition, the memoirs will have  you appreciate their family recipes on a deeper, more delicious level. – Diane
Here's a bit of a sampling of the deliciousness that you may be inspired to cook after reading Secrets of the Red Lantern.
Crab in Tamarind and Plum Sauce ( Cua Sot Me)
One of the easiest and tastiest dishes that I've made so far from Secrets of The Red Lantern is the Crab in Tamarind and Plum Sauce (cua sot me). It's just one of the many drooling Vietnamese dishes in this great book. For this crab recipe,  I added more chili's for extra heat and reduced the amount of sugar in half for the sauce. As you can tell, I'm a fire and salt hound!
adapted from Secrets of the Red Lantern
Ingredients:
For the tamarind plum sauce:
4 1/2 ounces tamarind paste, without the seeds
1 1/2 cups boiling water
1/2 cup plum sauce
1/2 cup oyster sauce
1 teaspoon salt
1/2 cup sugar
For the Crab
1 whole Dungeness crab (about 2 -3 pounds)
6 scallions ( green onions)
5 red chili peppers
about 3 Tablespoons peanut oil
1 cup tamarind and plum sauce
1 large handful cilantro leaves
Directions:
Make the Sauce
In saucepan, water, tamarind paste, plum sauce, oyster sauce and sugar. Bring to a boil and combine well.
Set aside.
For the Crab:
Clean crab and remove legs from body. Here's a great crab cleaning TUTORIAL.
Cut the scallions into 1" lengths and finely slice the chilies.
In large wok or large deep sauce pan, add oil. Let oil heat for a few seconds , then add crab. Cook crab for about 5 minutes by stirring them in hot pan, then add chili's and half of the scallions and toss well to combine ingredients. Add the tamarind and plum sauce.
Bring sauce to boil and continue cooking crab for about another 5 minutes, or until crab is cooked (depending on how big the crab is). Remove crab  to platter and garnish with remaining chopped scallions and cilantro leaves.
Hello! All images & content are copyright protected. Please do not use our images without prior permission and do not re-publish this recipe. Simply link back to this post for the recipe. Thank you.
Recipe Note for Salt: All recipes containing salt are based on kosher or sea salt amounts, not table salt. If using table salt, reduce the amount used to taste.
[ad]