Diane's Vietnamese Fish Dipping Sauce (Nước Mắm Chấm)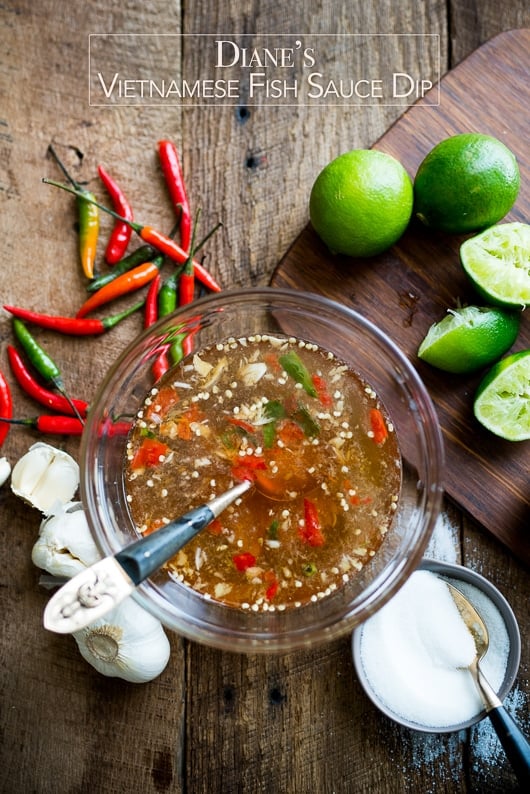 I may be Vietnamese, but I'm no expert in Vietnamese food, nor have I ever met a true Vietnamese food expert. Every time I get together with elder Vietnamese cooks who have traveled through different parts of Vietnam, their list of new food discoveries grows longer by the day. They are always humbled by the vast differences in not just regional food differences, but differences within each family household and tradition.
It wasn't until towards the end of my 24 years (yup, I was a manicurist for 24 years!) of working in my Mother's nail shop and talking food with her Vietnamese staff that I realized how much I was going to miss this crazy but collectively unique group of passionate ladies. They all grew up from different regions of Vietnam, hailing from the furthest Northern forests to the most Southern hot villages of the country. What made me adore our often curious and heated conversations was their passionate food traditions and beliefs. I learned so much from them as I stalked them every time they ate their lunch. But I was respectful and waited until they finished before I bombarded them with all my food questions.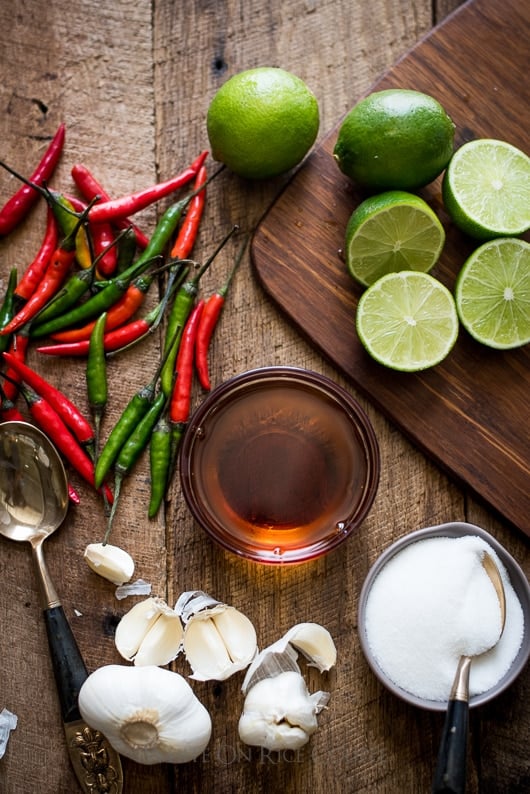 I listened intently, like a curious kid but with an analytical mind, like a Grad Student, to their beliefs on what made the best pot of phổ noodle soup and why their sticky rice was more flavorful and moist than the neighbor's across the street. Some claimed to make the best braised fish in claypot because it was their Grandmother's recipe. And to top off the challenge, Grandma gave birth and raised 9 kids in a 500 square foot shack along the rice paddy fields in central Vietnam during the war.
Ok, as soon as someone says their recipe is the best and only way to make it because "Grandmother of 9 kids and 15 grandkids" made it, I won't ever argue. If the matriarch of your family made your seafood stock a certain way and you say it's the best, I will nod respectfully as I slurp my way towards the bottom of the soup bowl. Family cooking traditions and recipes are topics I would never question or challenge, because who am I to say that it's wrong? It's only different, but never wrong.
There's no right nor wrong in family traditions, food ways and recipes. I respect that because my own family food traditions are like no other household. My family experiences are what sets the foundation for my understanding of my Vietnamese food. The best part about learning my food traditions is that there are gazillions of other Vietnamese families who don't cook and eat just-like-me, so there's so much more discovery on the horizon waiting for me to hear, taste and document!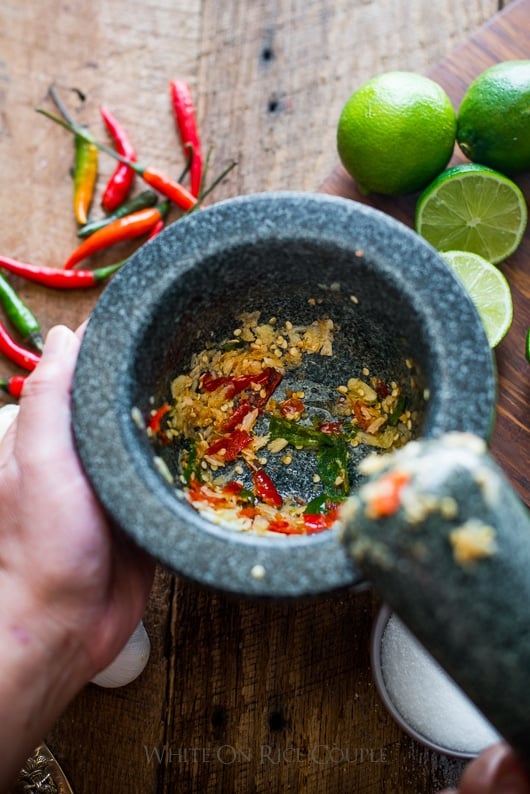 Vietnamese Fish Sauce dip is one example that often provokes heated, passionate debates. Why? It's because folks are so obsessed about eating it all their lives and there's no singular recipe that is definitive of what this quintessential dip should be. It varies between regions, villages, neighborhoods, families and even varies between individuals within each family. Even within my family of 12, not everyone agrees on how salty, sweet, garlicky or spicy it should be.
So I'm not here to argue or listen to any banter as to why my version is "wrong", as I've previously heard in the past from "readers" about my family Vietnamese recipes. I'm here to to say this is MY version and there's a gazillion different variations that can come out of my recipe. Make it your own, to your personal taste and we can all be friends.
To take away fish sauce (Nước Mắm) from the Vietnamese is like draining blood from a living soul, deflating a floating helium balloon or driving a nail into a tire. Slowly but surely, all life would slowly cease. Extreme as this may sound, this is how vital this golden elixir reigns in Viet cuisine (well, at least in my family's Viet cooking). Like how olive oil is to the Italians, Red wine is to the French, and ketchup is to my french fries, fish sauce is to the Vietnamese. It's a pure, pungent nectar sent from the fermented fish gods to grace our breaths and Viet inspired dishes.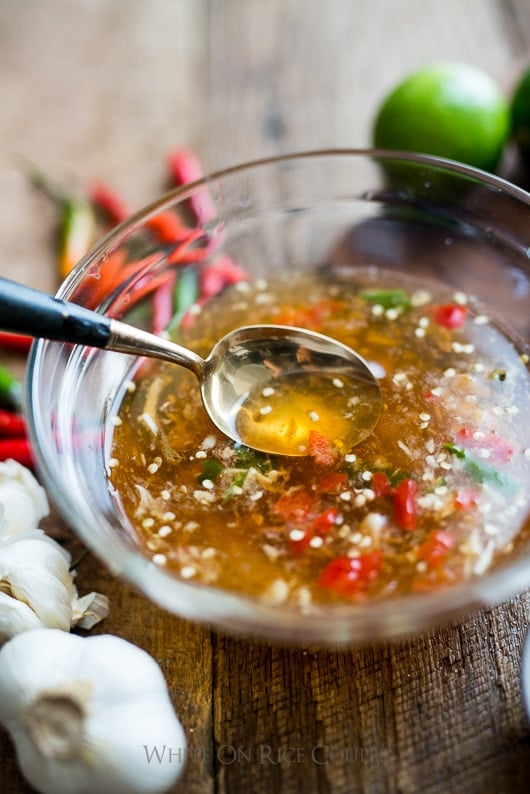 Fish sauce in its pure straight-from-the-bottle form can be pretty aggressive to both the nose and the palette. Basically, it can totally stink. But it can become a little softer, subdued and more manageable on the palette when mixed with some acid, sweetness and spice. It then becomes the dip what Vietnamese call, Nước chấm or simply, Nước Mắm (depending on tradition). One of the very basic staples of fish sauce is the dipping sauce that can be used as a dip for spring rolls, as a dressing for noodles and rice or as a marinade for grilled meat. It's like magic when you take fish sauce, mix it with a little lime, garlic and chili.
Video of me making Nước Mắm Chấm
Fish sauce dip has so many different degrees of sweet-ness, spicy-ness, garlicky-ness and lime-ness (sp?), each household will make claim to having "mom's best" version. My mother believes that her garlic infused version reigns supreme (with much support from her nail shop staff), but I feel that my variation is more palatable just because it requires much less post-breath mints.
You decide how much more you want to explore by adding more or less of what ever you like. As long as you're making it and enjoying this dip, that makes me uber happy!
-diane
More of my Vietnamese recipes and random childhood stories (Family-inspired of course!)
Diane's Vietnamese Fried Chicken Recipe
Vietnamese Chicken Salad Recipe
My Vietnamese pickled carrots and daikon recipe
Diane's Vietnamese Fish Sauce Dip (Nước Mắm/Chấm)
Adjust the flavors to your liking. Everyone has their own version and this is my favorite ratio that isn't too watered down like many restaurant versions. I like the balance of bold flavors in the fish sauce, garlic, chiles and most importantly, acid from the fresh lime juice. I don't make mine too sweet either, but it's still delicious if you like yours sweeter. Have fun to fine tune your favorite ratios!
Ingredients:
1/4 cup (60ml) fish sauce (brand I use is Flying Lion Phu Quoc )
1/2 cup (120ml) water
3 Tablespoons (45ml) fresh lime juice, or to taste
2-3 large cloves of garlic (preferably mashed in a mortar and pestle but minced will work fine)
1 Tablespoon (15ml) sugar, or to taste
1-2 fresh thai chiles, to taste
1 teaspoon (5ml) crushed fresh ginger root (optional for another variation)
Directions:
Combine all ingredients (fish sauce, water, lime juice, garlic, sugar, chiles, and optional ginger) in a bowl and stir until the sugar is fully dissolved. Or in a mason jar, add all ingredients and shake the dickens out of it.
Serve the dip on or with whatever your heart desires. And don't forget to offer a side of breath mints after the meal. You can store in an airtight container in the fridge for up to 3 weeks. Enjoy!
Hello! All images & content are copyright protected. Please do not use our images without prior permission and do not re-publish this recipe. Simply link back to this post for the recipe. Thank you.
Recipe Note for Salt: All recipes containing salt are based on kosher or sea salt amounts, not table salt. If using table salt, reduce the amount used to taste.