Turkey Avocado Spring Rolls w/ Hoisin Peanut Dip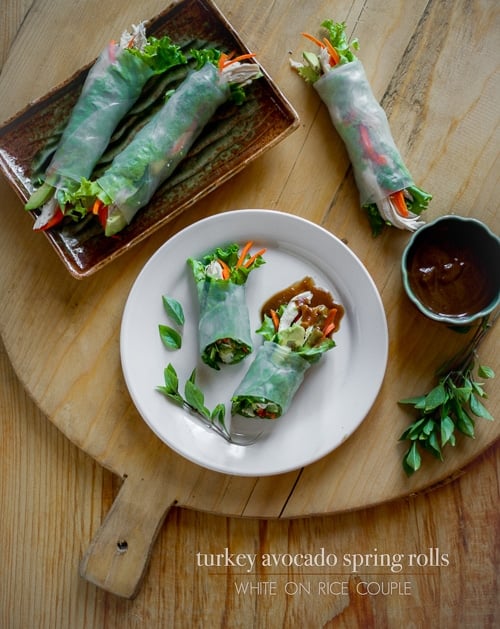 Hope you all had fulfilling Thanksgiving. The food coming out of your kitchens must have been incredible. And for those to didn't cook, hopefully your gathering was wonderful. Because that's what it's all about, the little things, the gathering and the celebration of togetherness.
We're really grateful to everyone here, each and every one of you. We truly mean every word.
Weather down here is much warmer than normal. While many of you were experiencing snow and cold, we had sunny day with plenty of sunshine. There's times when we wish we had a sprinkling of snow to kick start the Holiday season, but when we realize that we don't have to shovel our cars out of the driveway, it seems pretty lucky to be down here.
Snow weather might not be the best for the pups either, particularly Lexi. She's a warm weather gal and being able to romp around in the garden during her first Thanksgiving has probably ruined her for life. If it were to snow and bury all her outside toys, she's probably cry for days. Without a doubt, she's a spoiled puppy in more ways then we can count.
The garden is really starting to welcome Autumn. Leaves are starting to drift off the branches in big batches of yellow and red colors. Our garden is a true Southern California garden when you can see the green lawn dusted with orange pomegranate leaves. Our patches of green space aren't exactly the perfect green suburban lawns. They're more like a mesh of wild weeds and dichondra all mowed down to their lowest point. But it's the perfect play area for two rambunctious dogs to tackle one another.
Now that the big eating eating day is over, many of you are probably just waking out of a food coma. Join the club. Next thing on our agenda is to hit our juicer up for some green kale/apple/carrot juice for the next few days. For us, post-Thanksgiving meals are always about eating lighter and greener. That's why our newest kitchen toy helps us make the days after Turkey day more guilt free. But more on the juicer later!
A favorite meal we often make from all the leftover turkey is fresh spring rolls. It's one of those left over meals that's light, super fresh and spiritually uplifting for those who totally crashed the carbs on Thanksgiving. Raise your hand if you totally carb-butter-sugar loaded. Again, join the club!
The joy in eating these spring rolls is that the recipe is adaptable to everyone's taste. If you prefer to have different vegetables such as red bell pepper or sliced celery, then you can certainly mix up the inside trimmings. And believe it or not, there are people in this world who do not like avocado (shame on you!) so by all means, eliminate the creamy green beast.
Honestly, even without the avocado, these spring rolls have enough flavor and texture in them to please a crowed. What's even more flexible is the hoisin dip. Though we used peanut butter, you can certainly use almond butter or cashew butter. Each of the nut butters brings out a unique flavor and texture. So don't feel like you have to commit to the same dip every single time.
Enjoy the rest of your week and if you're one of those crazy folks who dares all the Black Friday sales, please be careful. Shop safe!
hugs,
diane and todd
-Complete list of spring roll recipes here.
-Here's the latest photo tutorial on on how to roll spring rolls.
Turkey Avocado Spring Rolls with Hoisin Nut Dip
This is my standby spring roll that I eat year round, not just after Thanksgiving. I'll buy some nice deli carved turkey breast and make these rolls when the craving calls. For the dip, you can certainly be flexible and use peanut butter, almond butter or even cashew butter. The variety of nut flavors makes the dips really exciting when you want a change.
Here's the latest photo tutorial on on how to roll spring rolls.
Ingredients:
For the turkey spring rolls
Fresh carved Turkey meat, torn in small this strips
1 large ripe avocado, cut into small slices
1 large carrot, thin julienne cuts ( like match sticks)
Strips of cucumber, red bell pepper, jicama (optional)
fresh basil, mint or other herbs
fresh lettuce, chopped or torn in small pieces
rice paper for rolling
For Hoisin Peanut dip:
1/4 cup hoisin (each brand has a different thickness consistency. So add water if needed to make the dip texture to taste)
2 heaping tablespoons peanut butter, almond butter or cashew butter.
1 teaspoon rice vinegar
1/2 teaspoon sesame oil
Directions:
For the hoisin peanut dip: In medium bowl, combine all dip ingredients together. Use a fork to help blend well.
For the rolls, gather all the ingredients together and get your rolling surface ready.
Here's the latest photo tutorial on how to roll spring rolls.
Click on the link above for a helpful tutorial with photographs showing the step by step method. Lay your lettuce first on the soft spring roll wrapper, then add the strips of turkey, herbs, avocado and vegetables. Roll and serve with hoisin dip. Enjoy!
Hello! All images & content are copyright protected. Please do not use our images without prior permission and do not re-publish this recipe. Simply link back to this post for the recipe. Thank you.
Recipe Note for Salt: All recipes containing salt are based on kosher or sea salt amounts, not table salt. If using table salt, reduce the amount used to taste.