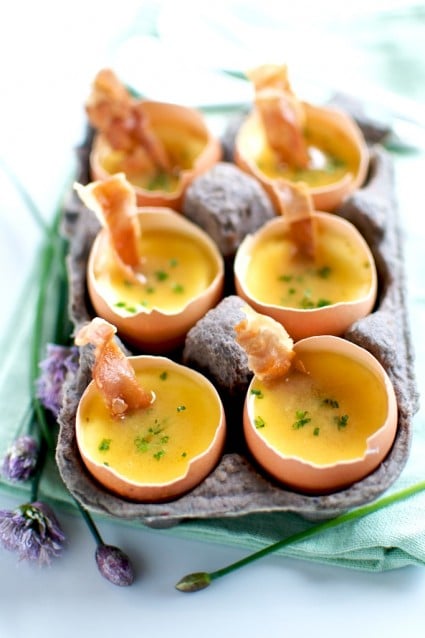 Sometimes you want a dish that is so incredible, the moment your guests eat it their eyes widen, vocabulary stammers and smiles start to stretch across their faces …. Then come the inevitable proclamations of wonder and adoration. No more pulling punches, you are going straight for the "wow" factor.  Something that may be one of the best things your guests have had in their life.
Thomas Keller's Truffle Egg Custards are just one of those dishes. This Easter we were having a gathering of friends who are close to our hearts and they are all well versed in exquisite cuisine, having worked or eaten in some of the best restaurants crafted by some of the best chefs in the US.  In planning our menu, we wanted to welcome everyone with an amuse bouche so good it would light them up and let them know how happy we were to have them over and I knew immediately where to turn, to our heavy artillery cooking resource, Thomas Keller's The French Laundry Cookbook.
Nearly all you foodies are heavily familiar with Mr. Keller.  He is idolized and worshiped as one of the best chefs in the world.  He impeccably crafts dishes by polishing ingredients with great focus and attention to detail with perfect technique.  Yet he does this without going overboard to the point where he is (as we like to say) "fucking with the food."  The artistry doesn't overstep the heart and soul of the ingredients. For us, he is the epitome of a chef and a cook. Many of us have his beautiful cookbooks on our shelves and gaze into them longingly and for most that is where it ends.  They become another one of those glossy, high profile cookbooks that rarely get used. We'd like to say, "Get to using it, people."
Yes, some of the recipes can be challenging.  "Over one's culinary head," you might say.  But most of them are not, and some are actually fairly simple. By paying attention to Keller's instructions you are getting a mini culinary training course and you'll learn solid techniques for crafting beautiful and tasty food.   You can then take what has been learned and apply it to making food that is to your own personal style.  You don't always have to have a dish as polished as Keller does to still have it incredibly tasty and how we've adapted his White Truffle Oil-Infused Custards with Black Truffle Ragout is a perfect example.
The custards themselves are fairly simple.  One takes a little care to save the shells for a beautiful presentation, and making the custard is fairly basic. As is the Truffle Ragout.  We rarely can find fresh truffles here, and when we do they are un-godly expensive, so we have changed the ragout to match our purchasing habits by eliminating the fresh truffles, and only using the truffle oil.
He finishes off his custards with chive chips.  They are paper thin potato slices that have a chive baked in-between two slices.  They are incredibly beautiful and also a bitch to make, especially if you don't have a quality mandoline.  So we don't make them.  Instead we'll take a couple pieces of prosciutto, and after we've crisped it up like bacon, we'll slice it and use the prosciutto to finish off the custards.  One could even use bacon, but the crispy prosciutto has such a delicate quality and a slightly more intense taste that it makes it worth the added expense to give the custards their special touch.
The chives in his chips play an added role in the taste, so to not loose that element of Keller's original custards, we added freshly diced chives to garnish the top of the custards. Now the entire dish is still beautiful and incredibly tasty, but done in our own style and in a commonly approachable manner.  And it all started with Thomas Keller's brilliance in how he crafted his original dish.
"How was the result?" one might wonder.  These were handed to our guests as they arrived at the WORC household. Stunned pauses, lit up eyes, and  "Wow!" Latecomers were immediately told by the experienced guests to be quiet and just eat their freshly handed treat.  Don't ask, talk, or dawdle, just try it.  The impression was so deep, we were regularly hearing about how much they were loved over a week later.  Phenomenal. Thank you for the inspiration, Mr. Keller.
-Todd.
ragout & chive topping
"Bacon and Eggs" Truffle Infused Custards w/ Crispy Prosciutto
Yield: 8 Custards
Total Time: 1 hour
Ingredients:
8 lrg Eggs (the fresher the better)
2/3 c Heavy Cream
2/3 c Milk
1 1/2 T Truffle Oil
sea salt & fresh cracked pepper to taste
Finishing Touches
1 T Chives (finely diced)
1 oz (2-3 slices) Prosciutto
Ragout
1/3 c Veal or Chicken Stock
dash of  Fish Sauce (or dash of white wine vinegar)
1 t unsalted Butter
1/2 t Truffle Oil
Directions:
Custards
Prepare the Egg Shells
With an egg topper or serrated knife, cut off wider end of the egg (make sure cut is low enough that a spoon can fit in the opening.)  If cutting with a serrated knife, lay the egg on a towel, and with a steady but gentle sawing motion, cut halfway through width of egg.
Remove knife, turn egg upright, and pop off the top of the egg.  Pour 2 of the eggs into a bowl to reserve for the custard, and the others you can save for any other kitchen uses you might have for them.  Reserve the paper egg carton. Reserve the shell bodies.
Under running water, using your fingers, carefully remove the membrane from inside the shell bodies.  Clean up any loose shell pieces from the edges of the shell cavity, then set aside.
Prepare the Custards
preheat oven to 275°F
In a saucepan, heat the heavy cream and milk. As soon as it reaches a boil, transfer to a blender.  Carefully pulsing, slowly build speed of blender to prevent extreme splattering.  While blending, add the 2 reserved eggs, truffle oil, salt and pepper to taste.
Strain the custard through a fine mesh strainer into a pitcher that pours well.  Allow to sit for a few minutes, then skim foam from top of custard.
Place shell bodies upright into reserved egg carton (cut away extra spaces to make carton smaller.)  Carefully pour custards into shells, filling about 85% full. (If pitcher is pouring like a bitch, use a funnel to help aim the pours.)
Using a pan that is a least 3 1/2 - 4" deep, fill about 1" of hot water into the pan.  Place custards (carton and all) into the water, and top off with more water (if necessary) to have water level reach 3/4 ths up the sides of the eggs.  Place pan into oven, cover with a lid or baking sheet, and bake for 40-45 minutes, or until custards are set. Remove from oven and set aside (They can stay in the warm water for about 2 hours if needed.)
Prepare the Finishing Touches and Ragout
Heat a saute pan over med-high heat, add a touch of oil, and crisp up prosciutto (just like cooking bacon.)  Dab on paper towels to remove excess oils, then cut into 1/2"x 2" pieces (there will be spare tidbits you'll get to snack on.)
Dice the chives.
Put the stock and fish sauce into a small saucepan and bring to a boil.  Simmer for about 3-4 minutes, or until it coats the back of a spoon.  There should be about 3 T of sauce.
Finishing
Swirl butter and truffle oil into reduced stock.  Season to taste.  Place each egg in a cup, and spoon about 1 t of ragout on top of the custards. Add a sprinkling of diced chives, then place a prosciutto crisp in each egg.
Hello! All images & content are copyright protected. Please do not use our images without prior permission and do not re-publish this recipe. Simply link back to this post for the recipe. Thank you.
Recipe Note for Salt: All recipes containing salt are based on kosher or sea salt amounts, not table salt. If using table salt, reduce the amount used to taste.
finale….enjoy!
[ad]