Teriyaki Chicken Wings Recipe w/ fresh Teriyaki Sauce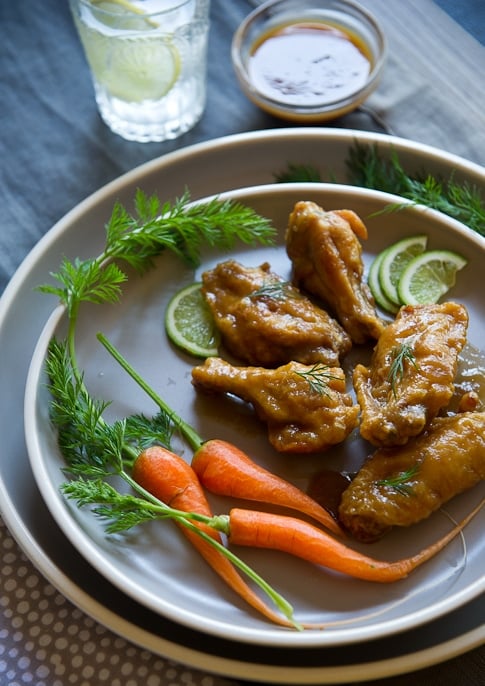 Three cheers for chicken wings or in our case, 3 recipes.  Neither of us were prepared to be such gluttons one afternoon when we made a batch of sriracha buffalo wings. It all started with a good sauce, then ideas started to churn in our heads about more options with some of our other sauce recipes. Things got a little carried away in the kitchen, so hopefully you're ready for more chicken wing recipes this week!
A while back I shared a recipe for homemade teriyaki sauce for Good Bite. I enjoy developing fresh sauces and thinking outside the jar. Don't get me wrong, I have a huge admiration for many quality bottled sauces and stock and champion those brands whole heartedly. But I'm rather sensitive to sauces that are too sweet.
I'm a savory girl to the core and if I could, I would always add an extra pinch of salt or two into my food. I know how bad that is. It's my downfall, over salting food. Luckily Todd has trained me to taste before I salt my foods. That alone has decreased my salt intake by 50 percent.
Teriyaki sauce is so versatile. I adore it because it ads so much great, quick flavor to grilled dishes, burgers, vegetables. Even a simple, bowl of white steamed rice with a drizzle of good teriyaki sauce is a satisfying meal.
I wanted to create a teriyaki sauce that was less sweet than most that I tried. I also wanted to have a teriyaki sauce that had more of the bright pop of pineapple. Gosh, I love my pineapple and although pineapple isn't local, sustainable and probably not organic, I'm eating it anyways. I'm not perfect!
This sauce for the teriyaki chicken wings is a variation off my original recipe, with just a touch of Mirin. It's still not too sweet, still very fresh and better yet, very adaptable to your personal taste buds.
Simply whip up this quick, fresh sauce and toss it on your chicken wings. These will be a hit at your next party  and  will be a trusted appetizer recipe in your archives!
hugs,
Diane
Here's the complete list of our chicken wing recipes.
Teriyaki Chicken Wings Recipe
Yield: Serves 6-8.
Total Time: 50 minutes
Ingredients:
4 lbs. (1820g) Chicken Wings, tips removed, rinsed, and patted dry
oil to coat chicken wings
flour for dredging

Teriyaki Sauce

1 c fresh, minced Pineapple, or 1 20 oz. can of quality minced pineapple
1/2 c (120ml) Soy Sauce
1/4 c (60ml) Mirin
1" knob (20g) Ginger, minced
2 cloves Garlic
1/4 c (60g) Brown Sugar
1 t (5ml)Rice Vinegar, or apple cider vinegar
1 t (5ml) Sesame Oil
1 T (15g) Cornstarch
1 T (15ml) cold Water
Directions:
For the sauce:
In a blender combine pineapple, soy sauce, mirin, ginger, garlic, brown sugar, rice vinegar, and sesame oil. Blend all ingredients until well combined and sauce is smooth. At this stage, you can decide if you want a finer sauce by straining with a fine mesh sieve.
In small bowl, mix cornstarch and cold water. With fork, break apart all the cornstarch clumps until liquid is smooth and cornstarch is fully incorporated into water (cornstarch slurry).
Transfer teriyaki liquid to sauce pan. Heat up for about 1 minutes or until hot and bubbly. Remove sauce pan from heat and immediately stir in cornstarch water mixture. Stir rapidly till sauce thickens. Allow to cool.
Cook the Chicken Wings
Preheat oven to 425° F. Line a sheet pan with parchment paper.
Lightly coat chicken wings with oil (we prefer grape seed or peanut oil), and toss in a bowl to completely coat.  Place flour for dredging in a medium bowl and toss chicken wings in flour.  Gently tap off excess flour and lay chicken wings in an even layer on lined sheet pan.
Bake for 20 minutes, flip chicken wings over and rotate pan, then bake for another 20 minutes or until chicken wings are golden brown.
Toss chicken wings in teriyaki sauce and serve. Or serve chicken wings with teriyaki sauce on the side for dipping.
Hello! All images & content are copyright protected. Please do not use our images without prior permission. If you want to republish this recipe, please re-write the recipe in your own words, or simply link back to this post for the recipe. Thank you. And remember in making the recipes, if using table salt instead of kosher or sea salt, make sure you reduce the salt amount.