Winter's Citrus, Double Tangerine Cocktail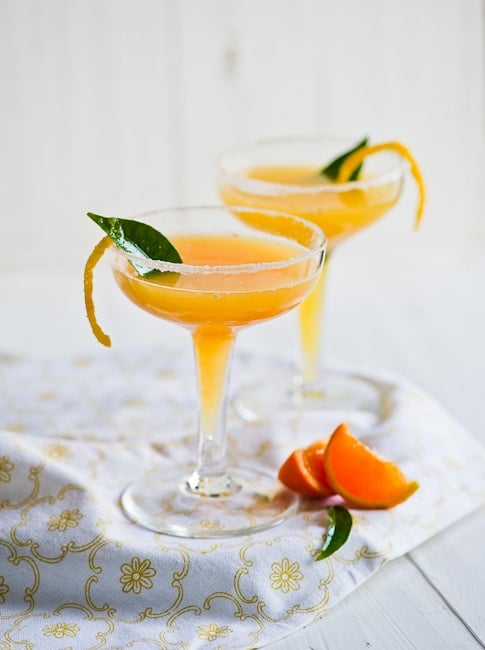 We've been pounced with rain for well over a week now. The unforgiving rain turned our roads into raging rivers and the dark clouds shut out the sun for about 5 days straight. That's a rarity in Southern California, to not see the sun for so long. Now we know what the rest of the country feels like! Yes, we're spoiled.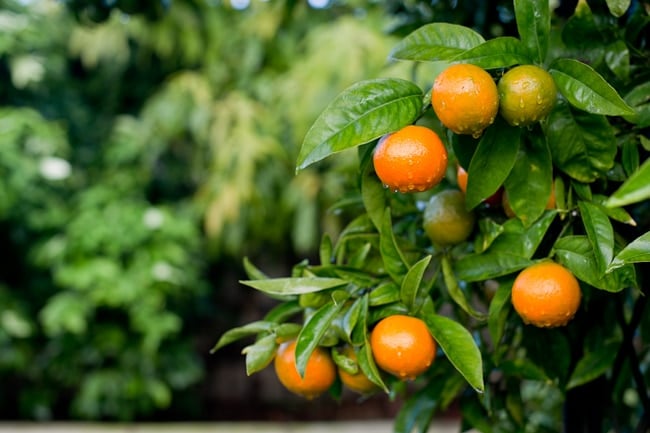 The only ones in our household really complaining about all the water are our dogs, who get limited outdoor romp time. Dante & Sierra practically have to be forced to go outside to do their duty. We won't be surprised if they get bladder infections. Ha, they're wimpy city dogs.
All our lettuce and green seedlings are living it up with all the extra water. And our fruit trees LOVE all this water. After the rains, all the citrus trees seem to get a huge growth spurt and new flowers start to appear. Rain water is like crack for them, not to mention a nice, needed shower.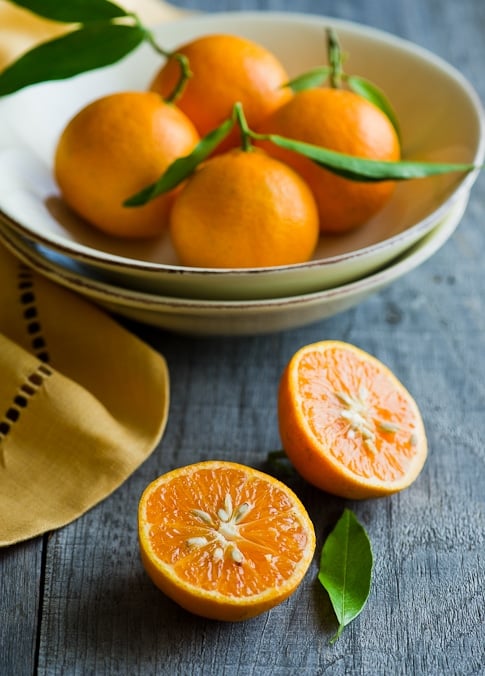 Our Fremont Tangerine (mandarin) tree is starting to explode with color. During the fall, the all the green fruit dotting practically every inch of the branches were camouflaged amongst all the leaves. But recently after all the rains and a few moments of bright sunshine, the fruit are quickly turning color to a fantastic orange hue.
Some areas get snowballs this time of year, we get tangerines.
Post rain fruit is always spectacular and terrifically sweet. It's a tradition for us to run outside and eat the deepest colored citrus. The fresh, bright, addicting sweet-tangy flavors are the best reward after being cooped up in the house during rain.
Here's one of our favorite cocktails to make with the tangerines, simply named Double Tangerine. It's always a toss up whether to make this cocktail or a Kentucky Sidecar.  This one is heavier on the tangerine and the Kentucky Sidecar has a nice kick with the whiskey.
-Todd & Diane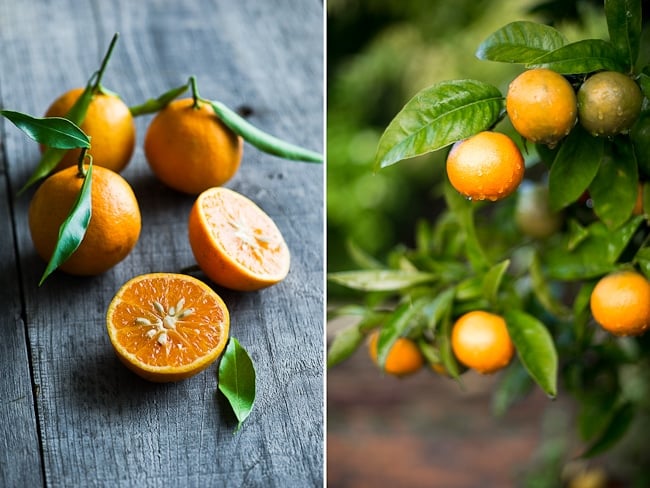 Double Tangerine Cocktail Recipe
Yield: 1 cocktail
Total Time: 5 minutes
We usually make this with a ginger simple syrup (slices of fresh ginger infused into the batch of simple syrup) but it is quite good with a regular simple syrup. Adjust the simple syrup quantity to taste and by the sweetness of the tangerines.
Ingredients:
3 oz (@2 tangerines) fresh Tangerine Juice
1/2 oz (@1/4 lemon) fresh Lemon Juice
1 oz Ginger Simple Syrup
1 1/2 oz Cognac
superfine sugar for coating rim (optional)
Directions:
Rub the rim of a chilled cocktail glass with a tangerine wedge & sugar the rim.
Put all ingredients into a cocktail shaker with ice, then shake it with passion for 15-20 seconds.  Strain into your cocktail glass.  Garnish with a tangerine twist, or for a sexy addition drop a few raspberries into the cocktail glass.
Hello! All images & content are copyright protected. Please do not use our images without prior permission. If you want to republish this recipe, please re-write the recipe in your own words, or simply link back to this post for the recipe. Thank you.
Recipe Note for Salt: All recipes containing salt are based on kosher or sea salt amounts, not table salt. If using table salt, reduce the amount used to taste.