It's the fish sauce that makes this honey garlic chicken strips recipe so delicious.  Funny how scary fish sauce can be to some folks. That's why some of you were a little cautious about trying our recent sticky fish sauce chicken wings recipe. It's certainly an ingredient that needs to be slowly introduced. Fish sauce is stinky, yes, there's no doubt about that. But the umami flavors are pretty amazing. Because we want to slowly introduce some of you to the joy of cooking with fish sauce, we've adapted our last recipe with soy sauce. The technique is the same and instead of fish sauce, we've added soy sauce. BUT, if you're a lover of fish sauce, then use that instead!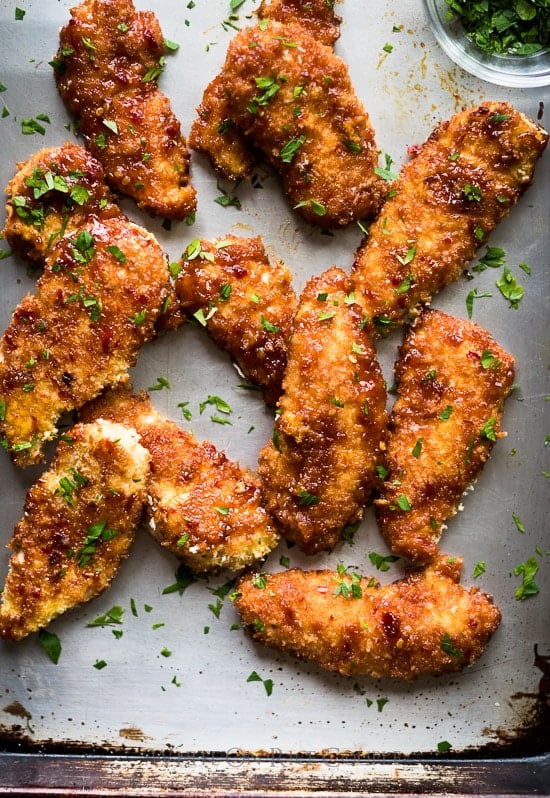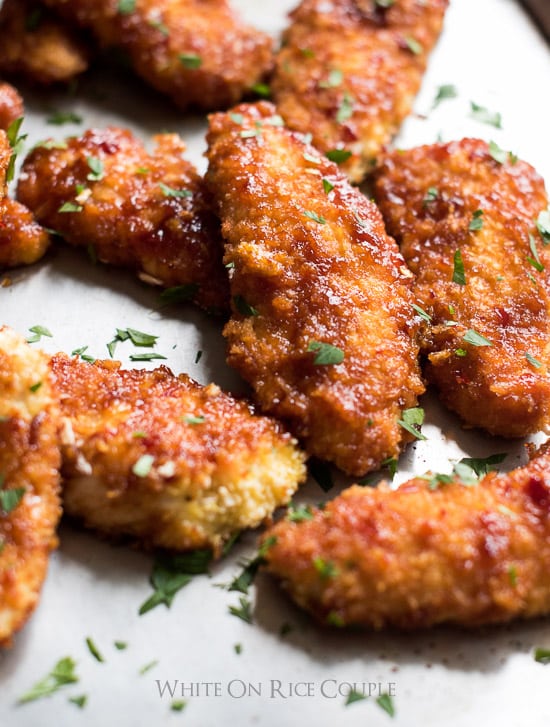 This honey garlic chicken strips recipe is perfect for game day and for anyone who loves chicken wings, but want more chicken without fighting through the bones. These aren't just any ordinary chicken strips they're our popular honey garlic chicken strips recipe. They're sweet and sticky with a nice baked crust. For anyone who loves chicken strips, these are amped up an extra level with a sweet and sticky sauce. Just like the fish sauce chicken wings, make sure you have extra handy-wipes ready.
And of course, don't forget the beer. These sweet and sticky honey soy sauce chicken strips are screaming to be washed down with beer. Or a cocktail or dry white wine, which pairs perfect with the flavors in these chicken strips.  Or a fruit juice for the kiddies.
Have a great weekend everyone,
diane and todd
Here's some more Asian Recipes you might enjoy:
Garlic Chicken Spring rolls Recipe Here.
Fresh Vietnamese Spring Rolls Recipe Here.
BLT Bacon Lettuce Tomato Spring Rolls Recipe Here.
Don't miss out on our free recipe updates and food, travel, garden stories. Subscribe to our free email updates here and on our Facebook Page . Follow and connect with us on Instagram here, Twitter and Pinterest. Thanks for stopping by!


Sweet and Sticky Honey Soy Sauce Chicken Strips
Yield: Serves 3-4
Total Time: 45 Minutes
Ingredients:
For the chicken strips:
2 pounds (910g) boneless skinless chicken breast or chicken tenderloins
1 cup (240ml) panko bread crumbs (or regular bread crumbs)
2 eggs
3/4 cup (100g) all-purpose flour, or more if needed
1 teaspoon (5ml) kosher salt
fresh cracked black pepper to taste
For the sweet and sticky honey soy sauce:
1/2 cup (120ml) ketchup
1/2 cup (120ml) honey
1/4 cup (60ml) soy sauce (or fish sauce cause it tastes better! Fish sauce will be saltier, stat with 2-3 tablespoons)
1 tablespoon (15ml) chili garlic sauce or any hot sauce (optional)
1 tablespoon (15ml) fresh lime juice
1 tablespoon (15ml) rice vinegar
Directions:
Pre heat oven to 425 degrees F. Prepare 1-2 baking sheets lined with parchment paper.
If using chicken breasts, cut into thin strips. The thicker they are, the longer they take to cook. Make sure the strips are consistently sized so that you get even baking.
In a bowl, add panko or bread crumbs. In another bowl, beat the eggs. In medium bowl combine flour, salt and black pepper.
Dredge each strip of chicken in flour, then egg, then Panko or bread crumbs. Lay coated chicken strips on sheet pan. Repeat for all chicken strips.
Bake chicken strips in oven for about 20-25 minutes, or until chicken is cooked through and crisp. Remember to turn the chicken strips about 1/2 way through cooking.
While the chicken is baking, make the sauce. In bowl, combine all the sauce ingredients: ketchup, honey, soy sauce, chili garlic sauce, fresh lime juice and rice vinegar.
When chicken is finished baking, set aside.
Heat a large skillet over medium heat. Add half of the chicken strips and half of the sauce. Toss to coat and cook for about 30 seconds on each side or until the chicken strips soak up the sauce on both sides and become sticky. Repeat with remainder of sauce and chicken strips. (Cooking Tip: Don't let the pan get too hot because if the pan becomes too hot, it dries up the sauce and becomes too sticky.) 
Note: If you want the chicken strips extra crispy, fry the chicken strips instead of baking them and then toss them in the skillet with the sauce. The crunchy fried texture is delicious!
Hello! All images & content are copyright protected. Please do not use our images without prior permission and do not re-publish this recipe. Simply link back to this post for the recipe. Thank you.
Recipe Note for Salt: All recipes containing salt are based on kosher or sea salt amounts, not table salt. If using table salt, reduce the amount used to taste.