Roasted Brussels Sprouts with Sriracha and Mint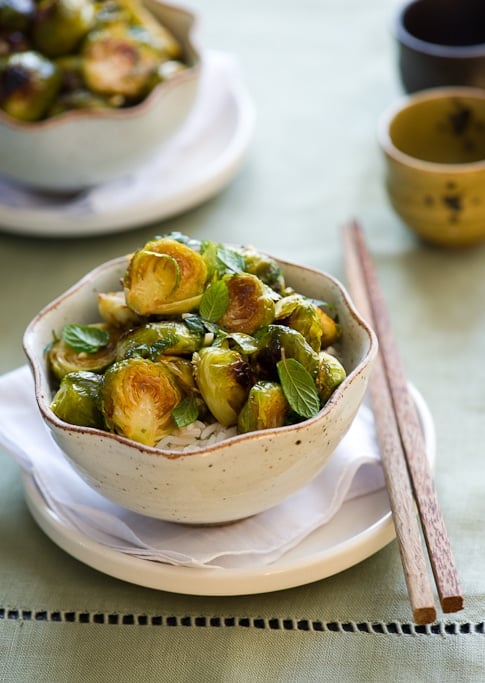 Update: Click here for more fabulous Brussels Sprouts Recipes.
It feels so great to be cranking up the oven lately with all the incoming cool weather. Southern California weather is been so kooky strange and each week is like a yo-yo of surprise weather conditions. Fortunately, this week has been significantly cooler and thus, more oven comfort of dishes for the table.
When Margaret outlined this week as brassica week, we knew immediately that we'd be making roasted brussels sprouts to warm up the kitchen and our bellies. We're lovers of these mini-cabbage looking beasts and have made almost every variation possible. And we never get tired of eating brussels sprouts in any form.
Spicy sriracha and mint dressing with a tangy kick
So with cool weather and a hankering for something really flavorful and spicy, we created a spicy sriracha brussels sprouts. In our opinion, this is our favorite brussels sprouts recipe that we've made to date.
With a touch of sriracha hot sauce or any chili sauce, this marinade we made for the roasted brussels sprouts has so much depth of flavor and pop, you'll be licking the bowl clean. All the Asian flavors of robust fish sauce, bright lime, fragrant mint and kick of spice make a wonderful dressing to the roasted brussels sprouts.
If you love spice and Asian flavors, you will love this spicy brussels sprouts recipe!
Ciao!
– diane and todd
Update: Click here for complete list of delicious Brussels Sprouts Recipes.
Roasted Brussels Sprouts with Sriracha and Mint
Yield: Serves 4-6 as a side dish
Total Time: 15 minutes
Ingredients:
2 lbs (910g) Brussels Sprouts, loose leaves removed and cut in half lengthwise
3-4 tablespoons (45-60ml)Grape Seed or other cooking oil
Sriracha Dressing

1/4 cup (60ml) Water
2 tablespoons (30ml) Fish Sauce
2 tablespoons (30ml) Sriracha Sauce, or to taste
1/2 tablespoon of crushed Garlic
2 teaspoons (10ml) fresh Lime Juice
1 teaspoons (5g) packed Golden Brown Sugar
1 teaspoon (5ml) Rice Vinegar
1/4 c finely cut Mint Leaves
Directions:
Preheat oven to roast at 375°F.
Spread brussels sprouts out on a sheet pan, toss with grape seed oil, then lay brussels sprouts face down. Roast in oven for 15 min., flip the sprouts to cut side up, then roast for about 10-15 more minutes or until gently browned.
While brussels sprouts are roasting, make dressing. Combine dressing ingredients in a bowl and mix to completely combine. Set aside.
After brussels sprouts have finished roasting, toss with dressing, then serve.
Hello! All images & content are copyright protected. Please do not use our images without prior permission. If you want to republish this recipe, please re-write the recipe in your own words, or simply link back to this post for the recipe. Thank you.
Recipe Note for Salt: All recipes containing salt are based on kosher or sea salt amounts, not table salt. If using table salt, reduce the amount used to taste.