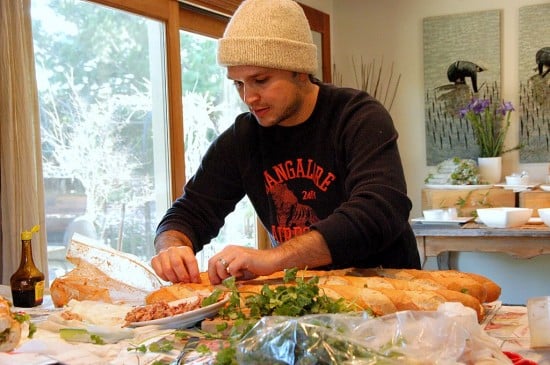 We want to introduce you to some of our new "food video" making friends. They are Travis at Rock and Roll BBQ and Tony at Olive Juice! Since our video's have been circulating in the blogosphere waves, we've received so much support and love from all you watching and reading. Thank you!! New video friends have stopped by and shared their love of creating cooking video's and here are two guys that really, really have their stuff together! Travis and Tony are two hugely talented guys who make cooking video's based on their personal cooking styles and every single one is fantastic! Their video's are informative, entertaining, funny, professional, and inspiring! They keep us on our video making and editing toes!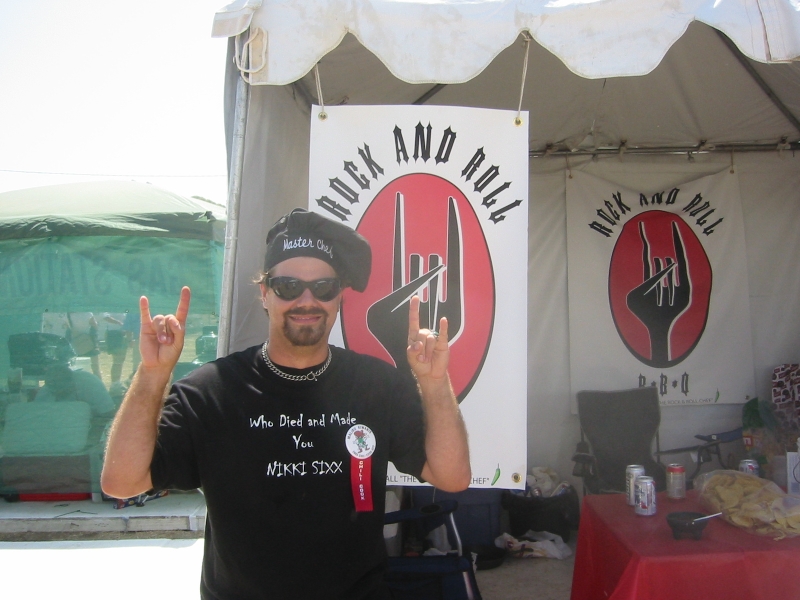 Travis is all about the BBQ- everything from fantastic ribs, brisket and beer can chicken! This musician not only plays a mean guitar, he makes amazing BBQ on his smoker. His video's will show you just how to cook the meat down to it's heavenly texture. He's got his own BBQ sauce for you to try. Sorry, Veg-Heads, he's not your type, but his cool personality is worth watching. Just don't hate him cause he loves his meat! His smokin' hot site is at Rock and Roll BBQ.com
Tony creates some simply delicious foods with Mediterranean flair and pizzazz. His fully entertaining and clever editing makes you smile and drool over his fresh, flavorful creations. You've gotta check out his Foccacia video, it brings back memories and it's very cool. So Veg-Head's, he's the man for you. His avocado shake is stellar and you'll love his Tzatziki and Muhhammara videos! Go visit him on his blog at Antonio Tahhan.com
Kick "Pork" Butt-5 Hour Smoked Pulled Pork
This post is dedicated to you guys: Tony, we're answering your question of what our "go to dish" is, which is our slow cooked pulled pork in the smoker, something that Travis will love. Travis, this is for you to show you, our "BBQ King" that we love BBQ-ing too!
For large parties, we're all about heating up the smoker and BBQ-ing pounds and pounds of pork butt and beef brisket to feed the hoards of carnivores, all salivating, with beers in hand. Back off the smoker people, it's take hours to get these beauties ready!
Our slow cooked, 5 hour pulled pork with home made BBQ sauce is so versatile and always a crowd favorite. We'll take this "melt in your mouth" pork and offer some tortillas (warmed up on the BBQ), freshly sliced cabbage, cilantro & lime for some pulled pork tacos. The warm, BBQ toasted tortillas are kick ass with the pork and a ice cold beer. We'll also get some fresh, light, Viet baguettes and make our HUGELY popular, pulled pork Viet baguette sandwiches, called Bánh Mì. The smoky richness of the pork is the perfect filling for banh mi, with flavorful pate, tangy, tart carrots and daikon radish, cool cucumbers, fresh cilantro and jalapeno heat. Depending on who's invited and how many sandwiches we make, our generous, gracious hosting skills take effect, "Back off Jerry! Limit 3 per person, you squabbling, pork hoarding carnivore! There ain't enough pig for everyone to go for a fourth round!". Yeah, that's how good they are.
Pulled Pork & BBQ Sauce Recipe
There is nothing simpler to make than pulled pork. You'll need a nice fatty 5-6 lb. pork butt, salt & pepper, smoking chips or chunks, and time. The key is to cook it slow and low for hours in a deliciously smokey BBQ. Set up your BBQ for indirect grilling (coals on one side/food cooking on another), put a drip pan under the spot where your pork is going to cook, and soak the hickory chips or chunks in water for an hour or so. Some people will add a dry rub to the pork, but we prefer ours with a straight sea salt and pepper rub (no need to let the butt rest with the salt pepper rub. Just throw it straight on the smoker.) If you want to experiment with a rub, combine some brown sugar, salt & pepper, with a variety of spices. We'll sometimes add fish sauce for an Asian flavor, or even soy sauce is great. Rub it over the pork butt, cover and refrigerate for at least 3 hours or preferably overnight. Time to light up and smoke 'em if you got 'em.
This BBQ sauce is a combination between the classic tomato based BBQ sauces and the North Carolina vinegar based sauces from Steven Raichlen's "Barbeque Bible" cookbook. It has a nice tang from the apple cider vinegar, with the contrasts of sweet, spicy, sour, fruity and smoky all lending their charm to the sauce.
Ingredients:
Pulled Pork Ingredients
1 Pork Butt (Boston Butt, pork shoulder, etc…) @5-6 lbs.
2 T Sea Salt
Fresh Cracked Pepper
6 c Smoking Chips (soaked in water for an hour, then drained) or branch cutting from fruit trees such as peach or pear trees
BBQ Sauce Ingredients
3 T Vegetable Oil
1/2 Lrg Sweet Onion, finely diced
3 Cloves Garlic, mashed
1/2 c Pineapple, finely diced
1/2 c Tomato Sauce
1/2 c Ketchup, our Asian Ketchup works great
1/2 c Apple Cider Vinegar
3 T Worcestershire
1 1/2 T Fresh Lemon Juice
3 T Brown sugar
1 T Deli Mustard
2 T Molasses
1 T dry Hot Mustard
1 Thai Chili
1 t Sriracha Hot Sauce
1 t Soy Sauce
1 c Water
Fresh Ground Pepper
Directions:
Pulled Pork Directions
Gas Grill-

Make sure you have a full tank of gas. Place the wood chips in a smoker box, then place the box over a far sided burner. Heat the smoker box side until the grill is 300ºF, then lower to medium-low heat.
Charcoal- Heat the coals (preferably lump charcoal) on one side, or in the side firebox if you have a  BBQ grill which has one. Adjust the vents to obtain and maintain the correct temperature.
Time to smoke. Season all sides of the pork butt with the salt & pepper. Toss in about a cup of wood chips on the coals, and put the pork butt (fat side up) on the grate over the drip pan. Close the lid and smoke for 5-6 hours. If using charcoal, you'll need to replenish the charcoal and wood chips every hour or so. The meat is done when it easily comes apart with a gentle pull. The internal temperature should be around 195ºF.
Take the butt off the BBQ, put it on a cutting board and allow to rest for 15-20 minutes. After resting it's time to pull the pork. Remove any skin or excessively fatty sections, then using your fingers, pull the pork into pieces. They should be about 1/4″ wide x 1-2″ long. It takes a bit of time to pull by hand, but this step is what gives the best texture. Hack it with a cleaver if you are impatient, but prepare to face the scorn of the BBQ Gods.
Time to eat. Toss with enough of your favorite BBQ sauce to keep everything moist. Serve with hamburger buns, coleslaw, and more sauce to individually add, or try our Pulled Pork Banh Mi. Grab a beer. You deserve it.
BBQ Sauce Directions
Heat oil in a saucepan over medium heat. Add onions and garlic and saute for few minutes until soft. Add the remaining ingredients, then continue to cook for 15 more minutes. Taste for seasoning and adjust individual ingredients to create a nice balance between the flavor elements.
Allow to cool a bit. If a finer texture is desired, puree in a blender, then strain & store. Otherwise, after cool, store in an airtight container in the fridge.
For smoking, you cook using indirect heat, (the meat isn't being cooked directly over the coals (or gas) but instead is being cooked off to the side and the heat is coming from the opposite side or in the side firebox chamber.) The temp in the grill's chamber where the pork is should be in the 300º F range the whole time cooking.  The BBQ's lid will be closed most all of the time, trapping in the heat and smoke and slowly cooking the pork like it would in an oven, only better.  You should have a decent amount of smoke over half the time you are cooking the butt.
Hello! All images & content are copyright protected. Please do not use our images without prior permission and do not re-publish this recipe. Simply link back to this post for the recipe. Thank you.
Recipe Note for Salt: All recipes containing salt are based on kosher or sea salt amounts, not table salt. If using table salt, reduce the amount used to taste.
[ad]