Grilled Corn Salad with Smoky Vinaigrette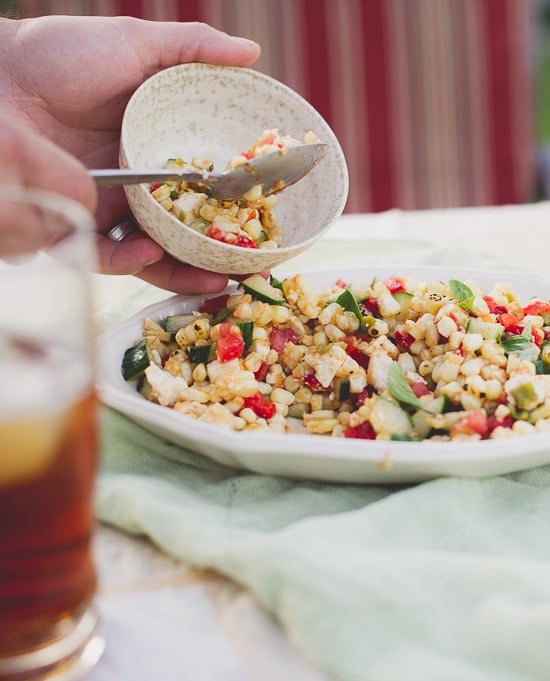 It's this time of year that we're craving fresh corn and thanks to the bounty of the season, gorgeous corn is making its appearance at farmers markets. Such pleasure! Though it's not officially Summer yet, it's hard not to be in such the mood for fresh grilled salads and pretty much anything that comes off the bbq. Blame it on the weather for putting everyone in the mood for dining al fresco, with a plenitude of beer and rose.
We'll also blame it on our neighbors, whose grills and bbq fill the air with the smell of smoke, char and the essence that embodies Summer. We know what the pups feel like when we're cooking and their noses start to rise into the air and sniff what ever is coming out of our kitchen. This time of year we can often be seen noses leading us forward sniffing through the grilling air.
As of late, we'll walk into our back yard and immediately assume puppy sniff out position. We both know we're smelling the same aroma when we both look at each other and the looks that are exchanged are like light bulbs going on. "…bbq! do you smell what I smell? someone's bbq-ing. Let's grill something for dinner!".
When it comes to bbq, we act like hungry puppies. Oy, the life of living with two hungry doggies. Their habits start to rub off on us.
For this meal, we knew it was going to be corn. Maybe a salad? Yes, a grilled corn salad. And what to add? Let's see what we have left over in the kitchen from the weeks photo shoots and throw those on the grill too.
We found one slightly tired looking red bell pepper, which was perfect because we were going to wilt and char it to perfection anyways. The garden had some beautiful and crunchy cucumbers along with some of the seasons first anaheim chiles. And tomato? Yes, found one of those ripening in the garden along with some fresh herbs. Cheese? Got some left over from the end of last week's shoot.
Perfection. A last minute dinner with some scrounged up vegetables and ingredients was the perfect meal to a garden dinner.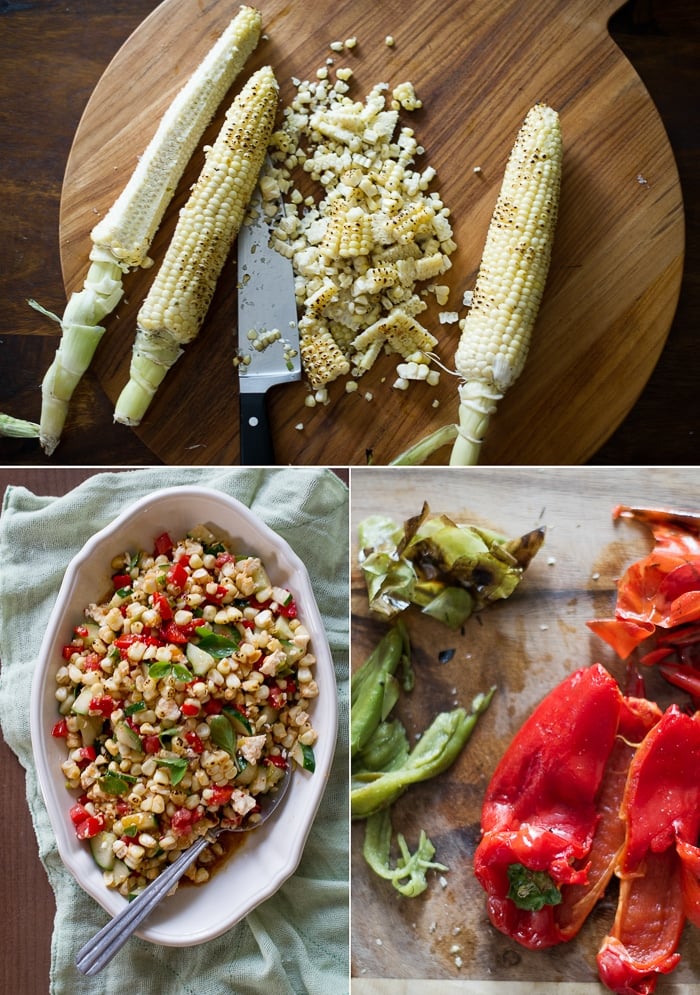 The wonderful part about this salad is that you can add what ever grilled vegetables that suit your pleasure. Got tons of garden zucchini? Eggplant? asparagus? Grill them all up and make this salad a rainbow of Summer's best vegetables. But what ever you do, make sure you have plenty of the corn on hand because those pops of sweet kernels perfumed with the perfect bbq char is what really makes this salad fabulous. The dressing is also super duper wonderful and if you're a dressing freak, make double the dressing because it's that good!
As the sun was setting and we were enjoying this salad in the garden, we were wondering if our neighbors were now raising their noses in the air to sniff our little bbq party. See? all these puppy sniffing habits happen to us all.
Enjoy,
-diane
Watch the video for making the Grilled Corn Salad:
Grilled Corn Salad Recipe
Yield: Serves 4-6
Total Time: 45 min
This salad is one of those recipes that's so flexible, you can make it what you want. If you have extra veggies to grill, by all means, add them to this salad. This salad is all about Summer's produce bounty, so have fun!
Ingredients:
For the Salad:
3 ears fresh corn, shucked
1 fresh chili to taste (jalapeno, anaheim, poblano or serrano)
1 bell pepper
oil for coating
1 medium fresh cucumber, chopped
1 medium tomato, chopped
4 oz feta cheese, crumbled
fresh handful of basil or herbs, minced
salt and pepper, to taste
For the Dressing:
1 clove garlic, crushed or fine mince
2 Tablespoons (30ml) olive oil
2 Tablespoons (30ml) fresh lemon juice
Zest of 1 fresh lemon
1/4 teaspoon of salt
1/2 teaspoon dijon mustard
1/2 teaspoon soy sauce (use Tamari for Gluten Free)
1/2 teaspoon brown sugar
1 teaspoon balsamic vinegar
1/2 teaspoon paprika
black pepper to taste
Directions:
Make the dressing: combine dressing ingredients in mason jar. Close the lid and shake ingredients together till well combined. Or combine all ingredients together in medium bowl and whisk till combined. Set aside.
Roast the corn, peppers and chili: Lightly coat whole corn, bell pepper and chili with oil. Heat the grill or bbq and roast the corn, bell pepper and chili till cooked and slightly charred.
Allow vegetables to cool, then in a large bowl, shuck the corn. Peel the chili pepper and bell pepper and then remove the seeds. Chop the bell pepper and mince the chili pepper. Add to bowl with the corn.
In same bowl, add cucumber, tomato and herbs.
Before serving, shake or combine dressing again and toss into salad. Add additional salt and pepper to taste.
Hello! All images & content are copyright protected. Please do not use our images without prior permission and do not re-publish this recipe. Simply link back to this post for the recipe. Thank you.
Recipe Note for Salt: All recipes containing salt are based on kosher or sea salt amounts, not table salt. If using table salt, reduce the amount used to taste.