Teriyaki Glazed Roasted Brussels Sprouts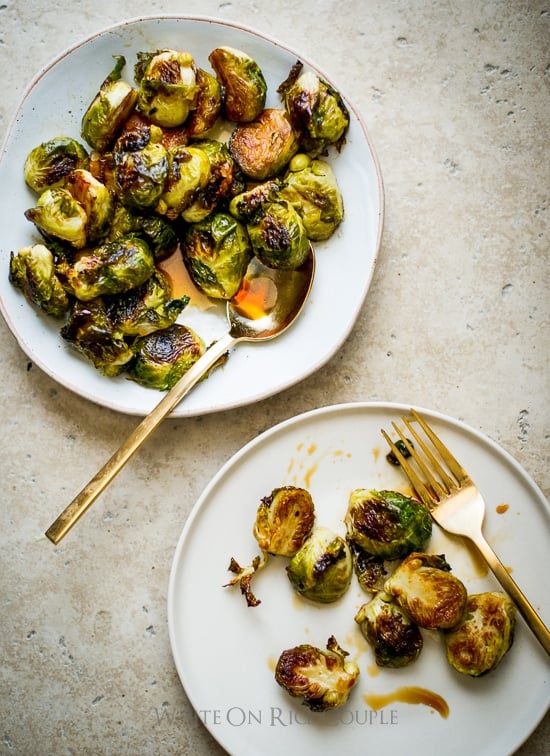 Update: Click here for more fabulous Brussels Sprouts Recipes.
A quick dinner before a long trip. That's what's been happening over the last 4 days since we've returned from New York City and Seattle. We don't feel like such losers when we minimize food waste, especially when it comes to brussels sprouts. We went through another fridge-clearing session after shooting for two days this week and as always, we're trying to eat up what we can before we head out again, this time to Australia. Can you believe it? We still can't believe we're headed down under to hug a koala and a few kangeroos, if we can actually keep up with them.
While we're in Melbourne, we'll be signing books at The Avenue bookstore in Albert park on Saturday Nov. 9th at 11 am. So it would be awesome to see all our Aussie friends. Bring lamingtons and a koala bear! We've always wanted to eat a real lamington and hug a koala.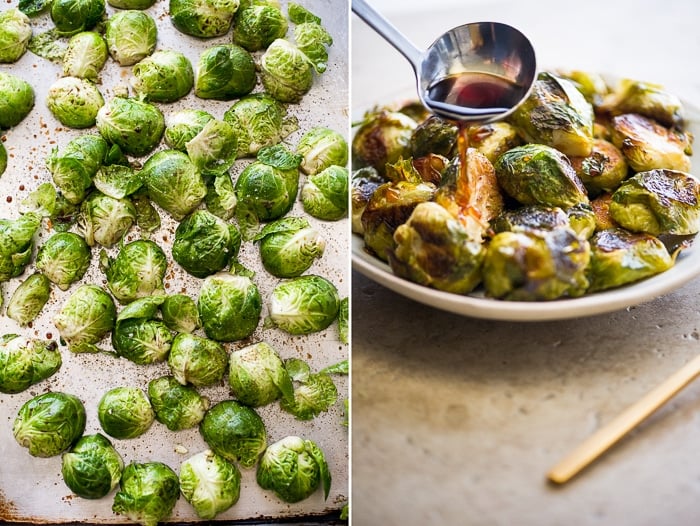 So to keep up with all the leftover brussels sprouts from this weeks shoot, we whipped up another quick roasted brussels sprouts dish and this time, we tossed it in our favorite teriyaki glaze recipe. This is our go-to sauce. It's great on literally almost anything, well maybe except for cake. But still! We're game to try almost anything once.
Brussels sprouts is one of our favorite vegetables. It's the one that, no matter how it's prepared, we'll devour it to the last leaf. Do you feel this attached to any vegetable? We feel that strongly about brussels sprouts. It's one of those vegetables that some people will turn their nose up on, but when they're roasted, they're amazing and addicting.
Tonight, dinner was quick but happy. We're now geared up for this beautiful continent down under.
If you want to follow along on our Australian adventure, follow us on Twitter and Instagram: Todd's Instagram and Diane's Instagram.
We'll keep you all posted in a few days. Until then!
-diane and todd
Where to buy our cookbook, Bountiful, online? Here's also a list of some great independent bookstores in your area. Please support them!
Amazon
Indiebound
Book Larder, Seattle
Book Soup and Vromans, Los Angeles
Kings English, Salt Lake City, Utah
Powells Books, Portland, Oregon
Barnes and Nobles
Teriyaki Glazed Roasted Brussels Sprouts
Yield: Serves 4
Total Time: 1 hour
See post for additional recipe details.
Ingredients:
1 1/2 pounds Brussels Sprouts
3 tablespoons extra-virgin Olive Oil (don't use the cheap stuff. The tastier the oil, the tastier the dish)
1 tablespoon Balsamic Vinegar
Sea Salt, to taste
Fresh Cracked Pepper, to taste
Glaze Ingredients
1/4 cup Sake
1/4 cup Soy Sauce
1/4 cup Brown Sugar
1 Tablespoon Rice Vinegar
1/2 Tablespoon fresh grated Ginger
Directions:
Preheat oven to roast at 375°F.
If your brussels sprouts are small, cut them in half. If they are very large, quarter them for more even cooking. Peel the outer, beat-up layers of the brussels sprouts off.  Trim the end, then cut brussels sprouts in half or quarters.
In a large bowl, toss together the olive oil, balsamic vinegar, salt and fresh cracked black pepper. Then add the brussels sprouts and toss evenly with the roasting oil. Lightly oil a sheet pan, then spread out the brussels sprouts, cut side down. Roast in oven for 15 min., flip the sprouts to cut side up, then roast for 10-15 minutes more or until gently browned.
While the brussels sprouts are roasting, make the teriyaki glaze: Combine glaze ingredients in a bowl and stir until brown sugar is completely dissolved.
Place glaze in a small saucepan. Bring to a simmer over high heat. Vigorously simmer for 5 minutes, then remove from heat.
When brussels sprouts are cooked, toss them with the teriyaki sauce. Serve warm.
Hello! All images & content are copyright protected. Please do not use our images without prior permission. If you want to republish this recipe, please re-write the recipe in your own words, or simply link back to this post for the recipe. Thank you.
Recipe Note for Salt: All recipes containing salt are based on kosher or sea salt amounts, not table salt. If using table salt, reduce the amount used to taste.