Roasted Brussels Sprouts with Lemon Mustard Parsley Dressing
Update: Click here for more fabulous Brussels Sprouts Recipes.

Now everyone, don't bum-rush to the kitchen all at once now because I know you're super excited about another brussels sprouts recipe. Or at least I'm hoping you're as hungry and excited as I am. And if you're not, you're probably one of the brussels sprouts haters that can't stand to re-live those terrible toddler moments when your parents force-fed you boiled brussels sprouts. Am I right? or am I right?
Because of all you brussels-sprouts-haters, I've made it a life long mission to keep developing different versions in the hopes that one of these recipes will turn you over to the loving side. Or at least that is my hope. A girl can only dream of a brussels-sprouts-loving world.
I was hungry for a vegetarian lunch a few weeks ago and after a few salads, I was hoping to really bite into something flavorful, or at least chow down on a big bowl of roasted-something. The only thing that made sense and which I had all the ingredients for in the garden and on-hand were, you guessed it, brussels sprouts. Gosh, I'm so predictable sometimes.
Rather than dress it up with my simple balsamic vinegar or fish sauce, I was craving for something a little more tangy, zingy, fresh, herby and citrusy.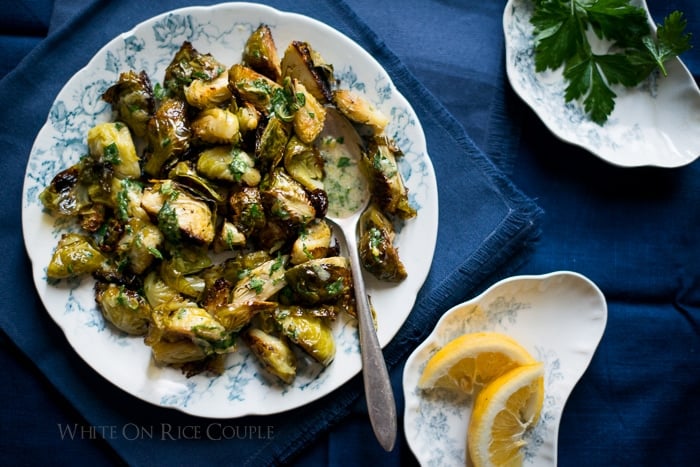 All those adjectives brought these ingredients to mind: Bright flavors of lemon zest and juice, tangy-roasted, balsamic vinegar, zingy mustard and herbaceous parsley. Perfect.
Lunch was served. And literally, these roasted brussels sprouts were our full, delicious lunch. The wonderful flavors of the lemon mustard parley dressing could not have been more satisfying and best of all, the dressing is now a favorite for an everyday salad.
So, did I succeed on this recipe? Will you now head on over to the brussels-sprouts-loving side?
Enjoy,
diane
Roasted Brussels Sprouts Recipe with Lemon Mustard Parsley Dressing
Yield: Serves 2-4
Total Time: 1 hour
Another favorite way to serve up brussels sprouts. First roasted up with a quick marinade, then tossed with an herbed lemon mustard dressing before serving.
Ingredients:
Roasting Brussels Sprouts Ingredients:
about 1 1/2 pounds brussels sprouts
3 Tablespoons olive oil
1 Tablespoon balsamic vinegar
2 cloves of garlic, minced or crushed
kosher salt or sea salt, to taste
fresh cracked black pepper, to taste
Dressing Ingredients
2 Tablespoons olive oil
zest of 1 medium lemon
2 Tablespoons fresh lemon juice
1 teaspoon dijon mustard
1/2 teaspoon brown sugar
1/4 cup minced italian or flat leaf parsley
additional salt and pepper to taste
Directions:
Preheat oven to roast at 375°F. Lightly oil a sheet pan.
Peel the outer, bruised layers of the brussels sprouts off.  Trim the ends, then cut brussels sprouts in half or quarters (for small brussels sprouts, cut them in half, and for large brussels sprouts,  quarter them for more even cooking).
In a large bowl, whisk together the roasting marinade ingredients: olive oil, balsamic vinegar, garlic, salt and black pepper. Then add the brussels sprouts and toss to coat evenly.
Spread the brussels sprouts, cut side down, on the prepared sheet pan. Roast in oven for 15 minutes, flip the sprouts to cut side up, then roast for 10-15 minutes more or until browned.
While the brussels sprouts are roasting, make the dressing: Combine the olive oil, lemon zest, lemon juice, dijon mustard, brown sugar and parsley. Set aside.
When brussels sprouts are cooked, toss them with the dressing and season with additional salt and pepper to taste. Serve warm or at room temperature.
Hello! All images & content are copyright protected. Please do not use our images without prior permission. If you want to republish this recipe, please re-write the recipe in your own words, or simply link back to this post for the recipe. Thank you.
Recipe Note for Salt: All recipes containing salt are based on kosher or sea salt amounts, not table salt. If using table salt, reduce the amount used to taste.