These pumpkin spice muffins will warm your kitchen and home with the best holiday smells. It's one of our most popular muffin recipes.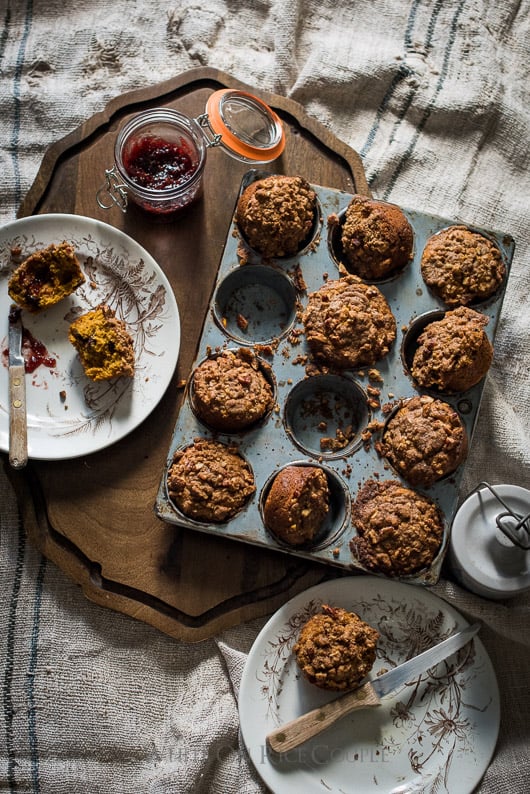 Our inspiration for developing blog recipes comes in many forms, but the ideas that we receive from all of you, our readers is the most encouraging. Since we published our pumpkin spice coffee cake recipe over two years ago, many readers asked about adapting it a pumpkin spice muffin with a crumb top. After fielding reader questions from our Facebook page, blog post and twitter, we've worked on making this recipe in muffin form. It was such an easy transition to make going from a coffee cake to muffins. The ratios are pretty similar and the wonderful, warm, earthy and holiday flavors remain intact.
Watch the Video of making these beautiful Pumpkin Spice Muffins: 
Voila! Here it is and we've made the recipe work for muffins without losing the texture and taste. In fact, we've made it several times and love it because it's always fun to serve muffins for breakfast, especially when it's topped with a great crumb topping. They're the best batch to share with friends and family. Or better yet, bring a batch of these home baked pumpkin spice muffins to the office or your work. You'll make so many people happy and lift their spirits. So doesn't love a batch of warm, homemade muffins? These little gifts of kindness from the heart really bring people together.
Make sure to serve them with coffee or tea. They're the perfect pairing for these seasonal muffins.
Enjoy,
diane and todd
Pumpkin Spice Muffins with Crumb Topping
Yield: 12 Muffins
Total Time: 1 hour
This recipe is a muffin adaptation of our Pumpkin Spice Coffee Cake recipe. Baking times, temperature, and ingredient quantities have been adapted to better suit a muffin. As with the coffee cake recipe, feel free to substitute your favorite nut for the pecans, or even omit the nuts all together if needed. Also, we used dried cherries for the fruit, but you can use whatever dried fruit you like or have on hand. We'll macerate or soak the dried cherries in a bit of coffee liqueur for extra flavor, but if you prefer you can always just soak the dried fruit in hot water for 10-20 minutes to rehydrate them enough so when the muffins bake the dried fruit is a bit more tender and not tough and chewy.
Ingredients:
For the topping:
1/4 cup (30g) Flour
1/4 cup (55g) Brown Sugar
1 teaspoon ground Cinnamon
1/2 teaspoon ground Ginger powder
1/4 teaspoon ground Clove
Pinch of kosher or sea Salt
4 tablespoons (57g) cold unsalted Butter, cut into small chunks
1/2 cup (@100g) finely chopped Pecans (or whichever nuts you prefer)
For the batter:
1 cup dried Cherries
Coffee Liqueur, enough to cover the dried cherries
1 1/2 cups (200g) All-Purpose Flour
1 teaspoon Baking Powder
1/4 teaspoon Baking Soda
1 1/2 teaspoons ground Cinnamon
1/2 teaspoon ground Clove
2 teaspoons fresh grated Ginger, or 1 teaspoon ground dried ginger
1/4 teaspoon freshly grated Nutmeg
1/2 teaspoon kosher or sea Salt
1/2 cup (113g or one stick) unsalted Butter
1 cup (220g) Brown Sugar
2 eggs
1 teaspoon vanilla extract
3/4 cup (180ml) Pumpkin Puree
1/2 cup (120ml) Greek Yogurt or Sour Cream
Directions:
Preheat oven to 400°F. Grease the muffin tin cups or line with paper muffin liners. Soak the batter's dried cherries in coffee liqueur for at least 20 minutes, pressing down or stir the dried cherries occasionally to make sure the top ones get to macerate, too.
Make the topping: In a bowl combine the flour, brown sugar, cinnamon, ginger, clove, and salt. Pinch in the butter, or use a pastry cutter, until it looks like coarse crumbs. Mix in the chopped nuts, and then refrigerate topping until ready to top the muffins.
Make the batter: In a bowl, whisk together the flour, baking powder, baking soda, cinnamon, clove, ginger, nutmeg, and salt for at least 20 seconds. Set aside.
With a mixer beat the butter and brown sugar on medium-high until light and fluffy. Beat in the eggs, one at a time. Stir in the vanilla extract, pumpkin puree, and greek yogurt or sour cream. Drain the dried cherries from the liqueur and stir the cherries into the batter.
Stir in the flour mixture until just combined. Divide the batter between the prepared muffin tins (a large cookie scoop makes this task quick and easy). Sprinkle the topping over the batter and then bake. Bake for 20-25 minutes or until a toothpick comes out clean when inserted into the middle of the muffins. Allow to cool, then remove from pan. Serve warm or at room temperature.
Hello! All images & content are copyright protected. Please do not use our images without prior permission and do not re-publish this recipe. Simply link back to this post for the recipe. Thank you.
Recipe Note for Salt: All recipes containing salt are based on kosher or sea salt amounts, not table salt. If using table salt, reduce the amount used to taste.
[ad]