Vietnamese Pork and Shrimp Spring Rolls
Hi everyone,  hope you're doing well and your weather is warming up to the peak of Spring. We're back, cooking in our home kitchen again and it feels nice to be making food that isn't for a shoot. We've had a fulfilling four weeks of back to back shoots and working with some of the coolest and creative people in advertising, but it's always nice to be able to wind down and cook to eat, rather than for the camera. And best of all, we don't always have a sink full of dirty dishes! That's part of our days on shoots, tending to towering piles of dirty dishes.
Now with a few days of rest before we're back to shooting Fall campaigns, the first thing that we missed eating at home were fresh Vietnamese spring rolls. We just can't get enough of these fresh spring rolls. We live on spring rolls.
As we were gathering ingredients for our simple lunch, we realized that we never had a chance to share with you Charles Phan's fantastic cookbook, Vietnamese Home Cooking. Have you looked at his gorgeous book yet? It's an incredible work of art. The book really transports you back to Vietnam, where Charles grew up and shares his food stories from street food to his humble home cooking. We also had a blast filming and producing the cookbook trailer for his cookbook. When we flipped the pages, one of the first recipes that crossed our fingers was Charles' pork and shrimp spring rolls.
The timing couldn't have been more perfect and inspired because we haven't made our pork and shrimp spring rolls in a while. This is one of those perfect lunches and dinners that is so easy to make, that can feed a hungry family and is both healthy and satisfying. As the weather warms up, we tend to stray away from heavy lunches because our bodies start calling out to take a nap.
Some cooks find it intimidating to work with spring roll wrappers, but once you understand how to work with them, it's really easier than you think. The key is making sure you don't over soak your wrappers and having all your ingredients all prepped and ready to go. Mis en place organization is important and once you have all your vegetables and fillings out and ready, rolling and eating the spring rolls is so much for fun. We wrote a tutorial on how we roll our spring rolls. Hopefully it'll be of help to you when you venture into this dish.
Enjoy,
diane and todd
 Our previous spring rolling tutorial can be found here .
For these pork and shrimp spring rolls, start your roll first….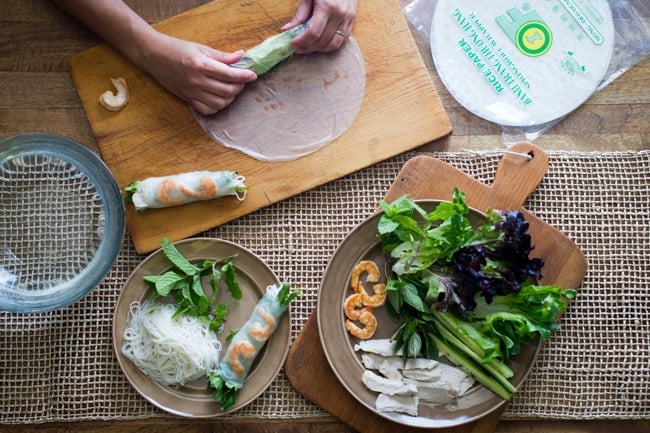 then lay the sliced shrimp, cut side up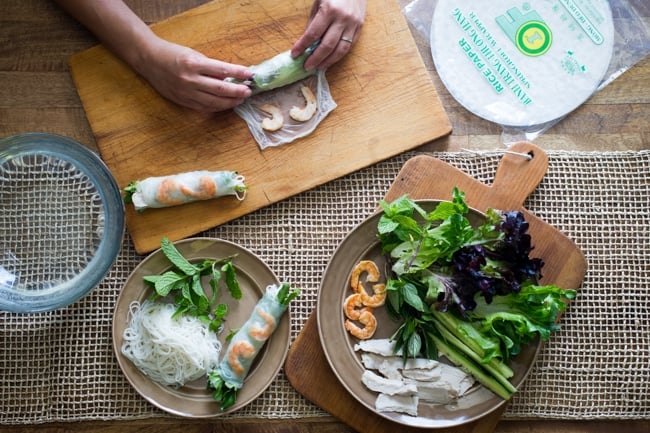 finished roll! For open ended rolls, just fold the wrapper in half & let the lettuce peek out the ends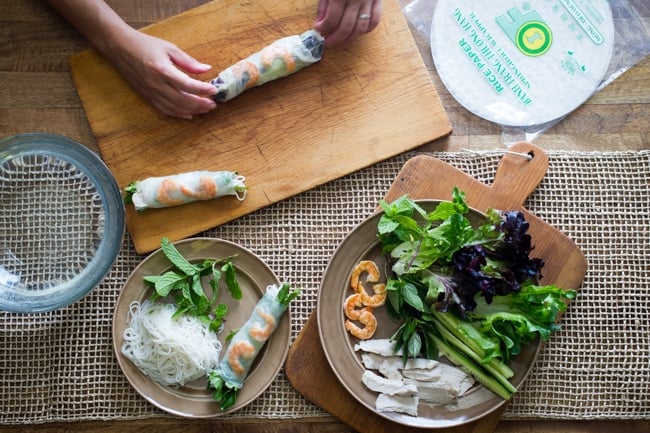 Pork and Shrimp Spring Rolls
Yield: Serves 3-4
Total Time: 45 min
In his cookbook Vietnamese Home Cooking, Charles Phan has a great story behind these spring rolls and how his Mother has a very unique twist by adding a smear of homemade mayonnaise to moisten the wrapper. We suggest you get the book to understand how she does all this, as well as how he makes his full version of the rolls with his peanut dip. The recipe we're sharing today is our own recipe that we serve with our hoisin peanut dip.
Ingredients:
For the pork and shrimp spring rolls:
1/2 pound medium shrimp, peeled and deveined
1 tablespoon vegetable oil
about 1/2 pound (8 oz) boneless pork loin or shoulder
1 (8-10 oz) package dried rice vermicelli noodles or "rice sticks", cooked to package instructions.
1 small head of lettuce
1 medium cucumber, cut into thin strips
fresh herbs: mint, asian basil. Vietnamese coriander, Vietnamese perilla or cilantro
about 12 (8-inch) rice paper wrappers or rice paper spring roll wrappers
For Hoisin Peanut dip:
1/4 cup hoisin ( If hoisin dip is too thick, add water to thin out the dip)
2 heaping tablespoons peanut butter, almond butter or cashew butter.
1 teaspoon rice vinegar
1/2 teaspoon sesame oil
Directions:
For the hoisin peanut dip: In medium bowl, combine all dip ingredients together. Use a fork to help blend well.
Cook the dried rice vermicelli noodles to package instructions.
For the rolls, start by preparing the pork. Bring medium pot of water to boil and add pork. Boil the pork on medium heat for about 15-25 minutes or until the pork is cooked. Remove from water, allow to cool and slice into thin strips.
For the shrimp, heat a medium pan, add vegetable oil. Lay shrimp on pan and sear on both sides till shrimp becomes pink and cooked. Remove shrimp from heat, allow to cool and slice each shrimp lengthwise in half.
Gather all your filling ingredients on plates: noodles, shrimp, pork, lettuce, cucumber, herbs and rice paper wrappers.
Please check out our photo tutorial on how to roll spring rolls and the photographs in the blog post to see how to roll with the sliced shrimp showing on the outside.
Add warm water to a large bowl. Quickly dip each rice paper wrapper in warm water for a few seconds and lay on rolling surface such as a cutting board or plate (they will still be slightly stiff).
Lay your lettuce first on the soft spring roll wrapper, then add the strips lettuce, herbs, cucumber, noodles and pork.
Roll spring roll till you have about 1/3 of rice paper left, then lay about 2-3 pieces of shrimp, cut side up in a row and finish rolling. The shrimp will lay on the outside of the spring roll when you are finished rolling.
Serve with the hoisin peanut dip.
Click on the link above for a helpful tutorial with photographs showing the step by step method. how to roll spring rolls
Hello! All images & content are copyright protected. Please do not use our images without prior permission and do not re-publish this recipe. Simply link back to this post for the recipe. Thank you.
Recipe Note for Salt: All recipes containing salt are based on kosher or sea salt amounts, not table salt. If using table salt, reduce the amount used to taste.