Parmesean Garlic Knot Recipe & Pass The Plate with KitchenAid
Breast cancer is a very personal topic for us, as we have had many dear friends and family who have been diagnosed with this deadly disease. One of our aunts is a survivor and the journey through her chemo and healing was challenging in every sense of the word. But it was something that bonded our family closer together and reminded us the value of life and the importance to help bring out awareness.
October is breast cancer awareness month and due to the long standing partnership KitchenAid has with Susan G. Komen for the Cure, this community of food bloggers are working together to commemorate the cause. In fact, KitchenAid has helped the foundation raise over 9 million dollars for breast cancer research to date and it doesn't stop there. We were asked to help spread the awareness through their Cook for the Cure and Pass The Plate Programs, and it's something we are honored to be a part of.
This Pass the Plate program partnered with Chef Jacques Pepin to create a unique design on a Villeroy and Boch plate. We've registered the plate and made a special dish, serving on the unique plate and then passing it on to a friend. Our friend will then register the plate and pass it on again. Each time someone registers the plate, $5 is donated to the Susan G. Komen foundation.
 The chain of love, cooking and sharing continues. Hopefully, forever. This is how amazing this project is.
For our dish, we made a new variation off our favorite garlic knots that's also in our cookbook Bountiful. As the holidays start to sneak up on us, we're all preparing to plan our menus for our loved ones. These garlic knots are the perfect addition to the holiday table.
Homemade garlic knots are loved by all and with the addition of parmesean cheese on top, it'll leave everyone licking their fingers to the very last bite. They're that good.
Better yet, try dipping these garlic knots in some gravy and it's a meal in it self. It's the perfect holiday side dish to celebrate the ones you love and to remember those who have lost their lives to breast cancer.
 And for the rest of you, KitchenAid is giving away one of these plates for you to share and pass the love too!
Just leave a comment below about what special dish you would like to make.
For an additional entry, if you have a personal story about breast cancer, share it below. We'd love to hear.
Giveaway will end on Wednesday October 30th, chosen by random number generator, and the winner will be announced back on this post.
The Giveaway has ended. Thank you for sharing your stories. The winner is #21 Corrine! For the rest of you, please continue to spread the word about this Pass the Plate program and help with the fight against breast cancer.
 Thank you all for being a part of this and working together to help spread the love.
-Diane and Todd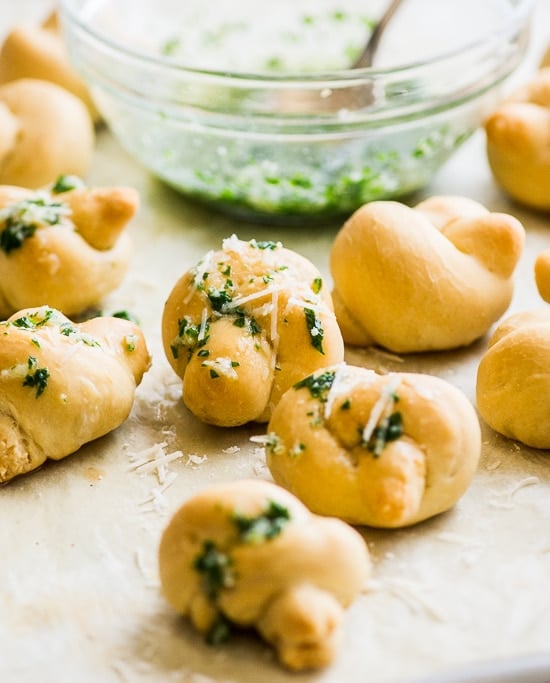 Parmesan-Garlic Knots
Yield: about 40 knots
Total Time: 4 hours
There are two ways we usually roll out the knots, pinching off and weighing little balls of to roll into the knots; or rolling the dough out, cutting it into even strips, rolling the strips into logs and twisting the logs into the knots. In a prior garlic knot post we described the latter, however the pinch and ball method is our favorite. Whichever method you choose, the knots' texture will benefit from not over handling. The less you knead, press, and smash the dough, the better. For other variations try our classic Garlic Knots or our Spicy Garlic Knots.
Ingredients:
Dough
1 3/4 cup (415ml) warm water (@115°F)
1/4 cup (55g) extra-virgin olive oil
1 teaspoon kosher or sea salt
1 Tablespoon sugar
1 1/2 Tablespoons (17g) active dry yeast
about 5 1/2 cups (750 g) all-purpose flour
Parmesean-Garlic Coating
1/4 cup (60g) unsalted butter
1/4 cup (60ml) extra-virgin olive oil
4 cloves garlic, minced or crushed
1/2 cup freshly grated Parmigiana Reggiano (or other parmesean cheese)
1/4 cup chopped Italian parsley
kosher or sea salt, to taste
fresh cracked black pepper, to taste
Directions:
Make the dough: combine the warm water, olive oil, salt, sugar, and active dry yeast in a large resealable container or bowl. Mix to dissolve yeast.
Mix in the flour to incorporate (you may need to knead just a bit to get the last bit of dry flour to incorporate into the dough). Cover and set in a warm spot to proof until doubled in volume (usually 1-3 hours depending on initial water temp and warmth of proofing area).
Chill the dough for a couple hours to make it easier to handle (it will keep fine in the refrigerator for several days if you want to make the dough ahead of time but this can be skipped if you don't have the time).
Make the knots: line a couple baking sheets with parchment paper.
On a lightly floured surface, pinch off and weigh ping-pong sized balls of dough (approx. 1 ounce (28g) each)- weighing helps keep the knots evenly sized, but you can just eyeball it if you prefer cooking that way.
Roll a dough ball back and forth between your hands and also by using an un-floured surface to create an even rope about 6-inches long(if the dough is too sticky, lightly dust with a bit of flour).
Tie into a knot (loop the dough and then take one end over and through the loop) and place on the lined sheet pans, giving an 1 1/2-inch spacing between each knot. At first it may seem awkward making the knots but with a little practice it will become easy. Using just enough flour to balance between the dough being tacky and sticky is the key while forming the knots.
Continue making the rest of the knots with the remaining dough balls. As each sheet pan fills up, cover the pan with a dry kitchen towel, and place in a warm, draft-free spot to rise.
Preheat oven to 400° F
After knots have doubled in size, take off the towel and place knots in the oven. Bake for approx. 12-15 minutes or until golden.
While knots are baking, make the parmesean garlic coating. Melt the butter, with the olive oil and garlic in a small saucepan (if you like your garlic with less of a bite, cook it for a few minutes in oil/butter mix until soft & slightly golden). Set aside.
After removing knots from oven, while still warm, toss the knots with garlic coating, parmesean, and parsley. Season with salt and pepper to taste.
Best served warm, but still good when at room temp.
Hello! All images & content are copyright protected. Please do not use our images without prior permission and do not re-publish this recipe. Simply link back to this post for the recipe. Thank you.
Recipe Note for Salt: All recipes containing salt are based on kosher or sea salt amounts, not table salt. If using table salt, reduce the amount used to taste.
[ad]