Lemon Cucumbers salad + Italian Basil Pesto Recipe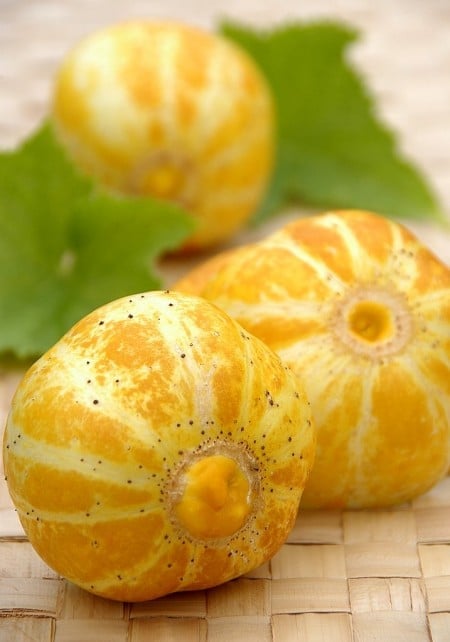 What are these? Like little balls of sunshine, these round, striped vegetables are, oddly enough, cucumbers. Thinking that these are un-edible gourds is more believable than being told that they're actually edible lemon cucumbers. Looking like lemon colored gourds with cucumber features in the center, these lemon cucumbers are too unique and interesting to pass up. We've never seen them at the markets before and seeing is believing, so we decided to see, touch, taste and grow these for ourselves. After a visit to the nursery and two lemon cucumber plants later in our whiskey barrel, their crazy, twining, serpent vines were stretching beyond the barrels and tangling on to anything that crossed it's path!
Warning: Lemon cucumbers vines grow and crawl like serpents! Start with just one plant and give it plenty of room!
With some good draining soil, frequent watering and a good stretch of warm weather, these vines are proliferating with yellow balls of beauteous lemon cucumbers! They are so easy to grow and before we knew it, we've got enough lemon cucumbers to last us the whole summer. All you cucumber loving gardeners will just love adding this to your vegetable patch. Lemon cucumbers are super crunchy and sweeter than their regular long green counterparts. Perfect for salads or just munching on, these cute little cukes are a great conversation piece too! They really do look like yellow gourds and round meyer lemons but when you bite past the yellow peel, you'll see that they're all cucumber on the inside: juicy, crisp and sweet.
Tony over at Olive Juice has a monthly event called Taste of the Mediterranean, where he highlights foods of the Meditterranean region as well as specific regional dishes. Every month, bloggers get to blog about their re-creation of the recipe or highlight their own spin on the dish. His theme for this month is Pesto Genovese and is calling out to everyone to make their version of this pesto. He even has a cool and funny video for the event, starring Tony himself and his super funny Italian double. Everyone should join in on his fun monthly event, especially if it's inspired by a video! *Hint, Hint, Tony!*
We made a pesto from our garden basil to top off these refreshing lemon cucumbers, but didn't have an more of the required pine nuts. Bummer! Our pantry was empty on the nuts, something we need to re-stock on ASAP. So, we don't exactly qualify for the prize but made it anyways without the nuts. Our simple garden pesto was made from basil leaves crushed in the mortar pestle, olive oil, lemon juice, salt, pepper, Parmesan and a little garlic. It was still a delicious topping to this Summery lemon cucumber pesto dish! Sorry Tony! Next time we'll make sure to read the directions carefully and follow the rules!
Lemon Cucumber and Pesto Recipe
Ingredients:
About 3-4 medium lemon cucumbers
2 cups fresh Italian basil leaves and stems
1/2 cup olive oil
1 clove crushed garlic
1 teaspoon sea salt
fresh ground black pepper
3 Tablespoons fresh, grated parmesan cheese
Directions:
Slice or chop cucumbers.
In food processor: combine basil leaves, olive oil, garlic, sea salt, black pepper and parmesan cheese. Blend ingredients till combined well.
Dress over cucumbers.
In Mortar, crush basil leaves and garlic till. Scoop up basil/garlic combo and place in bowl. Add salt, pepper, olive oil and cheese.
Hello! All images & content are copyright protected. Please do not use our images without prior permission and do not re-publish this recipe. Simply link back to this post for the recipe. Thank you.
Recipe Note for Salt: All recipes containing salt are based on kosher or sea salt amounts, not table salt. If using table salt, reduce the amount used to taste.
[ad]