Palsy Walsy Shooters for Mark (Manggy)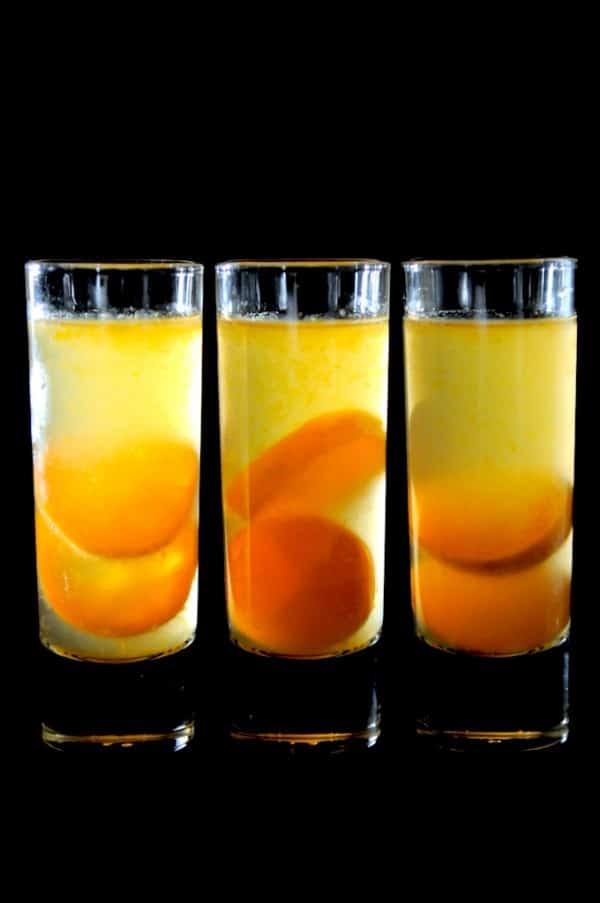 This is open apology letter to our dear, smart, funny, handsome, brilliant, blog buddy, Dr. Mark.
Dear Mark,
Hello, how are you? Do you still remember us?  We're those wacky blog folks that you met in Los Angeles way back in October of 2008. It's been quite a while since our meeting and worse yet, it's taken us this long to finally write about it and share with the blog world that we met with the AMAZING MARK from Manggy.blogspot.com!
What a fun evening that was eating at Honda-Ya Izakaya in Downtown Los Angeles and whisking you through the streets of LA in our 350,000 mile (put, put) Toyota-mobile! Sorry we didn't get a chance to bring the motorcycle, or else you would certainly have had the RIDE OF YOUR LIFE along the crazy freeways of LA.
But since you were taking some seriously brain-cracking Medical exams in the wee hours of the next morning, we had to take care of you and do to what was relatively safe: eat good Japanese pub food and a slow, 35 mile/hour tour of the town. Besides, we do have to keep our future Physician safe and fed! 😉
We're so sorry for taking so long (excuses, excuses) to finally get around to this post. To make up for it, we made a cocktail for you here from the wonderful Philippino bar cocktail book that you gifted to us! It's fantastic!! THANK YOU! With some fresh kalamansi limes ready and waiting in the kitchen, we made the Palsy Walsy cocktail from the book and divided into 3 shooters: one for you and each of us.
Thank you so much for your kindness, generosity, warm heart, humor , friendship and taking the time out of your BUSY Los Angeles visit to spend with us. We're so fortunate to have finally met up with you and shared a meal. You have many, many blog fans out there (besides us!) and we hope that, one day, they get the lucky opportunity to meet you too. We truly mean every word of this.
Here's three shooter cheers to you Mark!
Love,
Diane and Todd
Read Mark's post on his trip to Los Angeles!
This great cocktail book that Mark gave us, "The little Philippine bar book" has some fun, exotic cocktails.  Filled with exotic fruits mixed with tasty alcohols, it's a wonderful book to drink your way through.  Here's the Palsy Walsy Kalamansi lime cocktail to give you a preview.  The only change we've made is to shake it with ice and serve them as shooters.  This  kalamansi lime cocktail recipe should make about 2 shooters or 1 cocktail.
Palsy Walsy Kalamansi Lime Cocktail
Yield: 1 cocktail
Total Time: 5 Minutes
Ingredients:
1 jigger Vodka (@ 1.5 oz.)
1/2 jigger Triple Sec
1/2 jigger Gin
1/2 jigger Kalamansi lime juice
1/3 jigger simple syrup
Directions:
Mix all ingredients together in an old fashioned glass and stir.  Add ice.  Garnish with slice of kalamansi  lime or spiral of orange zest. Enjoy!
Hello! All images & content are copyright protected. Please do not use our images without prior permission. If you want to republish this recipe, please re-write the recipe in your own words, or simply link back to this post for the recipe. Thank you.
Recipe Note for Salt: All recipes containing salt are based on kosher or sea salt amounts, not table salt. If using table salt, reduce the amount used to taste.