The Awaken Your Senses challenge is here! Quaker Oats, Good Bite and my food blog pals are collaborating to help our favorite charities. Twelve food bloggers share a favorite food memory on video and Chef Dave Lawrence of Good Bite created an oatmeal topping based on our memory.
Each blogger has selected a charity and the final blogger whose video wins the challenge will have $10,000 donated to their charity! Every two weeks, a new round of videos will be posted where you can vote for your favorite. Then within each round, semifinalists will be selected. The final winner will have $10,000 donated to their chosen food charity.
For this week, on this second round, the featured bloggers and our selected charities are:
Vote for me  and if you like what Jen, Marc or Kath are sharing, vote for them too! Cast your Vote Here.
Here are the rest of  my favorite bloggers who participated. Their video's have already, or will be featured in later rounds. So check their sites to see what memory they're sharing and vote for them too if you like their video, memory or charity!
Let's all vote to help feed the hungry. All it takes is a few clicks to make a difference in someones life.
Thanks for voting and all your support,
xoxo,
diane
The delicious collage of yogurt, fresh fruit and granola can feed me for breakfast , lunch and dinner. When obsessed, I consider granola parfait to be a light, satisfying and equally impressive as a dessert. Homemade granola topping is even better and its ridiculously easy to make. All the different combinations that you can create with homemade granola is endless. Ever since making homemade granola, I'll never go back to buying it again. The fresh, toasted and delicate crunch is addicting. Consider it the ultimate snack.
I found a wonderful recipe from Sara Fosters, Fresh Everyday cookbook. Sara's recipe calls out for dried cherries and dried apricots (yummy!). Instead, I used what I had in my pantry, which were dried currants. I also used less maple syrup because I like my granola a little less sweet, but that's just a personal preference that I have for granola.
For the parfait assembly, you can use any fresh fruit you have on hand. Our pomegranate tree offered us some amazing, fruit for today's parfait photograph. Fresh pomegranates are in season now (depending on where you live), so go hog wild these delicious red arils (seeds).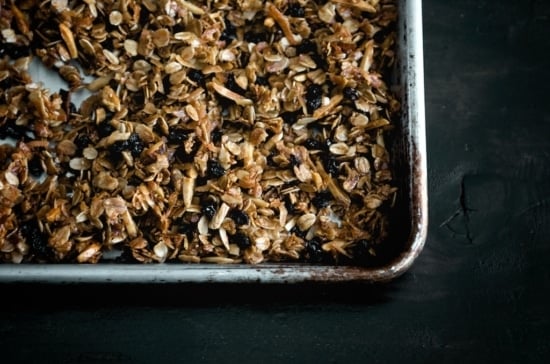 Granola Parfait Recipe
Yield: Serves 4
Total Time: 1 hour
Ingredients:
2 cups old fashioned rolled oats
1 cup shredded sweetened coconut
3/4 cup sliced almonds
1 teaspoon sea salt or kosher salt
1/4 cup canola or safflower oil (I used grape seed oil)
1/3 cup maple syrup
1/4 cup honey
1/2 cup dried cherries or cranberries
1/2 cup dried apricots, chopped
** I replaced the dried cherries/apricots with dried currants
Yogurt
fresh fruit
Directions:
Preheat oven to 275 degrees F.
Spread oats, coconut and almonds on large baking sheet with sides. Sprinkle with salt, bake for 12-15 minutes. Stir occasionally till ingredients are toasted, but not yet golden. Transfer ingredients to bowl.
Increase oven temperature to 350 degrees F. Lightly grease baking sheet with oil.
In medium bowl, combine maple syrup, oil and honey. Pour over granola and toss till granola is coated evenly with mixure.
Spread granola out evenly onto greased cookie sheet. Bake in oven for about 25-30 minutes, or until granola is golden brown and crispy. Stir granola occasionally while baking so granola can brown evenly.
When brown, remove granola from oven , allow to cool. Then break up any large clumps while granola is still warm.
When granola is completely cooled, toss in the dried fruit. Will keep up to about 2 weeks in air-tight container.
In bowl, layer yogurt, fresh fruit and granola. Enjoy!
Hello! All images & content are copyright protected. Please do not use our images without prior permission. If you want to republish this recipe, please re-write the recipe in your own words, or simply link back to this post for the recipe. Thank you. And remember in making the recipes, if using table salt instead of kosher or sea salt, make sure you reduce the salt amount.