Surprises in the garden are nice. But when we forget about seeds that we had sown months before and see them as full grown edible specimens, it's thrilling. That's the wonderful part about so many hiding places in the garden, even we forget that have something growing in these secret places.
This week's surprise was radicchio (red or Italian chicory) and if you ever saw them before they were cleaned out of their leafy shells, you'll know why they're so special.

When they're sold, they're normally stripped of their outter leaves and what's left are the gorgeous red/purplish heads. Small heads of radicchio are stunning on their own and they're like jewels of ruby red and brilliant purple balls. But what is often even more gorgeous (and edible!) are all the leaves protecting their valuable core.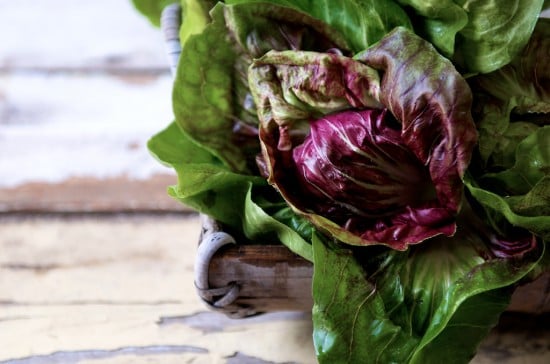 The protective outter leaves are broad, with stunning combinations of green, red and purple laced throughout the head. They're edible too and make for an even more impressive plate of salad.
We harvested some radicchio early, where the heads weren't completely red yet. What beautiful contrasts of color and texture all the different stages of radicchio explode with. Their roots are even adorable too and the whole harvest is calling out to be loved.
So what to do with all this tender garden radicchio? We haven't decided yet because we're still so busy photographing them!
Any suggestions or great recipes you have for this radicchio? Let us know what we should cook!
[ad]