No-Bake Fruit and Nut Bars with Nutella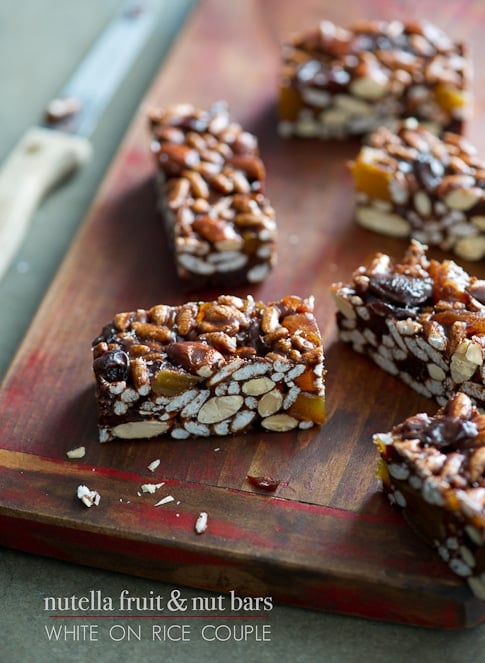 I used to love granola bars as a kid. Especially the ones with chocolate chips or a chocolate coating on them, but somewhere along the life's journey, the love affair ended.
Then, about a year ago, we were on the road and we had stopped in an REI to pick up some supplies. Needing  a quick pick-me-up, I grudgingly sorted through their health/power/energy/granola/random-good-for-you-so-you-can-go-all-day-but-tastes-less-than-desirable bars.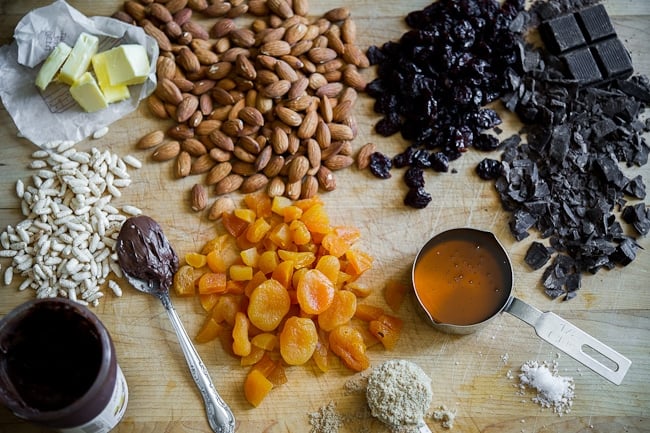 I looked for something at least somewhat appealing.  After all, it had been years since I'd given anything in the granola bar classification a chance. Finally I settled on  a fruit and nut bar. Couldn't be that bad, right? It looked about as appealing as a bar could through cellophane packaging.
Damn! That bar was good. Maybe it was just the low blood sugar talking, but bars were back on the menu for me. Ever since then, I've been searching and experimenting  with recipes which get my mojo goin'.
A couple days ago Diane found a recipe for a no-bake fruit and nut bar in Sunset magazine. I was intrigued. I had yet to find the bar I had been searching for so I gave this one a shot.
Reading through the recipe, mentally tasting the ingredients, I was pretty sure this one would be good. Simple, quick, lots of nuts and dried fruit. A little hit of chocolate. I didn't have a couple of the ingredients and it was too nice of a day to waste it running to the store, so I subbed in nutella for the almond butter and honey for the brown rice syrup.
Watch the video for making the Nutella Fruit & Nut Bars:
End result was excellent. Better than I had even expected. We've been loving recipes with dried apricots in them lately and the apricots were the perfect compliment to the roasted almonds and dried sour cherries. The puffed brown rice was just enough to add texture and not get in the way of the almonds and dried fruit. And the nutella and chocolate are always winners for us. The recipe was a winner. Loved it. Hope you like them as much as we did.
-Todd
This recipe was originally published in 2012 and re-published in 2016 with a new video! 
Adapted into a no-bake nutella bar from recipe found in
Sunset Magazine
. Substitute any preferred dried fruits or nuts you like best.
2

cups

puffed Rice Cereal

(brown rice, white rice, or other similar puffed cereal)

2

cup

Dried Fruit

(cut into pieces if needed - we prefer dried cherries, dried apricots, golden raisin, dried blueberries)

1 1/2

cups

Roasted Almonds

*see Note 1 for roasting raw almonds (or other preferred Nut - salted or unsalted depending on your preference)

1/2

cup

Dark Chocolate Chips

or chopped Dark Chocolate

2

Tablespoons

unsalted Butter

2

Tablespoons

packed Brown Sugar

1/2

cup

Honey

1/4

cup

Nutella

Sea Salt

or Kosher Salt, to taste
Line an 8"x8" pan with foil and lightly butter foil.

In a large bowl combine puffed rice cereal, dried fruits, nuts, and chocolate. Set aside.

In a small saucepan heat butter, brown sugar, honey, and nutella over medium heat until butter melts, whisking until mixture is smooth. Pour over cereal mixture and stir until completely coated.

Spread into prepared 8"x8" pan and press firmly down. Lightly sprinkle sea salt on top of bars. Chill until firm, about 1 hour.

Using the foil, lift bars out of pan. Cut in half, then cut into preferred bar width.
*Note 1: Roasting Raw Almonds:
Preheat oven to 350° F. Spread raw almonds out in a sheet pan. Roast for 12 minutes or until lightly browned and aromatic.