Chocolate Mousse Recipe – For all your Valentines
Valentines week is here to spoil every sweetheart in your life who is deserving of some chocolate love. A little whipped cream, strawberries and huge dollop of silky chocolate mousse says it all to show you care. We've already started celebrating and this sweet treat never gets dull. In fact, it's a little too easy to eat and don't be surprised if you inhaled a huge bowl of this chocolate mousse in less than a minute!
Chocolate mousse is luscious.  The soft, billowy, creamy texture given to chocolate by folding in whipped cream and swiss meringue is absolute heaven. Combine the chocolate mousse with some fresh whipped cream and ripe berries (although this time of year it may be better to go sans berries or use some brandied cherries) and you have a dessert that will make your love purr.
Fold chocolate into egg yolk mix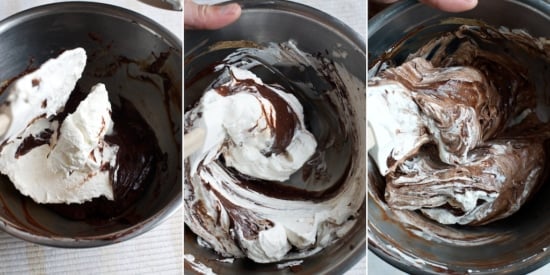 Fold in whipped cream
Fold in Swiss Meringue
If it seems complex, do not worry, because chocolate mousse is easy to make.  You are merely whipping and folding.  That's it.  Even better, is that you are able to make the chocolate mousse a couple days ahead of time and it won't deteriorate in quality. Make extra and enjoy for days.
Chocolate Mousse Recipe
Yield: @ 2 c chocolate mousse - @ 2 c whipped cream
Total Time: 1 hour
By staying organized and having your mise en place set, this is an easy, creamy, billowy-textured, luscious chocolate dessert that can be prepped days ahead without losing quality. If you can whip and fold, you can make this dessert. The chocolate mousse is basically four components made separately, then folded together. This recipe can easily be scaled up for mass servings or other enjoyable uses. Adapted from Bo Friberg's The Professional Pasty Chef.
Ingredients:
Chocolate Mouse Ingredients

Whipped Cream

240 ml (1c) Heavy Cream

Swiss Meringue

2 Egg Whites
60 g (4T) Granulated Sugar

Chocolate Base

60 ml (1/4c) Warm Water
40 g (1/3c) Cocoa Powder
25 ml (1 1/2T) Dark Rum
75 g (2.6 oz) Dark Chocolate

Egg Yolk Base

2 Egg Yolks
25 ml (1 1/2T) Corn Syrup

Whipped Cream Ingredients

240ml (1c) Heavy Cream
5 ml (1t) Vanilla Extract
20 g (2 T) Powdered Sugar

Optional

Strawberries, raspberries, or blackberries for layering into finished dessert
Directions:
Whip the 240 ml of heavy cream for the mousse to stiff peaks and set aside in the fridge.
Combine the second listing of heavy cream, vanilla extract and powdered sugar for the finished dessert's whipped cream layer and whip to stiff peaks then set aside covered in the fridge. While cream is whipping begin heating a pot of water as a bain marie that you'll use for the swiss meringue and melting the dark chocolate.
Make Swiss Meringue. Combine egg whites and granulated sugar in a bowl (preferably your mixer bowl) and place bowl over pot of simmering water. Whipping constantly to keep egg whites from cooking, heat until temperature reaches 140º F. Remove from heat and whip until meringue is completely cool.  Set aside.
Make chocolate base. Combine warm water, cocoa powder, and rum and mix until completely smooth. Melt dark chocolate in a bowl over the simmering water and combine with cocoa mix. Set aside and keep warm.
Make egg yolk base. Whip egg yolks in a med.-lrg bowl just to break them up.  Heat corn syrup to a boil and slowly add to the egg yolks, whipping constantly.  Whip until thick and fluffy.
Fold chocolate base into egg yolk mix until incorporated.  Next, fold in the plain whipped cream from step 1. until incorporated.  Fold in Swiss meringue until incorporated. Store chocolate mousse in fridge until ready to dish and serve.
Final Presentation.  Slice berries. If chocolate mousse and whipped cream have sat for a day or more, stir them up to a creamy consistency. In a glass vessel (dessert bowl, Champagne glass, wine glass, etc.) layer in chocolate mousse, berries, and whipped cream.
Hello! All images & content are copyright protected. Please do not use our images without prior permission. If you want to republish this recipe, please re-write the recipe in your own words, or simply link back to this post for the recipe. Thank you. And remember in making the recipes, if using table salt instead of kosher or sea salt, make sure you reduce the salt amount.