This chocolate magic custard cake is inspired from our original magic custard cake recipe. This chocolate version has a subtle chocolate flavor, but it's definitely high on the eggy-custard cake flavor!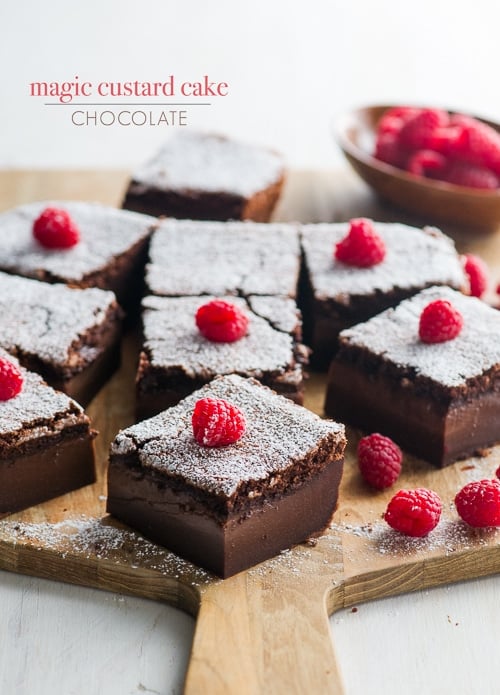 Two days ago, I shared with you how completely obsessed I was with this Magic Custard Cake recipe. If you read about my infatuation for this magical three layer cake, you'll understand why I'm totally enamored with it.
The silky chocolate magic custard cake interior had me smitten and I went as far as to eat two pieces in one sitting. This is a luxurious feat for a gal who lives on salt and spice. Got potato chips? That's me with my hand raised high. But this cake is perfect because it's not too sweet and satisfies our sweet tooth without having to be inundated with sugar.
The texture for this chocolate magic custard cake is to die for as well: soft, silky and melt-in-your-mouth. We still can't get over how easy this magic custard cake is to make (aside from the long wait for it to cool).
So, we decided to make a chocolate version because we needed another excuse to make another magic custard cake and to eat more chocolate. It's so fun to rationalize this evil way of eating and cooking.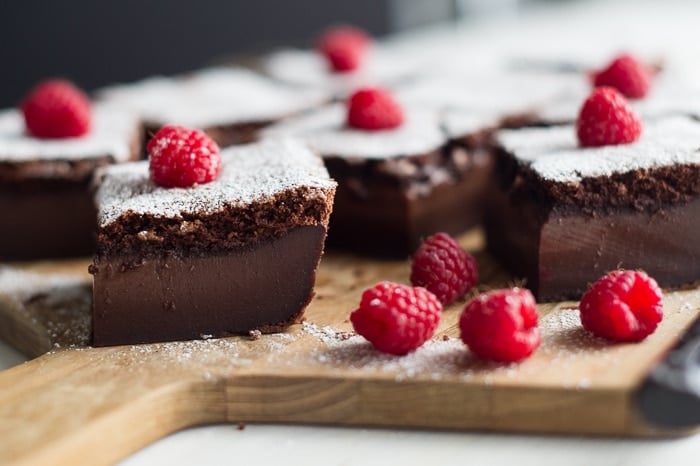 What were the results of this second obsession? Fantastic! It's just as wonderful as the original Magic custard cake recipe, but with the added bonus of chocolate for all you lovers out there.  And add some fresh berries to make it totally over-the-top amazing!
enjoy,
diane and todd
The center is soft, so be careful when removing from pan. It may crack, but it's still delicious. For faster cooling & quicker settling of custard center, chill cake in fridge.
Check out the custard layer! This chocolate version is wonderful. Get the other Magic Custard Cake Recipe Here.
Buy a copy of our vegetable and fruit centric cookbook on Amazon or Indiebound.
Inspired by our love of cooking, growing vegetables and over 38 fruit trees in our suburban garden,  we love sharing recipes that are fresh and seasonally simple. Our cookbook, Bountiful , offers 100 seasonal, flavorful, and approachable recipes, 90 of which have not been seen on the blog, each featuring a vegetable or fruit as the star of the meal. It's easy to make your next meal focused around vegetables and our cookbook also has healthy chicken, seafood and pork dishes as well.
For more info about the book and latest cookbook tour and signings, visit our Bountiful Cookbook page.
Chocolate Magic Custard Cake Recipe
Yield: one 8"x8" Cake
Total Time: 1 hour 30 minutes
Recipe is adapted from our previously posted Magic Custard Cake. A few notes on making the cake: the vinegar helps stabilize the egg whites after they've whipped to stiff peaks. If you have a copper bowl to whip them in, you can skip the vinegar.
When adding the milk, we found it easier and less messy to gently hand whip them in instead of using the stand mixer. It is a very liquidy batter, and for us it splattered everywhere even at the slowest speed. You could also wrap the head of the mixer and the top of the bowl with plastic wrap to help contain the splattering.
As with the original magic custard cake, the temperatures of the ingredients are important. If too hot it will cook the eggs, too cold it will harden the butter.
For folding in the whites, it is done with more of a gentle whisk/folding motion with the whisk since the batter is so runny. The whites will look a little curd like after mixing them in, just try to mix/fold them to the point where there is no big chunks.
Because of the custard center, when fully baked, there will be a bit of a jiggle, but not a sloppy jiggle to the cake when gently shook. Same after it has cooled. That's about it. Have fun and every time we've made the magic custard cakes (this one or the original), going into the oven we don't think they will work correctly, and after baking they are magically perfect.
Ingredients:
1/2 cup (113g) unsalted Butter
2 1/2 cups (600ml) Milk
1 cup (115g) Flour
1/2 cup (43g) Cocoa Powder
4 Eggs, separated
4 drops White Vinegar *see head note
1 3/4 cups (210g) Confectioner's Sugar
2 Tablespoons (30ml) Espresso or Strong Coffee, lukewarm
1 teaspoon (5ml) Vanilla Extract
extra confectioner's sugar for dusting
optional-fresh berries for garnish
Directions:
Preheat the oven to 325°F. Lightly butter or grease a 8"x8" baking dish.
Melt the butter and set aside to slightly cool. Warm the milk to lukewarm and set aside.
In a separate bowl, whisk together the flour and cocoa powder for 20 seconds. Set aside.
Whip the egg whites with vinegar to stiff peaks. Set aside.
Beat the egg yolks and sugar until light. Beat in the melted butter, espresso, and vanilla extract for about 2 minutes or until evenly incorporated.
Mix in the flour/cocoa into the batter until evenly incorporated. Gently whisk/beat in the milk until everything is well mixed.
Fold/gently-whip in the egg whites, 1/3 at a time. Repeat until all of the egg whites are folded in.
Pour the batter into the prepared pan and bake for 50-60 minutes or until when you gently shake the cake, it is slightly jiggly but is no longer runny jiggly (I know it sounds weird, but that is the best way we can think of describing the sensation).
Allow cake to completely cool before cutting and then dust with confectioner's sugar *see Note 1. Garnish with fresh berries if desired.
Note 1: For faster cooling you can place the cake in the fridge. Even after fully cooled, it will still be slightly jiggly. It is also very delicate to move. We we're able to gentle slide/flip it out of the pan without too much damage, but after trying to move it again, it quickly cracks the top. That's part of its charm. Just dust with confectioner's sugar and devour away.
Hello! All images & content are copyright protected. Please do not use our images without prior permission and do not re-publish this recipe. Simply link back to this post for the recipe. Thank you.
Recipe Note for Salt: All recipes containing salt are based on kosher or sea salt amounts, not table salt. If using table salt, reduce the amount used to taste.
[ad]