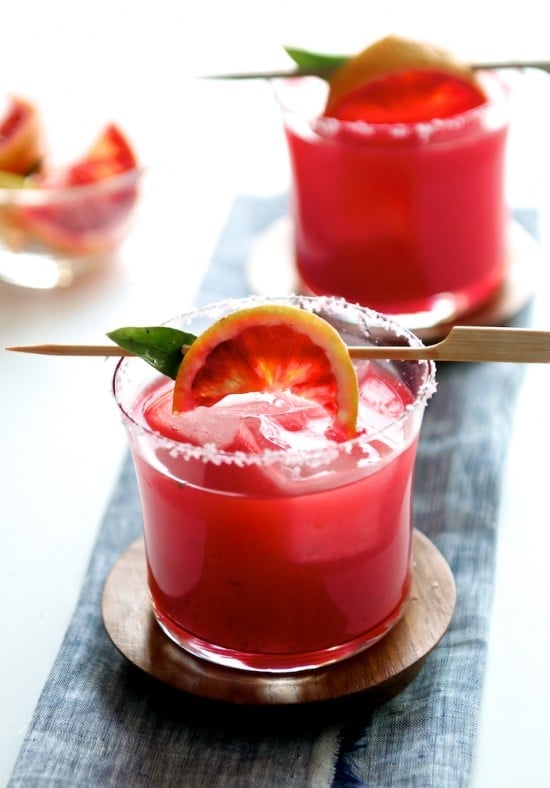 This is why we love late Winter/early Spring in southern California—–> Blood Oranges! It's blood orange recipe season and our trees dropping their fruit is our signal that it's time to eat or drink those precious blood oranges or else lose the precious stash to the squirrels. Oh, those darn squirrels love our citrus and we'll be damned if they get a hold of all those blood oranges before we do. It's time to drink!
We've succomb to the fact that our garden will never have enough fruit trees. Three years ago when we finished much of the main plantings, we thought we were finished with any more new additions of trees, but every time we visit a nursery, we're overwhelmed with new gardening ideas. Now, we never seem to be able to leave the nursery empty handed. The truck always seems to have a new garden addition waiting in the back of the bed. It's always so exciting to bring home a new fruit tree. It's like bringing home a new puppy!
A few weeks ago, we decided that having one blood orange tree wasn't enough. We love our blood oranges and between giving them out to family and friends and our cooking, there never seems to be any left by March.
So, we talked ourselves into growing a second blood orange tree and it didn't take too much convincing to realize that it was a great decision. Now, we have two blood orange trees. One for our friends, family & recipes. And the other solely for purposes of cocktails! The timing is perfect because we've been indulging in many blood orange margaritas lately, as well as our classic blood orange sidecar. It's definitely the season to celebrate these gorgeous blood oranges.
Welcome  home, to our new little blood orange tree! It's still really small and will take a few years to finally catch up to the massive fruiting that our existing tree has. But we're very patient gardeners. Until then, our current blood orange tree will be plentiful for the next few weeks.
our existing blood orange margarita tree
Visit complete list of Cocktail Recipes here.
Blood Orange Margarita Recipe
Yield: 1
Cook Time: 2 min.
The acidity of  fresh blood orange juice in this margarita is outstanding. The bright, tart flavors of blood orange makes a brilliantly colored cocktail and not to mention very refreshing too.
Ingredients:
3 oz fresh Blood Orange Juice
1 oz  Triple Sec
splash of agave nectar (syrup) (optional yet fantastic suggestion from Brooke who is a kick ass bartender)
Directions:
1. Rub the rim of an old fashioned glass (or whatever similar vessel you prefer) with an edge of a blood orange slice.  Swirl the rim through a small pile of kosher or sea salt to salt the rim.
2. Combine all ingredients into a cocktail shaker, add ice and shake for 15 seconds.
3. Put a few cubes of ice in your glass.  Strain the cocktail into the glass and enjoy.
Hello! All images & content are copyright protected. Please do not use our images without prior permission. If you want to republish this recipe, please re-write the recipe in your own words, or simply link back to this post for the recipe. Thank you.
Recipe Note for Salt: All recipes containing salt are based on kosher or sea salt amounts, not table salt. If using table salt, reduce the amount used to taste.