This strawberry mojito cocktail recipe is perfect when you have sweet seasonal strawberries.

Summer is a great time for this Strawberry Mojito Cocktail because it's hot outside. But we haven't experienced the swelling heat like many of our friends on the East Coast. How lucky are we to be in mild So Cal weather? Very lucky, but we're not bragging. And hey, we have congestion and smog to add to our heat, so there's always a trade-off with our mild weather!
After a long work day when we're in town, we spent quite a bit of time in the backyard pulling weeds, trimming excess branches and building up a hefty thirst. Normally we have quite a collection of ice cold bottles of Rose in the fridge, but mixing it up with summer cocktails keeps us inspired and energized to weed some more.
As of late, the mint seeds we sprinkled in the garden is taking off beautifully. An abundance of fresh mint in mojitos cocktails is always a fabulous Summer quencher, but after pulling up a few garden strawberries and an inspiration from The Berry Bible, we changed cocktail directions a bit and made this Strawberry Mojito Cocktail.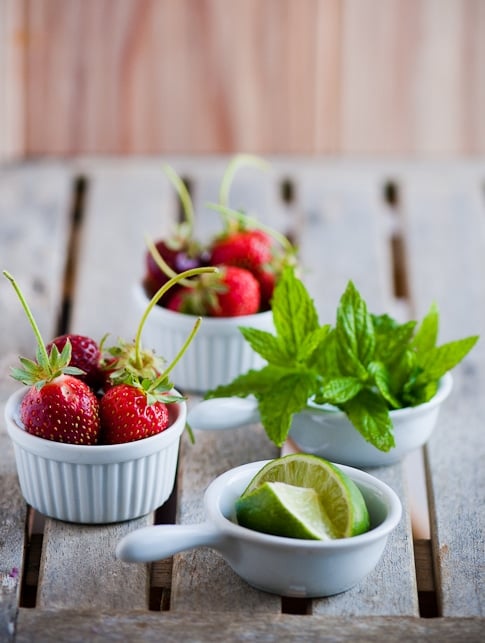 For berry lovers theres a great new reference and recipe book, appropriately called The Berry Bible. Every single page in this thorough book by author Janie Hibler is helpful for anyone wanting to expand their repertoire for berries, particularly to those to worship berries. Thus, The Berry Bible title.
Classic berries such as strawberries, raspberries and blueberries are covered in depth, but extra commentary on unique berries make this book even more fascinating. Buffalo berries, cloud berries and josta berries are just a few examples of unique fruits to school you to a higher level of berry knowledge.  The Berry Bible doesn't have any photographs, but rather, the valuable information, fresh recipes and interesting topics make it a worthy reference to have on your bookshelf.
We found this strawberry mojito in The Berry Bible and were a bit hesitant to stray from the beloved, classic mojito. We even add true Cuban rum to our mojito cocktails. That's how true our to their origins our mojitos are. But wow, we were really pleased with how wonderful the drinks were with some crushed strawberries. Strawberry mojitos are fabulous!
We've found a new favorite, this Strawberry Mojito Cocktail. Classic mojitos with a few muddled strawberries and bright lime juice adds a fresh, fruity spectacle to the cocktail. They're  also beauty in a glass too with the combinations of crushed strawberries and mint leaves. Strawberry mojitos are perfect for our new Summer cocktail repertoire and we can't wait to  debut them at our garden party next month!
Visit complete list of–>  Cocktail Recipes here.
Strawberry Mojito Cocktail Recipe
Yield: 1 cocktail
Total Time: 15 min
Adapted from The Berry Bible
The simple syrup recipe is for a larger batch of simple syrup to keep on hand. It keeps for months in the fridge if you store it in a clean container.
Ingredients:
1 ounce (30ml) simple syrup
about 3 fresh strawberries
4-5 fresh spearmint sprigs (chopped if you prefer smaller mint pieces in your cocktail)
1 ounce (30ml) fresh lime juice
2 ounces (60ml) light rum
3-4 ounces (90-120ml) soda water
Directions:
In a chilled highball glass (about 10-12 ounces), muddle the simple syrup, strawberries and mint leaves together with the back of a spoon or muddler. Crush the strawberries and mint leaves well.
Stir in the lime juice and rum. Fill the glass with ice and top off with soda water. Gently stir.
Garnish with mint sprigs or strawberry slices.
Note 1: A basic simple syrup is a 1:1 ratio of sugar dissolved in water. example- One cup sugar dissolved in one cup of water. We usually make larger batches and keep on hand in the refrigerator.
Hello! All images & content are copyright protected. Please do not use our images without prior permission and do not re-publish this recipe. Simply link back to this post for the recipe. Thank you.
Recipe Note for Salt: All recipes containing salt are based on kosher or sea salt amounts, not table salt. If using table salt, reduce the amount used to taste.