Baked Sriracha Spaghetti Squash with Turkey & Kid/Puppy Training
My conversation with Mom last week ended up with her asking, again, when Todd and I were going to have kids. Like every Mom I know, there's joys at being a Grandmother that can never be explained. I understand this happiness and it's never a bad thing to yearn to hold a Grand-baby of your very own. But the topic of her birthday and Christmas came up and I had to kindly remind her that there's no way for Santa to deliver in time. And of course, we're always practicing. 😉
As we were talking about kids, I was thinking about puppy Lexi and the joys of being puppy-parents. If kids are in our near future, we're certainly ready for it thanks to the training our dogs have put us through.
Guilty puppy thief. Oh, my poor flip flop.
Chewed sandals, bitten socks and anything that resembles a dog-toy has had it's fair share of puppy slobber on it. Sierra has been extra patient with puppy Lexi tackling and biting her ankles. And lips. And ears. Poor Sierra can't get an afternoon of rest because this monster puppy is relentless at getting someone to play with her. Now that Lexi is becoming the tall Ridgeback her genes have determined for her to be, we're having to clear anything from the edges of the tables. She's just starting to discover her size and strength.
The owners manual that came with Lexi never said anything about 8 hours of playtime and missing shoes. And her middle name is now "no". It's Lexi no, Lexi No, Lexi NO!
Oy, the joys of puppyhood. But here's the bright side of it all: when we do have kids of our own, we'll be well prepared for kid training thanks to our dogs dysfunctional behavior.
We'll teach our kids to "sit" very well. If they mis-behave in public, we'll draw onto our Cesar Milan spirit of "pssshht!" and on command, make them sit.
When they turn to their terrible two's, we'll have plenty of training harnesses to tie them to and keep them from running like wild horses in public. We've seen all your crazy, hyper kids terrorize stores in public. We would never let that happen. That what lead collars and body harnesses are for, right?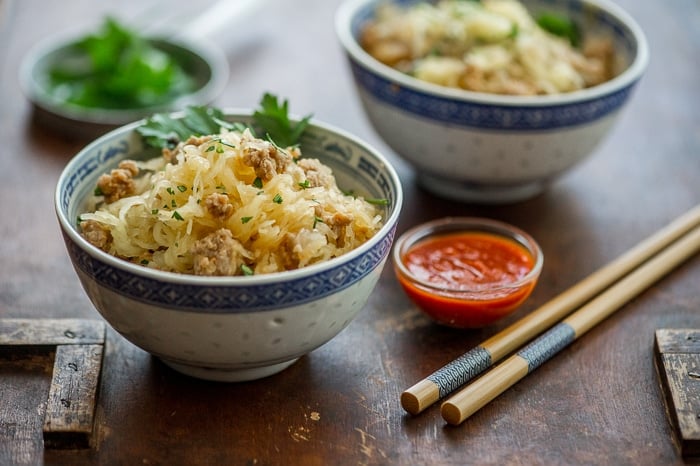 Isn't that the strategy to all this kid raising? If so, then we're way ahead of you all. Well, I think we are. With raising three dogs now under our belt, training little kids should be a cinch. That's until they ask for an iphone, a laptop and a new car. Or get a girlfriend/boyfriend.
Oy again, there really should be a reliable training manual for newbies.
In the meantime, enjoy this quick and healthy dinner of spaghetti squash and turkey. My love of spicy foods is evident and when I have a chance, I'm always reaching for my homemade sriracha hot sauce. This is a great meal to warm up the house, to satisfy bellies and keep it exciting with a kick of spice.
If you're not keen on spicy food, then you can easily omit the hot sauce. The combination of spaghetti squash is wonderful as-is and best of all, it's quite healthy.
During these cooler days, it's nice to warm up the house with oven cooking without having to eat anything heavy or starchy. This baked spaghetti squash recipe is perfect and satisfying.
have a great week,
diane
Baked Spaghetti Squash with Sriracha and Turkey
Yield: Serves 4-6
Total Time: 1 hour
Ingredients:
1 medium spaghetti squash
1 pound ground turkey
1 medium onion, minced
2 cloves garlic, minced
2 Tablespoons olive oil
3 Teaspoons Fish Sauce
3 Tablespoons Sriracha or hot sauce , add extra to taste
Directions:
Preheat Oven to 375°F. Oil a sheet pan with first 1 T of olive oil.
Slice spaghetti squash in half lengthwise. (Use the tip of the knife to first pierce and get the cut started. Once you get the first cut started the rest of the squash should slice easily.) Scoop out the seeds and strands, then place cut side down on the prepared sheet pan.
Bake for 45 minutes, or until the squash flesh separates easily into strands with a fork. Finish loosening and removing the "spaghetti" from the shells and set aside.
In large pan, heat oil. Add onions and garlic, cook till translucent.
Add ground turkey, cook for about 5 minutes or until brown. Add fish sauce and sriracha/hot sauce. Combine evenly.
Continue cooking turkey till it's fully cooked, then add spaghetti squash.
Gently combine turkey and spaghetti squash till evenly heated. Add additional fish sauce, salt or sriracha hot sauce to taste. Serve warm.
Hello! All images & content are copyright protected. Please do not use our images without prior permission and do not re-publish this recipe. Simply link back to this post for the recipe. Thank you.
Recipe Note for Salt: All recipes containing salt are based on kosher or sea salt amounts, not table salt. If using table salt, reduce the amount used to taste.