Asian Caramel Chicken Wings, Sweet & Sour Style
Are you ready for some football and more chicken wings?!  Ahhhh!!! More than likely you are probably sick of hearing about football and the Super Bowl.  "If I see one more Super Bowl round up…." Ka Pow!
And I can hardly blame you. Between the analysts blabbering non-stop about every nuance between the teams, the journalists laying down words depicting anything interesting or not about the players, even the length of their hair, to the food bloggers gearing up their sites trying to capture every Super Bowl recipe searcher they can, it's like Christmas cookies all over again! When will it ever end?!?!?
Yet I'm excited.  I won't even try to help it.  I love football. It is a game embedded into childhood memories filled with muddy recesses and after school lessons in toughness and team. The bonds of brotherhood of between teammates, sharing pain, agony, and glory.  Never giving up. The sting of catching the football on a cold day. The football field's lights filling a sleepy town's friday night. The smell of grass and sweat ground into helmets and jerseys.
Later on in life, football continues the bond between men, and quite a few cool chicks out there. Swapping hopes and glories of our teams, trading taunts and jabs over rivals. It also a refuge to let go of the daily grind and struggles. A place where taxes, bills, and jobs don't have room to exist. Only the joy and agony of winning and defeat.
A sport in which many Americans merge into adulthood, breaking free of the coddling of youth. Later, a place to find comfort and the carefree enthusiasm of that youth when we are well into our adult years.
So the Super Bowl is here and we are ready to un-apologetically rock it!  This is grab and gnaw food time. Not a time for pretty and tidy food. Food with a punch that needs a beer to back it. Everyone get your game face on!
As we mentioned previously, we got chicken wing crazy a couple weeks ago.  This is the last of the three chicken wing recipes we concocted that day. I wanted something in between the incredible Vietnamese Caramel sauce and a classic sweet and sour sauce.
All of the chicken wing sauces we've posts can be done ahead of time, even days ahead of time, so on game day all you need to do is cook the wings, sometimes reheat the sauce, then toss 'em and gnaw 'em.  We're making all three chicken (buffalo) wing recipes for game day. It's a good mixed blitz.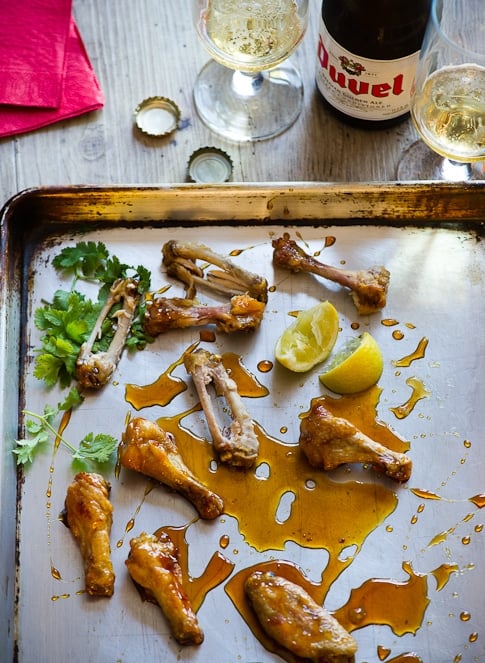 Caramel sauce is often intimidating to those foreign to it, but it merely requires patience and respect. The same qualities it takes to become comfortable using a knife.  Sure a knife could slice off your finger and you'd only be able to count to nine, but most all of us have learned to respect the blade.  Same with caramel sauce for this chicken buffalo wing recipe.  The burns could leave permanent leopard marks on your flesh, but if handled with care and respect, you'll have a badass sauce.
Mr. Lebovitz has passed on some of his dessert culinary expertise in his Ten Tips for Making Caramel. It is a good place to find comfort in knowledge.  But like life, book smarts only get you so far, so get yourself into the kitchen and build some kitchen street smarts.  Make it, succeed, fail, and succeed again until you've got it.
For those ruined batches of caramel which have become red glass in your pan, add a bunch of water and boil until it releases and dissolves. Much easier than trying to scour that stuff out. Trust us.
-Todd
Here's the complete list of our chicken wing recipes.
Sweet and Sour Caramel Chicken Wing Recipe
Yield: Serves 6-8.
Total Time: 1 hour
Ingredients:
Sauce

1/2 c (120ml) Water, divided into 2- 1/4 c measurements
1 c  (200g) Sugar
1/4 c (60ml) Fish Sauce
1/4 c (60ml) Mirin
1/4 c (60ml) Lemon, Lime, or other sour Citrus (each will give a diff. nuance to the flavor, we usually do mostly lime w/ a little lemon juice)

For the Wings

4 lbs. (1820g) Chicken Wings, tips removed, rinsed, and patted dry
oil to coat chicken wings
flour for dredging
Directions:
Make the sauce:

Combine the first 1/4 c of water in a medium saucepan with sugar. Heat over medium, stirring sugar at first to combine the water and sugar. From this point on, do not stir again until the very last direction in step #3.  Only swirl the pan from side to side occasionally to help sugar caramelize evenly.
Continue to cook sugar until liquid turns to a reddish-amber color.  While sugar cooks, combine remaining 1/4 c of water, fish sauce, mirin, and citrus juice together in a small bowl or measuring cup. Tip: Learning to recognize the right color when cooking the sugar to is key to good caramel flavor.  Too light and the sauce is lifeless-too much and you've burnt it.
*Be very careful.  Caramel is exceptionally hot. After caramel has reached the correct color,  pour in fish sauce/mirin/citrus mix. Caramel will react violently to the cooler liquids and bubble hard. Avoid the temptation to stir.  Allow the caramel to bubble, mix and settle down, continue cooking for a couple minutes, occasionally gently swirling the pan to help everything liquefy and incorporate evenly. Give the caramel sauce one final stir, take off heat, set aside and allow to cool.

Preheat oven to 425° F. Line a sheet pan with parchment paper.

Cook the chicken wings:

Lightly coat chicken wings with oil (we prefer grape seed or peanut oil), and toss to completely coat.  Place flour for dredging in a medium bowl and toss chicken wings in flour.  Gently tap off excess flour and lay chicken wings in an even layer on lined sheet pan.
Bake for 20 minutes, flip chicken wings over and rotate pan, then bake for another 20 minutes or until chicken wings are golden brown.
Toss the chicken wings in the sweet & sour caramel wing sauce, or serve sauce on the side for dipping.
Hello! All images & content are copyright protected. Please do not use our images without prior permission. If you want to republish this recipe, please re-write the recipe in your own words, or simply link back to this post for the recipe. Thank you. And remember in making the recipes, if using table salt instead of kosher or sea salt, make sure you reduce the salt amount.