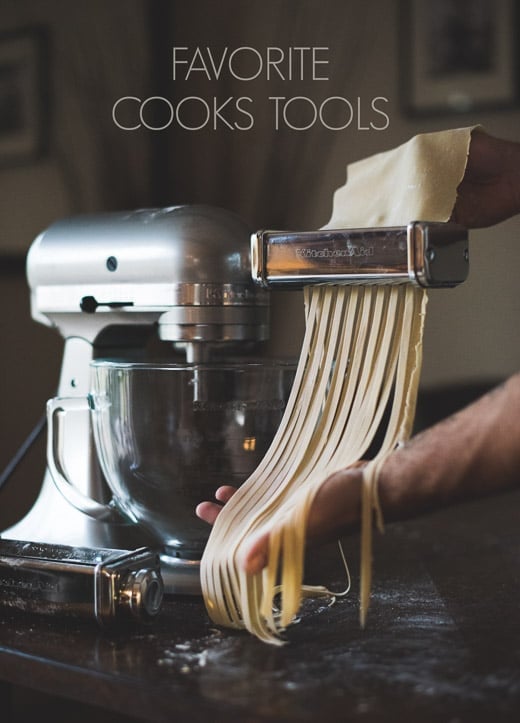 Happy Holidays friends, hope you're staying warm and enjoying every moment in the kitchen. Our holidays are simple and we stopped giving gifts because we wanted to simplify our lives and free up time to enjoy more quality holiday moments with family and friends. But you know what that means? A little extra budget to spoil and treat ourselves to all the awesome gadgets that we've always wanted to have!
Not a bad trade-off, right? We work hard and should indulge occasionally and since we have all this free time from not shopping for other folks, we can use up some of it to stock our kitchen. You should treat yourselves too because you've been good kids too, we're sure of it. So why not shop for yourself?!
Our kitchens are loaded with favorite tools and gadgets that are stand-by older favorites or fun new tools. Maybe you'll enjoy them just as much as we do and treat yourself because Santa said it's totally ok.
Weck Jars: All the great shapes, sizes and styles keep our pickling and all around food-storage unique looking and stylish. We've amassed a ridiculous collection that should be shameful. Therapy is on the agenda. But until then, our favorite shapes are:
Green Pan Ceramic Cookware: We shared our love of these pans Green Pans brand in our post here. We weren't expecting too much from these Green Pans, now can't live without them in the kitchen because we can cook scrambled eggs, sautéed vegetables and fish with less oil and less sticking. Best of all, they're easy to wash.
Vegetable noodles, zucchini noodles and more: We're addicted to our Vegetable Spiralizer, bought two and talked about it here and shared an awesome zucchini noodle pad thai recipe.
Scizza– Innovative scissors developed to cut pizza easily. All their products on Dream Farm are unique with innovative design, but at the same time, super practical and useful. They solve all the issues that we often have with traditional cooking tools and make them better with modern design. Other really unique and cool tools you should check out:
Graduated Beakers and Flasks: We use them to hold juices, sauces and cocktail ingredients. They make great conversations pieces because they're different from the traditional measuring cups. We shared a post about them here.

Emile Henry Pizza Stones: We love our pizza and our Emile Henry pizza stones create such a fabulous crispy crust. This brussels sprouts pizza is one of the reasons why we can't live without them. In fact, all of Emile Henry's cookware and stone ware is fabulous.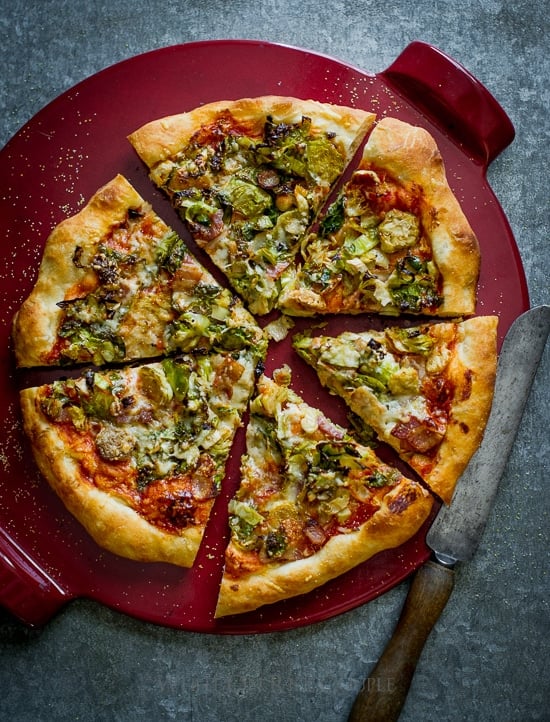 KitchenAid Stand Mixer and Pasta Attachment: When we crave pasta, it's so easy to make it homemade with our KitchenAid pasta attachment. Seriously, it's one of the best tools out there to help simplify the process of making pasta with consistent thickness, cuts and shape.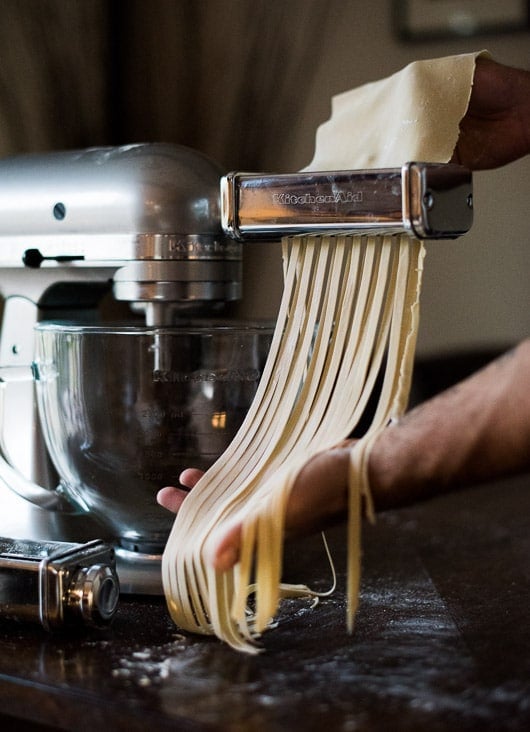 OXO Kitchen Scale: If you don't have a kitchen scale, you need to treat yourself to this one. It's easily our favorite scale to use and is a must for accurate dessert making. The pull-out display is pure brilliance when it comes to weighing out ingredients in a large bowl.
OXO POP Storage Containers are stackable, airtight and incredibly space efficient. Even in our tightest cabinets, we can stack these things without wasting any space.
P-Touch Labeler: Yes, we're a little obsessive-compulsive and like to have a very organized pantry with everything labeled. If you roam through our house and kitchen studios you'll be able to identify almost everything because guaranteed, there's a label on it! Sometimes two (one for the top and one for the side). The Brother pc connectable labeler in particular is a our favorite. You can plug it into your computer (mac or pc) and through their free software type up and label you like with any font on your computer. Awesome!
La Pavoni Manual Press Espresso Machine  – This is only worth the cost for the the majorly coffee obsessed but is also our absolute favorite kitchen countertop appliance. Once dialed in with a good grinder it makes the best espresso and to start nearly every day with amazing coffee and a relaxing ritual makes it well worth the cost for us. And can you say sexy. Most beautiful thing on our counters. For coffee grinders we love this Breville Smart Grinder so much we have two, one for home and one for the studio.
Last but not least, our very own baby: Bountiful  Cookbook! It's loaded with fruit and vegetable focused recipes inspired from our garden.
Happy Holidays everyone. Hope you all have been a good, and a bit naughty.
Todd & Diane
Don't miss out on our free recipe updates and food, travel, garden stories. Subscribe to our free email updates here and on our Facebook Page . Follow and connect with us on Instagram (Todd), Instagram (Diane), Twitter and Pinterest. Thanks for stopping by!